Today in premarket on November 25 we are seeing the following stocks with high retail interest estimations: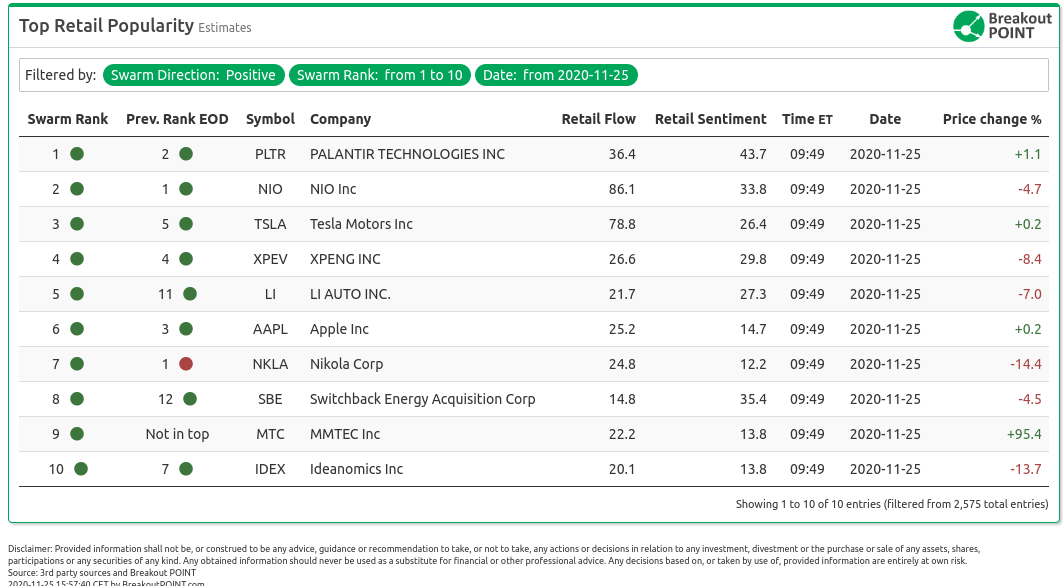 Positive Retail Sentiment
Today's notable positive retail sentiment stocks in the list include Nikola (NKLA), Nio (NIO), Yunji (YJ) and XPENG (XPEV).
First, we note NKLA's share price rally yesterday. Some people might think this hydrogen play might have fallen from grace after it has become clear that regulators are going to investigate the whole situation about NKLA's truck. However yesterday the stock went up over 17% to reach share price that was seen before the whole ordeal started. This might have been based on the anticipation of the new CEO being interviewed by Jim Cramer.
However, the result of the interview created selling pressure as the CEO was unable to ensure shareholders that GM is going to go through with the all-important deal and that insiders are not going to start selling off their shares after the lock-up expires on December 1st. Several threads pointed these realities out, even among r/wallstreetbets NKLA seemed to have lost the initial popularity. That being said bulls can be found everywhere even in NKLA.
Given the clear near-term catalysts of Dec 1 and Dec 3, it is likely traders will maintain their interest in the developments.
While some EVs have been doing great yesterday, the Chinese group is seeing the pressure from the market as a result of the news of potential governmental investigation in China. All of the usually high-flying stocks such as NIO and XPEV are down and seem to be red in the pre-market action as well. r/wallstreetbets is unfazed.
So far there are no threads highlighting the news. Instead, Redditors focus on trying to evaluate NIO's future. Some say they believe the stock will reach $220 per share, others are making a comparison between Huawei and the company whereby NIO should outcompete Tesla as Huawei did Apple. Most of them believe the dip is just a buying opportunity. Twitter's day trading crowd agreed.
In the meantime, one of the most notorious activists in 2020, Nate Anderson of Hindenburg Research, believes the short thesis has not yet aged properly as per below.
I think about 100 people have emailed saying to look at $NIO$XPEV and $LI.

So far the case seems to be overvaluation and jurisdiction. Not inclined to disagree on either point but such is the way of a bubble.

— Nate Anderson (@ClarityToast) November 23, 2020
Another Chinese stock that has landed in the crosshairs of the retailer traders is YJ, an $894m online retailer focused on groceries. This interest likely comes from the fact that the company signed an agreement with Bytedance's live streaming platform. The scope of the agreement as described by the company seems to just point to an exclusive YJ channel on the platform. During the first show of YJ, more than 10m people tuned in and purchase goods worth over 80m RMB ($12m). Reddit was relatively quiet about the stock as not many threads went into detail. Twitter was more active and also pointed out why the interest might have been subdued so far.
Good thing no one knew $YJ PR this morning lol.

Not complaining but what a sick move through the day - great way to set the trap too.

Nice alert @DonaldKey on PR AHs.

04:38:17 pm InvestorsLive: they soaked 4.50-4.60 and refreshed on YJ https://t.co/l0lwNmzxaj

— Nathan Michaud (@InvestorsLive) November 24, 2020
Finally, we would note two groups of stocks have been recently lifted up by the retailer sentiment. First, it is the travel sector. We see CCL getting on our list after a 10%+ rally yesterday. This is likely based on the argument that these stocks now present a value play as the COVID19 crisis might be done next year. The share price performance occurred despite the below from CDC.
The CDC is recommending that all people avoid traveling on cruise ships. https://t.co/3g75Ye5VsP

— Bloomberg (@business) November 21, 2020
Second, it is the cannabis group of stocks. ACB found its way on our list after yesterday's positive share price action of over 28%. The surge is likely to be based on the news of Biden's team beginning transition towards presidency. Thus traders might believe that the future of the marijuana industry has brighter days ahead. r/pennystocks had a popular thread about this bullish 'argument'.
Palantir's (PLTR) retail popularity has been somewhat overshadowed by EV stocks retail popularity. In fact, since the US elections, PLTR has been consistently ranking high on our retail investors popularity list:
Dominant retail selling pressure
Finally, we mention tickers with estimated dominant retail selling pressure: Workhorse (WKHS).
---

---
FAQ | Q: Can I publish parts of above data and analytics in an article? A: As long as you reference our work in your article - yes, you can.
FAQ | Q: Could you provide more related data and analytics? A: Sure, contact us and we'll try to help as soon as possible.
* Note: Presented data and analytics is as of available on 2020-11-25, UTC 13:00.
The services and any information provided by Breakout Point or on the Breakout Point website shall not be, or construed to be any advice, guidance or recommendation to take, or not to take, any actions or decisions in relation to any investment, divestment or the purchase or sale of any assets, shares, participations or any securities of any kind. Any information obtained through Breakout Point and its services should never be used as a substitute for financial or other professional advice. Any decisions based on, or taken by use of, information obtained through Breakout Point and by its services are entirely at own risk.