This week we have registered two new major short campaigns.
Hindenburg was able to see quick victory as they aimed at Chinese-based US-listed company centred around the EV sector. The classic allegations have so far forced the shares down about 40%.
We also note developments in a medical device company under attack from Grego and Cohodes and in an EV stock which is awaiting a major catalyst.
Finally, we look at the tale of two bitcoin stocks and COVID19 vaccine hopeful.
---
Bits and Pieces
China Hustle Vindication: Fitting into "How it started; How it's going" meme are the latest development with Chinese U.S. listed stocks. It all began with the developments depicted in the documentary film "The China Hustle". While this WSJ article well describes how it's going:
Congress Sets Stage for Exiling Chinese Stocks From U.S. Over Audit Dispute
J Cap goes Long: A very well known activist short selling focused entity, J Capital Research, was creative in emphasising that their latest call is not a short idea but actually a long idea:
Yes, it's really J Cap, and we are really long. $TPIChttps://t.co/LtOVDtLcERpic.twitter.com/CYJaORue4a

— J Capital (@JCap_Research) December 3, 2020
Citron vs Retail Investors: Citron Research has been recently negatively and with certian success flagging some of the most popular stocks among retail investors. These are: Palantir Technologies (PLTR), Nio Inc (NIO), Electrameccanica Vehicles (SOLO and Blink Charging (BLNK). All were very highly ranked on our top retail popularity list:
---
Need retail flows and sentiment? Robinhood's API, which provided popularity data, recently ceased operation. This data was popular not only with journalists and momentum investors, but also with short sellers, who frequently applied reverse Robinhood swarming strategies. The good news is that there are a few great alternatives and proxies for Robinhood's popularity data, eg our Retail Flows plan provides real time retail sentiment, estimates retail flows and positioning, and alerts about activities of VIP retail investors.

---
Big Movers
This week Hindenburg scored a quick victory in its campaign against Kandi (KNDI), a Chinese-based EV company. The short-seller alleged improper related-party transactions which inflate a major part of the revenue. They also pointed out the corporate track record of Kandi which is tainted with many similar scandals in the past. We have seen several short-sellers target this company throughout the years.
Once Hindenburg's report was out, the stock sunk and has not been able to regain much of its valuation before the campaign. It should be said that the share price trend was already negative when Hindenburg published as the market was likely harvesting gains from pumping KNDI two weeks ago.
This week also brought an interesting dichotomy between Bitcoin mining stocks previously targeted by short-sellers. RIOT, which was this year targeted by White Diamond Research, has seen positive share price action on the back of increasing Bitcoin price. WDR did mention that in order for RIOT's business model to start making sense the price would have to average $19,000. This is now possible, but it will be interesting to see whether the price will stabilize in this range.
On the other hand, CAN, which was also targeted by WDR on top of Aurelius Value this year, sunk about 40%. It seems not all of the bitcoin-related stocks are able to exploit the hype to the fullest. It should be interesting to follow the whole space.
Lastly, we also note that Inovio (INO), a COVID19 vaccine hopeful, has seen its share price rebound by about 20% since W47. This is on the back of the news that the company has added a new manufacturing partner for the potential vaccine. The Phase 2/3 study is still ongoing. Both Muddy Research and Citron have previously warned about the prospects of the vaccine. Specifically, they highlighted the abysmal track record of INO in delivering a marketable product.
---
Grego and Cohodes looking at PEN
The news about the developments in the campaign of QCM against Penumbra (PEN) might become a weekly staple of our review given the activity of both Gabriel Grego and Marc Cohodes, who recently joined...
(Get full weekly report and stay on top of activist short selling developments - Join Breakout Point).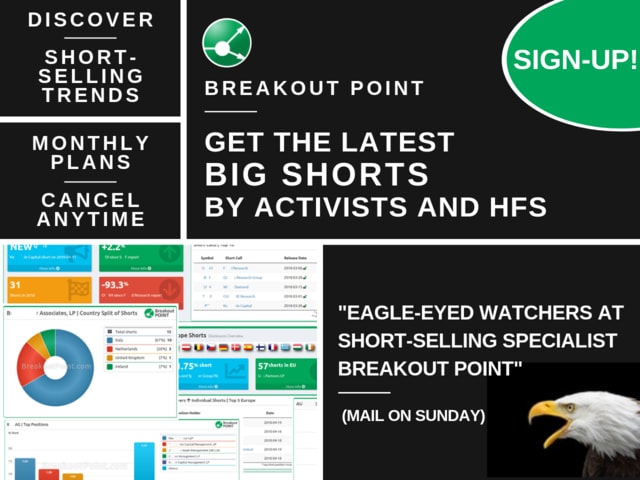 ---
FAQ | Q: Can I publish parts of above data and analytics in an article? A: As long as you reference our work in your article - yes, you can.
FAQ | Q: Could you provide more related data and analytics? A: Sure, join Breakout Point and start benefitng from our services.
* Note: Unless otherwise stated, presented data and analytics is as of available on 2020-12-05, UTC 12:00.
The services and any information provided by Breakout Point or on the Breakout Point website shall not be, or construed to be any advice, guidance or recommendation to take, or not to take, any actions or decisions in relation to any investment, divestment or the purchase or sale of any assets, shares, participations or any securities of any kind. Any information obtained through Breakout Point and its services should never be used as a substitute for financial or other professional advice. Any decisions based on, or taken by use of, information obtained through Breakout Point and by its services are entirely at own risk.