---
In W50 we have registered five new major short campaigns and a number of follow-up reports.
The most impactful of them was an anonymous report targeting a European business due to supposed dubious third-parties. Muddy Waters is involved and has further questions for the company.
We also note the continuous development in Penumbra. The activist short-sellers are coming up with new allegations on an almost daily basis. The company responded for the first time and called the shorts sleazy and teenagers.
Unsurprisingly, China has been also in the focus of short-sellers this week. We note Hindenburg's response to a rebuttal from an EV-company they recently targeted and GSX placement.
---
Bits and Pieces
Wirecard trades: The latest revelation in Wirecard case is that the head of Germany's audit watchdog bought the Wirecard shares on the day of KPMG report, and is now facing a probe.
South Korea vs short sellers: South Korea has a short selling ban still in place. This is the longest lasting short selling ban in our recent memory. It seems that the regulator is now looking beyond the expiry of this ban and has specific items on the agenda for short sellers. The proposal might be denoted as a 'jail with a pinch of hefty fines'. More in FT:
Retail Investors love IPOs: This week's prominent IPOs got a lot of attention from the retail investors. According to our retail popularity estimates, Airbnb has been the most popular retail stock on Thursday, while DoorDash and C3.ai were occupying two top spots on Wednesday. As elaborated below, we already noted a critical report on DashDoor, published by Probes Reporter.
---
Need retail flows and sentiment? Robinhood's API, which provided popularity data, recently ceased operation. This data was popular not only with journalists and momentum investors, but also with short sellers, who frequently applied reverse Robinhood swarming strategies. The good news is that there are a few great alternatives and proxies for Robinhood's popularity data, eg our Retail Flows plan provides real time retail sentiment, estimates retail flows and positioning, and alerts about activities of VIP retail investors.

---
Big Movers
The most successful campaign this week was aimed at Solutions 30, a tech services company listed in France. The shares have dropped about 25% since the anonymous report was circulated within the investment community. Initially, the report was not available to the public, but a day after the company's response, one media outlet shared the over 100-page report outlining serious allegations.
The company provided a detailed report trying to counter the allegations.
Muddy Waters holds a 0.65% short position as per our database on European big shorts. They also sent a letter to the company asking further questions regarding its response.
MW has written an open letter to Gianbeppi Fortis of #Solutions30 $S30.FP asking questions about the company's response to the recent Anonymous Report https://t.co/FMVR7OVGp0

— MuddyWatersResearch (@muddywatersre) December 11, 2020
On the other side of the tracks (more painful for shorts), we saw CytoDyn (CYDY) rise sharply by about 40%. This biotech which was targeted first by Culper and then by Citron (who deleted their report since then) likely saw positive action due to apparent excitement of a possible FDA approval for one of the company's products.
While the initial allegations of both short-sellers might not be as current as before, some of the claims still raise questions about the overall corporate governance of the company and its track record. According to Culper, the CEO has a questionable background and used to sell dreamcatchers. Allegedly, he declared personal bankruptcy twice.
---
Penumbra and a fake researcher?
The duo, Grego and Cohodes, are as per their own words 'not going anywhere' in the case of this medical device company. The initial allegations were mostly focused on PEN's product and its harmful track record. These have now been broadened to include various red flags concerning corporate governance.
Most importantly, this week the short-sellers have publicized an update to their report which alleged the company has been associated with a fake persona who was named as an author of many academic papers about PEN's products. As per usual, there was also a Periscope event which explained everything in more depth.
December 8, 2020
According to QCM and the lawyers they consulted, this could constitute a case of securities fraud. The stock got pressured and is down about 12% so far this week. The company was finally forced to acknowledge the short-selling allegations.
First, on Monday, they released a short 8-K saying that QCM got the revenue share wrong for the key product in question. Then on Tuesday, they had to respond to the allegations of fake persona as per below.
It needs to be said that the fake persona has been in the meantime apparently deleted. QCM also noted the below.
*** We just received what appears definitive proof that the Antik Bose fraud has been designed and perpetrated by the very top echelons of the company. We are making final checks and confirmation before we make this public. ***

— Quintessential Capital Management (@QCMFunds) December 8, 2020
Thus, it is likely the flurry of news is not going to end soon.
China News
Early this week we have noted several developments in campaigns aimed at the China Hustle 2.0 shorts, or campaigns alleging fraudulent intent of insiders in many Chinese-based US-listed stocks.
First, it was Hindenburg who reacted to the response of Kandi Tech (KNDI), an EV-focused company. The short-seller initially alleged fake revenues through undisclosed related-party transactions. It seems that the short thesis remained unchanged as the short-seller noted the company essentially confirmed...
(Get full weekly report and stay on top of activist short selling developments - Join Breakout Point).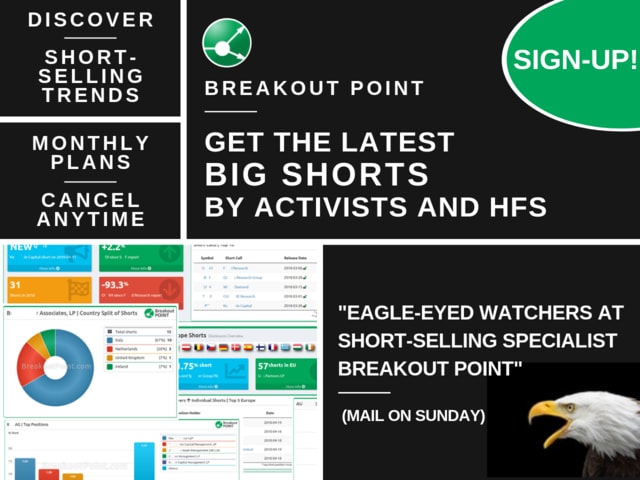 ---
FAQ | Q: Can I publish parts of above data and analytics in an article? A: As long as you reference our work in your article - yes, you can.
FAQ | Q: Could you provide more related data and analytics? A: Sure, join Breakout Point and start benefitng from our services.
* Note: Unless otherwise stated, presented data and analytics is as of available on 2020-12-11, UTC 12:00.
The services and any information provided by Breakout Point or on the Breakout Point website shall not be, or construed to be any advice, guidance or recommendation to take, or not to take, any actions or decisions in relation to any investment, divestment or the purchase or sale of any assets, shares, participations or any securities of any kind. Any information obtained through Breakout Point and its services should never be used as a substitute for financial or other professional advice. Any decisions based on, or taken by use of, information obtained through Breakout Point and by its services are entirely at own risk.