---
In week W51 we have registered five new major short calls and reports, as well as a number of follow-up reports.
We highlight an in-depth report from Roddy Boyd over at FFJ. He targeted a peculiar brokerage with unusual practices which raise plenty of red flags.
We also showcase the crucial development in the case of Penumbra and back-and-forth between Muddy and Solutions 30.
Lastly, we look at a potential zero proposed by Hindenburg and the movement of the share price in one short of Wolfpack and White Diamond.
---
Bits and Pieces
Luckin Coffee and fines: Chinese regulator fined Luckin Coffee and linked firms a total of $9m in September. This week the company agreed to pay $180m to the SEC to resolve their charges of "defrauding investors by materially misstating the company's revenue, expenses, and net operating loss".
Ethical investments and short sellers: We reccomend reading a great piece in Global Capital on how "ESG investors and short sellers, moral and financial issues are deeply intertwined":
Cyberflop and Melvin: Melvin Capital won big off Cyberpunk 2077's flopped debut. The game was hyped, but then dissapointed. Even Elon Musk gave his two cents. More in Financial News including our inisghts.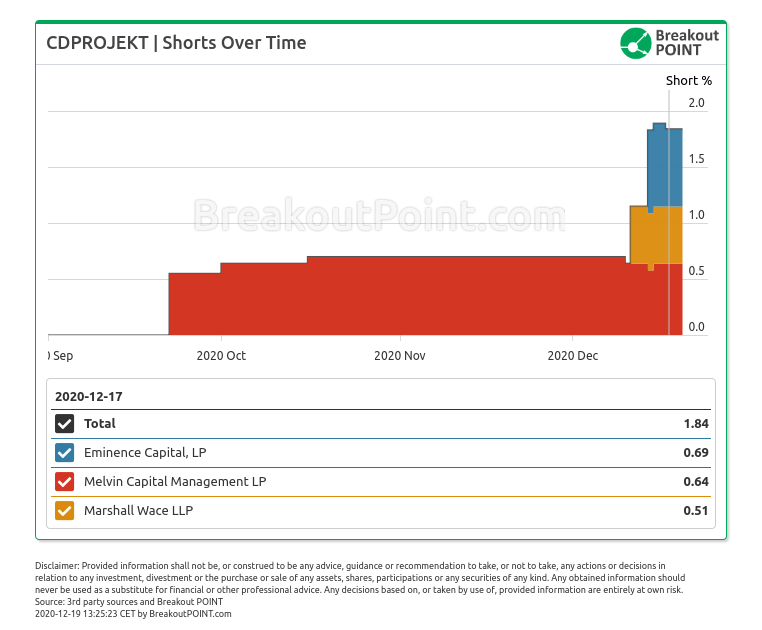 ---
Need retail flows and sentiment? Robinhood's API, which provided popularity data, recently ceased operation. This data was popular not only with journalists and momentum investors, but also with short sellers, who frequently applied reverse Robinhood swarming strategies. The good news is that there are a few great alternatives and proxies for Robinhood's popularity data, eg our Retail Flows plan provides real time retail sentiment, estimates retail flows and positioning, and alerts about activities of VIP retail investors.

---
Big Movers
On the right side of the tracks (for short-sellers) we have seen a sharp downturn in Loop Industries (LOOP). The stock went down by about 25%. Originally it was targeted by Hindenburg who still believes it is a zero as per the below given the recent efforts of the company to try and exonerate their technology.
We remain short $LOOP with a price target of $0 and continue to believe that Loop's claimed technological advancements do not exist.

Read our original report here: https://t.co/aA8TkppD9E

— Hindenburg Research (@HindenburgRes) December 15, 2020
As the independent review was allegedly misleading and did not prove to be fruitful, the market took notice and started the sell-off. So far, the stock is down about 35% since the initial report. Thus, there could still be plenty of downside left as per the claims.
On the other side of the tracks, we are seeing renewed bullish interest in MicroVision (MVIS). The stock, which was previously targeted by Wolfpack and White Diamond, has climbed up by 76% and over 150% in a month. Some of this is seemingly because of the ongoing buyout rumours. Recently, you can spot an increasing frequency of related tweets.
This is peculiar given that White Diamond specifically mentioned it is unlikely Micorsoft will ever be interested. Wolfpack Research also questioned the attractiveness of the company as a whole and does not believe the buyout rumours.

As the stock is hitting new multi-year highs it might be worthwhile to closely follow the situation as the short-sellers believe the event is unlikely to ever pan out.
---
Short-sellers and lives saving
The short-selling community can rejoice once again. The duo Grego and Cohodes remained persistent and FDA requested that Penumbra (PEN) voluntarily recall Jet 7 device. It is very interesting to compare language used recently by the company and by the FDA:
From Penumbra's response on December 8th:
"Short sellers seeking to...remove life-saving medical devices from the market"
From the FDA's alert in December 15th:
"FDA requested that Penumbra voluntarily remove the JET 7 Xtra Flex from the market to protect patients"
The catheter which was, also as per reports that FDA received, responsible for a number of deaths of patients was finally pulled after an intense activist campaign. It happened roughly two months after QCM first published their report and about four months after initial claims published by Roddy Boyd.
The recall event was well covered by the short-selling duo who also went in-depth about the possible future of the company.
December 16, 2020
The stock is now down about 25%, but initially, the market was either ignorant or dismissive of the claims. Our records show that Penumbra shares closed about 8% higher a week after the initial report by QCM. However, investors should remember that QCM believes there is plenty more downside given the possible legal liability and the ongoing research into other areas of the company. In the Periscope, the short-sellers mentioned that there are potentially many more 'cockroaches' such as a number of individuals with tainted track records in corporate governance.
Roddy Boyd's newest and Kazakhstan
After the success with PEN, one might think that the market will pay more attention to what Roddy Boyd has to say, but it seems his new campaign went relatively unnoticed. He targeted Freedom Holding Corp. (FRHC), a $2.45bn Kazakhstan-based brokerage business due to all the allegations of too good to be true numbers and questionable corporate governance.
Most importantly, the report believes the company's...
(Get full weekly report and stay on top of activist short selling developments - Join Breakout Point).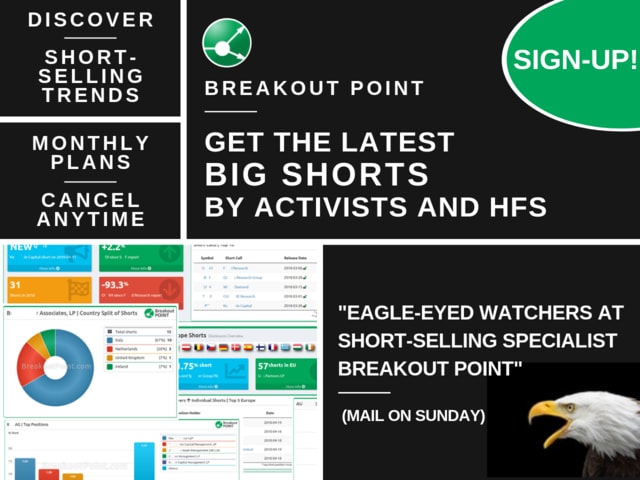 ---
FAQ | Q: Can I publish parts of above data and analytics in an article? A: As long as you reference our work in your article - yes, you can.
FAQ | Q: Could you provide more related data and analytics? A: Sure, join Breakout Point and start benefitng from our services.
* Note: Unless otherwise stated, presented data and analytics is as of available on 2020-12-19, UTC 12:00.
The services and any information provided by Breakout Point or on the Breakout Point website shall not be, or construed to be any advice, guidance or recommendation to take, or not to take, any actions or decisions in relation to any investment, divestment or the purchase or sale of any assets, shares, participations or any securities of any kind. Any information obtained through Breakout Point and its services should never be used as a substitute for financial or other professional advice. Any decisions based on, or taken by use of, information obtained through Breakout Point and by its services are entirely at own risk.