Today in premarket on December 2 we are seeing the following stocks with high retail popularity estimates: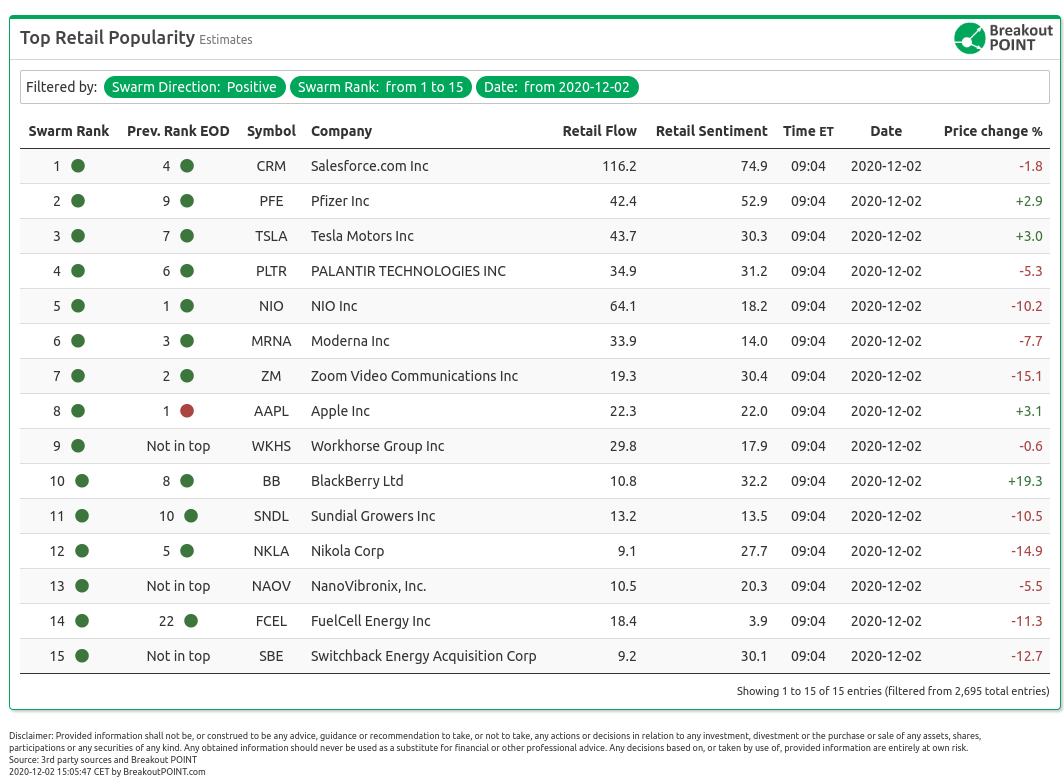 Positive Retail Sentiment
Today's notable positive retail sentiment stocks in the list include Salesforce (CRM), Pfizer (PFE), Workhorse (WKHS), Blackberry (BB), Auris Medical (EARS) and Biontech SE (BNTX).
Unsurprisingly, we are seeing CRM jump up into our list as the company confirmed the intent to buy WORK. The company announced it will buy Slack for about $27.7bn in stock and cash. This was reported alongside their earnings report. Retail pundits quickly got together to discuss the future share price action. One popular r/wallstreetbets thread was positive and argued for a strong price performance by CRM thus suggesting the classic retail move of buying near-term call options to capture gains.
The more conservative r/stocks was also positive but argued the potential will likely materialize in the long-term. Twitter was also bullish, but also pointed out that CRM has handsomely beaten quarterly expectations which seemed to have been ignored by the market as the stock is trading slightly down in pre-market.
Today we also note one EV darling sliding hard pre-market. WKHS, an EV company focused on commercial vehicles, is down roughly 22% so far. This is due to the rumours that USPS is going to delay the award of a massive contract which many shareholders are waiting for. r/stocks was quick to dismiss the news and the top comment was 'Time to buy more' suggesting that ARK did exactly this. Twitter was significantly more bearish with FuzzyPanda leading the activist short-selling campaign as per below.
USPS delaying the contract award til Q1-2021 (usps Q2) = bad news for $WKHS

Why?

Ford announced the E-transit, their EV, since the last USPS update

Delay likely due to USPS finalizing negotiations with Ford which now includes the Ford E-transit'shttps://t.co/8sUrxCH82s

— FuzzyPanda (@FuzzyPandaShort) December 1, 2020
One blast from the past on our list is BB, the $3.3bn company bearing the name of a popular phone in the early 2000s. The reason for retailers excitement is the news of a new contract between BB and AMZN web services for a data solution used in cars. r/wallstreetbets quickly recommended the stock as the next moonshot. r/stocks concurred and comments were overwhelmingly bullish. The stock ended up roughly 20% yesterday with pre-market action suggesting that the retail crowd is not done as the stock is looking at 10% appreciation. The rise in the share price is also likely supported by a short squeeze as the bears were caught off-guard as was suggested by several Twitter day traders.
A similar story could be found in EARS, a small biotech company which has risen over 300% yesterday. The company has soared on the back of the news that they have been able to allegedly produce a nasal spray which minimizes the risk of spreading airborne diseases. The PR was obviously heavily aimed at COVID19. r/wallstreetbets suggested to Redditors pile on as the stock is likely to continue its growth. So far this does not seem to be the case as pre-market suggests a red opening of about 17%. Twitter was also bullish as day traders praised the company and the possible short-squeeze that helped the share price.
Lastly, vaccine traders have rejoiced on the back of the news regarding the PFE and BNTX version as it was authorized for use in the UK. Given the size of PFE, the share price jumped only slightly by about 3% and is up roughly the same pre-market. BNTX was actually down yesterday as sell-side has voiced rare scepticism about the potential of the company going forward. The pre-market action points to a slight rebound of about 5%. r/wallstreetbets was expecting the news to come out soon, thus they are discussing further possible gains.
Dominant retail selling pressure
Finally, we mention tickers with estimated dominant retail selling pressure: Plug Power (PLUG) and more notably Slack (WORK), part of rotation out of WORK and into CRM.
---

---
FAQ | Q: Can I publish parts of above data and analytics in an article? A: As long as you reference our work in your article - yes, you can.
FAQ | Q: Could you provide more related data and analytics? A: Sure, contact us and we'll try to help as soon as possible.
* Note: Presented data and analytics is as of available on 2020-12-02, UTC 13:00.
The services and any information provided by Breakout Point or on the Breakout Point website shall not be, or construed to be any advice, guidance or recommendation to take, or not to take, any actions or decisions in relation to any investment, divestment or the purchase or sale of any assets, shares, participations or any securities of any kind. Any information obtained through Breakout Point and its services should never be used as a substitute for financial or other professional advice. Any decisions based on, or taken by use of, information obtained through Breakout Point and by its services are entirely at own risk.