Today in premarket on December 29 we are seeing the following stocks with high retail popularity estimates: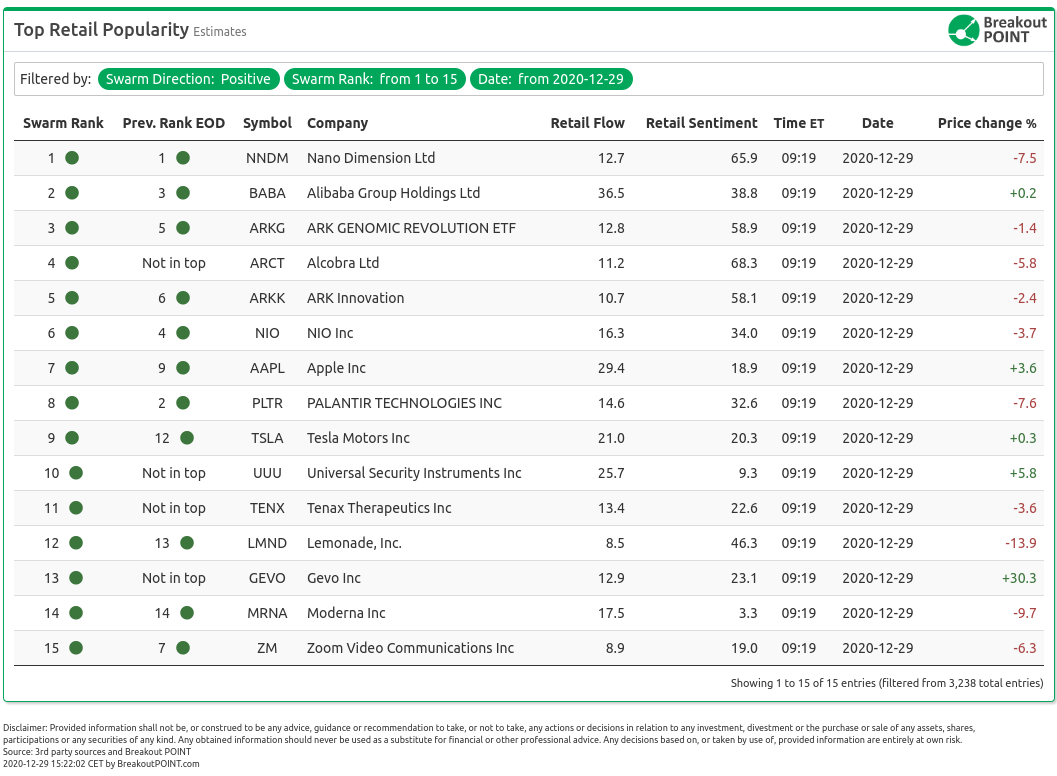 Positive Retail Sentiment
Today's notable positive retail sentiment stocks in the list include Alibaba (BABA), ARK Innovation (ARKK), Alcobra (ARCT), Gevo Inc. (GEVO) and Nano Dimension (NNDM).
Today, we are seeing continued interest in everything related to Cathie Wood and her investment firm, Ark. Their ETFs (ARKK, ARKG) are hot and are seeing strong inflows. Reddit pays close attention to whatever people around the firm have to say. Recently, r/investing saw a strongly upvoted thread about Wood's though on UBER vs. TSLA. While some are fans, others are pointing out that the dynamics behind the ETFs are potentially dubious.
The entire $arkk strategy is to double down on bubble stocks whenever they dip... look like a genius in bull markets, go broke in bear markets https://t.co/8Bxgjg7GnE

— Atlas Research (@AtlasAlphaTrade) December 29, 2020
The Ark-craze also draws other stocks in the crosshair of retailers. For example, today it is BABA which has been trending due to the fact that Ark funds have increased their position in the stock. This defies the negative sentiment about the stock which has had rough Christmas holidays due to the moves of the Chinese government regarding the anti-trust probe. r/wallstreetbets was quick to jump on this and use it as a bullish argument for the future. The major wall street pundits are however sceptical.
$BABA is a difficult one for me cuz fundamentals arent going to drive price. It's now driven by multiple fears: of unknown extent of Chinese govt crackdown, fear of a restructured ANT business and what that will do to profitability and general fear which is worse than bad news

— Karen Finerman (@karenfinerman) December 28, 2020
The interest driven by Ark is also the case with NNDM which has had a strong December and is up roughly 30% since the start. The strong trend is holding despite the stock doing another two rounds of offerings this month alone. The reason for the popularity is that NNDM is featured in Ark's portfolio. This is frequently referenced by retailers such as in the example below.
I watched the entire ARK December webinar and around 41 minute mark. They discussed this company $NNDM. Only company able to 3D print multi-layered PCB. "Only company to successfully do this" / "in its own category". Flushed with cash / new CEO concentrated on go to market model.

— Nick Huynh, MD (@Nick_HuynhMPLS) December 26, 2020
r/stocks also recently opined about the possibility of NNDM doing a major acquisition as they have written this in their offering prospectus. However, some Redditors were sceptical as per below.
They said the same shit at their second offering and that was like 7 offerings ago (or so).
Finally, ARCT is also showing up on our list due to its connection with Ark. The stock is a component of ARKG and has been sold-off heavily today. The pre-market action shows a decline of about 30% due to the fact the biotech released their data about their own COVID19 vaccine based on a similar tech as in the case of MRNA. The market is not impressed and Twitter pointed out that this serves as a reminder that anything connected to Ark might not be a magical stock. Others, however, brushed it off as per below.
$arct down 37% after covid vaccine preclinical ab results.
- major $arkg holding. Even the best investors in this space are subject to this.
- despite the $arct drop, $arkg is actually only down 1.5%. Shows the comparative risk profiles and benefits to diversification in biotech.

— Growth Stock Doc (@GrowthStockDoc) December 29, 2020
One of the few stocks unrelated to Ark is GEVO. This $550m clean energy biofuel company has been on a tear in the past few days which spurred further interest in the stock. The stock is up about 60% in the last five days on the back of a few PRs showing apparent advances in the business model. Given the size of the company and relatively unknown status as a public company, it is talked about mostly in r/pennystocks. This subreddit was wondering how high can the stock eventually go. The comments still maintained a relatively bullish outlook.
Dominant retail selling pressure
Finally, we mention tickers with estimated dominant retail selling pressure: PFE KNDI
---
---
FAQ | Q: Can I publish parts of above data and analytics in an article? A: As long as you reference our work in your article - yes, you can.
FAQ | Q: Could you provide more related data and analytics? A: Sure, contact us and we'll try to help as soon as possible.
* Note: Presented data and analytics is as of available on 2020-12-29, UTC 13:00.
The services and any information provided by Breakout Point or on the Breakout Point website shall not be, or construed to be any advice, guidance or recommendation to take, or not to take, any actions or decisions in relation to any investment, divestment or the purchase or sale of any assets, shares, participations or any securities of any kind. Any information obtained through Breakout Point and its services should never be used as a substitute for financial or other professional advice. Any decisions based on, or taken by use of, information obtained through Breakout Point and by its services are entirely at own risk.