Today in premarket on December 4 we are seeing the following stocks with high retail popularity estimates: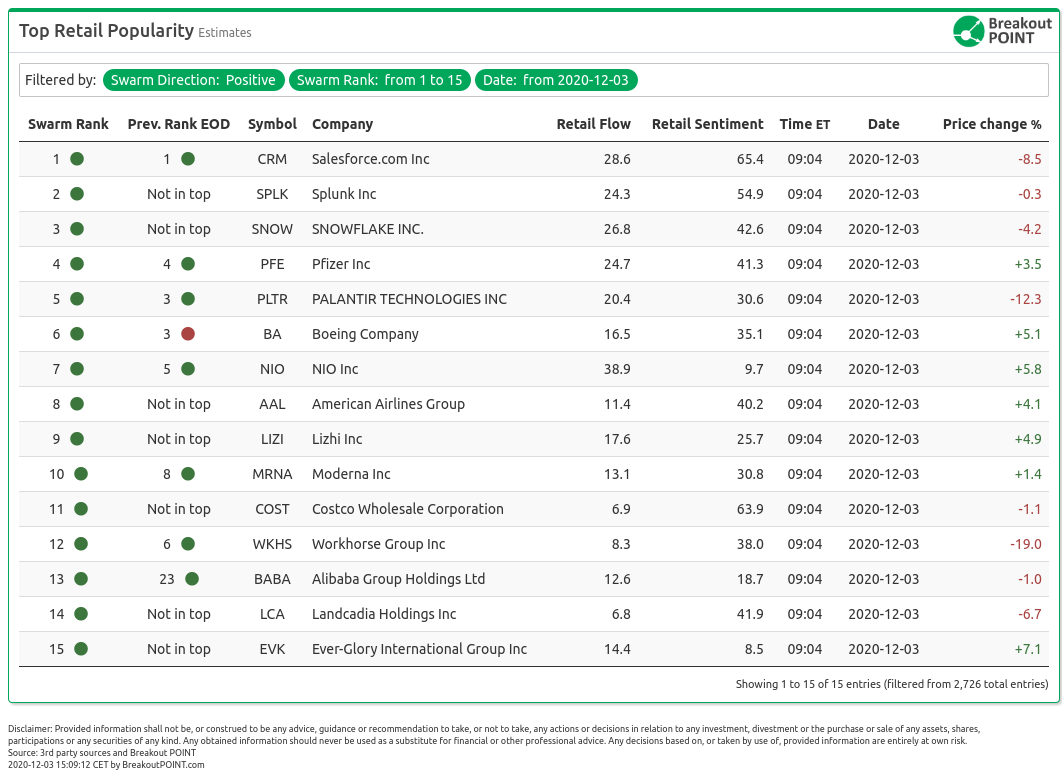 Positive Retail Sentiment
Today's notable positive retail sentiment stocks in the list include Luminar Technology (LAZR), Lemonade (LMND), CIIG Merger Corp. (CIIC), China HGS (HGSH) and BioCryst Pharmaceuticals (BCRX)
Another day, another SPAC news. We are seeing a rebound of interest in CIIC, an entity aimed to merge with Arrival a company that is focused on EV buses. This resurgence of interest is likely due to Jim Cramer. Even though the notorious CNBC staple figure still has yet to get a Reddit account, r/spacs was quick to point out his endorsement of the stock which was largely positively received. Twitter noticed as well.
$CIIC - I have been screaming for a couple of weeks saying Arrival with be mini or #Tesla of EV Buses, Vans, Trucks..... Today on CNBC Booyah guy Jim Cramer called it "son of Tesla" https://t.co/XWl7Pq056y

— SuperDuper Investor (@SuperDuperInvst) December 4, 2020
A similar story can be seen in LAZR, which used to be a SPAC entity. The stock was up over 30% as the merger with a Lidar-related company (tech for autonomous cars) was finalized. Reddit went all over the news, but some have missed the stock by a wide margin. Some traders started to buy the wrong ticker. Just another day in the market which some professors continue to describe through an efficient market hypothesis. Others were a bit better-informed and talked about the right ticker and proposed several arguments for long-term appreciation even after the SPAC hype is now done.
A recent IPO that got into the retail crosshairs today is LMND, an insurance business. The stock got on the list due to its share price action. The shares were up over 20% yesterday and the pre-market action points to another green day. Seeking Alpha resorted to explaining the move as a reaction to a Motley Fool article. The commenters were rightly sceptical about this. Reddit was rather quiet about the share price action apart from few threads showcasing gains. Twitter was the usual mixture of day traders and the odd long-term bullish perspective as seen below.
Broke my first position into $LMND today. (1% of my net worth)

Hope it continues to drop so I can DCA in more. The more I read the more I'm convinced they're going to completely disrupt an industry that's ripe for disruption.

Also added a bit more to $DBX

— MacGyver Mutual Fund (@career_mid) December 1, 2020
HGSH is also pumping on rather thin news flow. This Chinese-based real estate company has seen its share price jump 20% yesterday and now the pre-market seems to point to a huge surge of over 100%. Reddit was completely quiet on this sub $100m stock so far. Twitter provided possible explanations for such a move, but none signalled to meaningful fundamental development.
$hgsh running out of patience. Needs to move some more. If you wanna know its moving, owner needs to cash some shares out and make some money

— The handicap trader (@Rodney56290548) December 3, 2020
Open Outcrier even called out the stock specifically.
Todays WTF list (moving on no discernable news)$HGSH +125% pre$CIDM +53% pre$RETO +26% pre$NOVN +17% pre

— Open Outcrier (@OpenOutcrier) December 4, 2020
Due to this peculiar nature of the situation, investors should keep a close eye on HGSH today.
Finally, we have noted the retail interest in BCRX, an $841m biotech. The interest came on the back of an FDA approval for one of the company's products aimed at hereditary angioedema. The stock is up over 9% pre-market. r/pennystocks was reminding investors that this FDA approval is likely to go through after the market close. While some commenters were initially sceptical, the thread was a success.
Dominant retail selling pressure
Finally, we mention tickers with estimated dominant retail selling pressure: x
---

---
FAQ | Q: Can I publish parts of above data and analytics in an article? A: As long as you reference our work in your article - yes, you can.
FAQ | Q: Could you provide more related data and analytics? A: Sure, contact us and we'll try to help as soon as possible.
* Note: Presented data and analytics is as of available on 2020-12-04, UTC 13:00.
The services and any information provided by Breakout Point or on the Breakout Point website shall not be, or construed to be any advice, guidance or recommendation to take, or not to take, any actions or decisions in relation to any investment, divestment or the purchase or sale of any assets, shares, participations or any securities of any kind. Any information obtained through Breakout Point and its services should never be used as a substitute for financial or other professional advice. Any decisions based on, or taken by use of, information obtained through Breakout Point and by its services are entirely at own risk.