TL; DR: Berkshire Hathaway dropped off Robinhood's list of the 100 most popular stocks, while Kodak made the list. This is not an isolated case. Smaller (and more volatile) is better seems to be a popular mantra in the retail trading universe. Since March, 45 stocks have dropped from the list of the 100 most popular stocks at Robinhood and have been replaced by stocks whose average market capitalization is 2.8 times smaller.
According to our Retail Popularity Tracker, the attention of many retail investors has shifted to small caps over the past nine months. More than before, we're finding that a few-billion- and sub-billion-dollar companies are regularly popping up among the usual mega-cap suspects on our retail popularity list, sticking around for a while and then, often, fading away. Recent additions to our list of trending retail names include: XL Fleet Corp (XL), Foresight Autonomous Holdings (FRSX) and Ocugen (OCGN) to name a few.
Robinhood's Popularity: How it started; How it's going
More love for small caps seems to be part of a longer-term overall trend in popularity among retail investors. To illustrate this, we looked at Robinhood's list of the 100 most popular companies. In particular, we focused on the market capitalization of two groups of companies:
companies that have entered the list of Robinhood's 100 most popular stocks since March (our "Current Snapshot") and
companies that have fallen out of this list since March (our "March Snapshot").
According to our analysis, 45 companies have fallen from the list of the 100 most popular companies since March, making room for 45 new companies. We focused at the average market capitalization of these two groups of 45 companies and noted what seems to be a smaller-the-better pattern. Note that we took market capitalisation values on the day of the corresponding snapshots. The average market cap dropped whopping 2.8 times, from about $71 billion (see "March Snapshot") to about $25 billion (see "Current Snapshot"):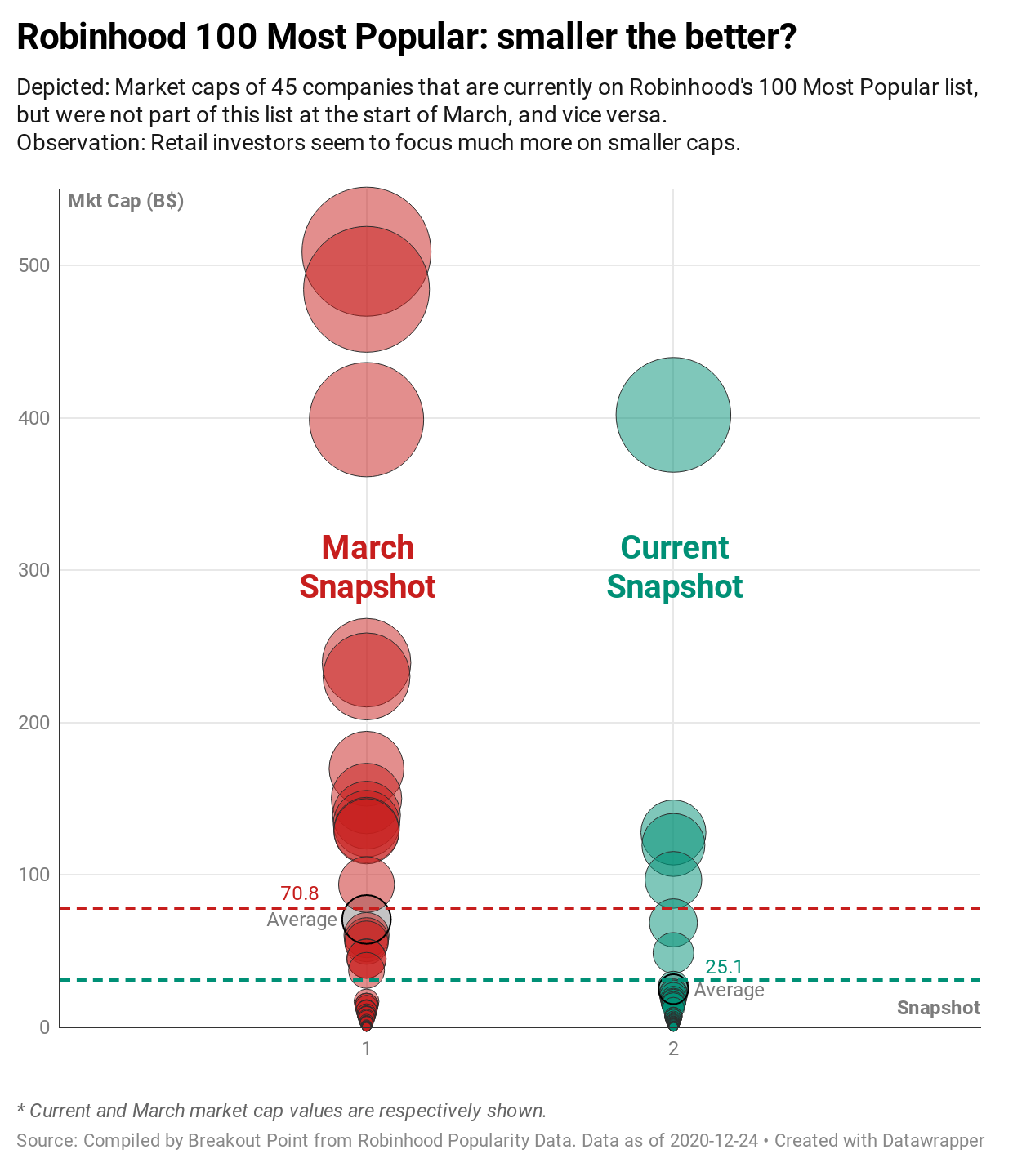 A closer look at the ten biggest companies that left and joined the list during our observation period reveals another significant discrepancy. We took ten biggest companies from both groups and compiled a list of twenty, sorted by market capitalization. Surprisingly, only Johnson & Johnson (JNJ) from the "Current Snapshot" group managed to get a spot in the top ten. The remaining nine were from our "March Snapshot" group.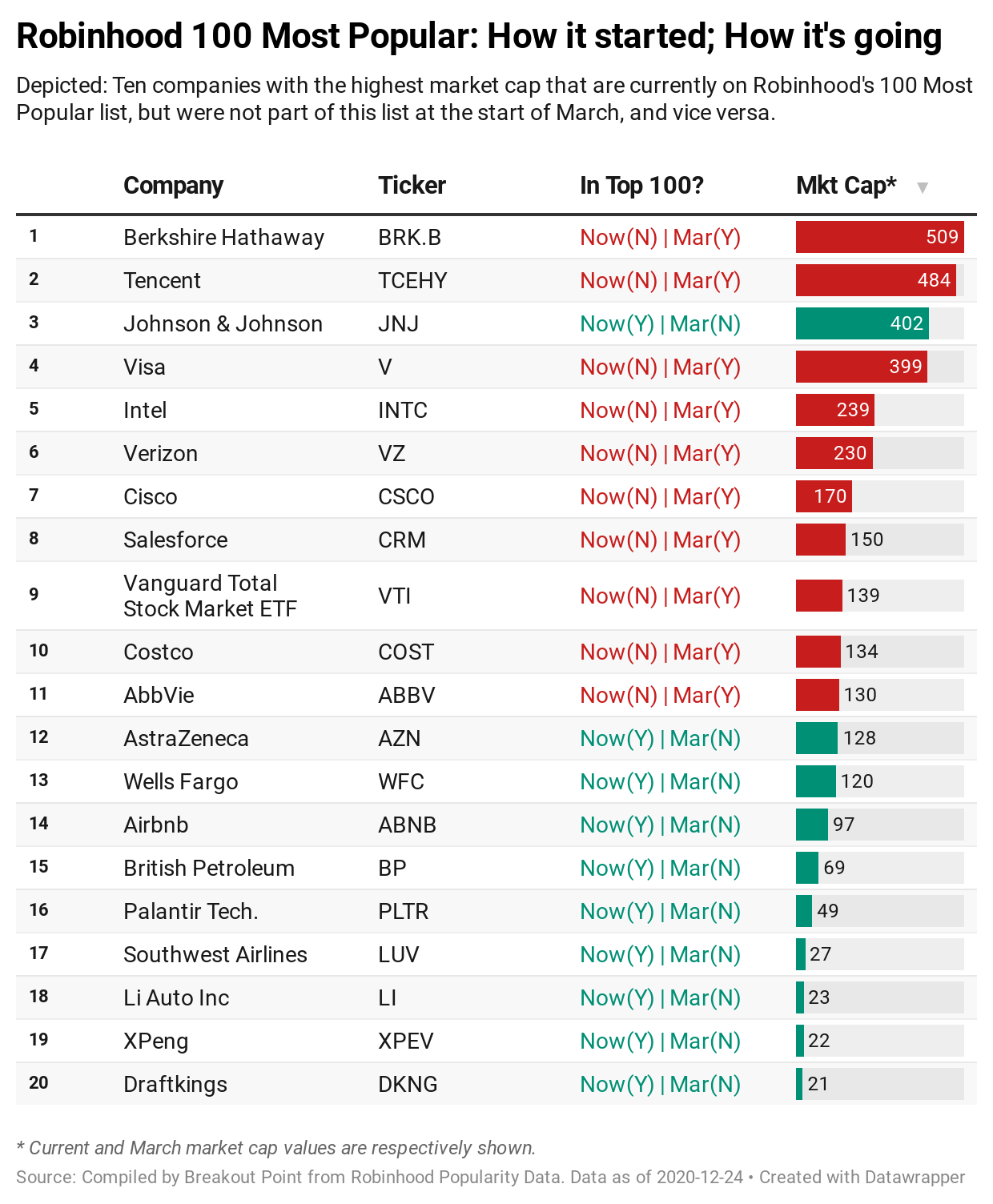 The smallest stocks currently on the list
Finally, we looked at the ten smallest stocks by market capitalization currently on Robinhood's list of 100 most popular stocks. Of those ten, we were only able to identify two that were also represented on our reference list of the Robinhood's top 100 from March.
It is particularly noteworthy that Kodak has found its place on the current list of the 100 most popular stocks. Kodak received a lot of attention from retail investors in July after a $765 million government loan to Kodak was announced. We even saw a single record day with more than 60,000 Robinhood traders adding Kodak to their portfolios.
Aside from Kodak, the other notable stocks with the smallest market capitalization that chrashed Robinhood's 100 most popular party include:
a well-known movie theater chain company, AMC Entertainment Holdings (mkt cap about $400m),
a children's media entertainment company, Genius Brands International (about $400m), and
a Canada-based company from currently hardly avoidable EV-sector, Electrameccanica Vehicles Corp (about $550m).
Retail investors enter 2021 as an unexpectedly important investor group that became a must-watch group after many intense and unusual trading moves in 2020. Their activities attracted huge attention not only of the media and other retail investors, but also of professionals.
At Breakout Point, we continuously track retail popularity and estimate retail sentiment and retail flows in real time. We don't yet know what the 'Kodak-s', 'Hertz-s', 'Airbnb-s' and 'ARK's' of 2021 will be, but we're keeping a close eye on all the developments.

---
FAQ | Q: Can I publish parts of above data and analytics in an article? A: As long as you reference our work in your article - yes, you can.
FAQ | Q: Could you provide more related data and analytics? A: Sure, join Breakout Point and start benefitng from our services.
* Note: Unless otherwise stated, presented data and analytics is as of available on 2020-12-24, UTC 12:00.
The services and any information provided by Breakout Point or on the Breakout Point website shall not be, or construed to be any advice, guidance or recommendation to take, or not to take, any actions or decisions in relation to any investment, divestment or the purchase or sale of any assets, shares, participations or any securities of any kind. Any information obtained through Breakout Point and its services should never be used as a substitute for financial or other professional advice. Any decisions based on, or taken by use of, information obtained through Breakout Point and by its services are entirely at own risk.