---
We look back at the rather eventful year of 2020 with 177 new major short reports and calls we recorded.
We reminisce about some of the Big Shorts that played out this year.
We highlight the most prolific short-seller this year who solidified their place in the community.
We look forward to what could be the themes of the next year.
---

---
In 2020, we registered and tracked 177 new major short campaigns. This is very consistent with the number of campaigns recorded in 2019. On average, targeted stocks were trading 7% lower one week following a short call/report, but as of EOY were trading about 28% higher. Certainly, 2020 is not a year that many short researchers will remember fondly. However, 2020 is also a year of many successful and important short campaigns. The ten most successful from 2020 are: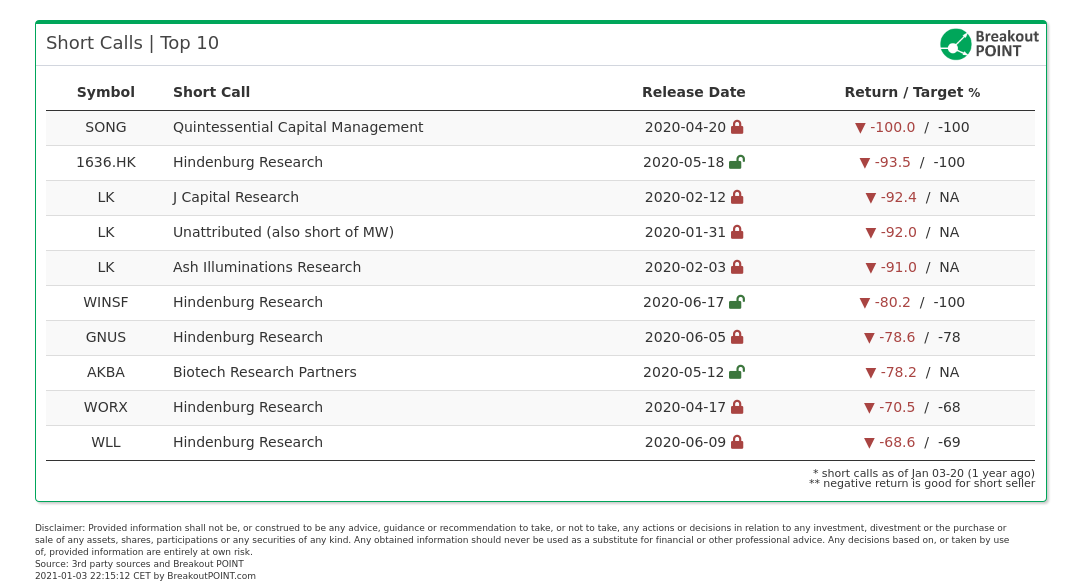 Hindenburg Research did not only land amazing five out of ten top spots on our list of the best performing 2020 short calls, but was also the most active: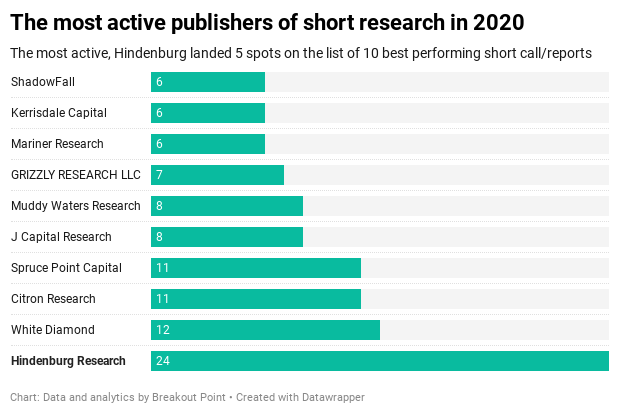 The country most frequently targeted was the U.S., with 98 short reports, representing about 55% of all reports. This is hardly surprising and is a regular occurrence in our short selling records. Behind the U.S. is China with 31 new major short calls and reports that we recorded. In terms of stock price performance, the activist short selling in China in 2020 is perhaps best described as hit-or-miss. While Luckin Coffee, China Metal Resources Utilization, and Kandi Technologies Group Inc. plunged, GSX Techedu, JinkoSolar Holding Company, GDS Holding and Tianneng Power International are trading significantly higher. At the country level, short sellers have been most successful with German companies. The four targeted stocks are trading about 32% lower on average. The most recent German short is Grenke by Viceroy. Shares of this German company are trading about 30% lower than before the initiation report.
Healthcare and technology were the most targeted sectors, with 41 and 39 new short reports and calls, respectively. These two sectors already account for 45% of the short reports and calls in our 2020 records.
Big Shorts and 2020
It is tough to start to even describe the year 2020. Every market participant faced huge bouts of volatility not seen in several years. Short-sellers were not spared of this as the market first went down 33% and then proceeded to rebound 65%. We've also seen a huge increase in the number of retail investors, which brought a whole new momentum to some segments of the markets. There was a lot to both digest and learn. Carson Block of Muddy Waters kindly shared some of his takeaways:
The markets of 2020 taught us that we need to be very nimble and active in trading to risk manage our short positions. It also taught us that we need to be much more attuned than in prior years to the technical dynamics of potential shorts.
While this year produced material for many documentaries, we believe the following short campaigns made some of the most significant marks on the markets as a whole.
First, it was Luckin Coffee (LK). The Chinese version of Starbucks imploded on April 2nd when the company announced that an internal investigation found that its COO has fabricated over $310m in sales. A somewhat punchy headline about which short-sellers have warned on the 31st of January when Muddy Waters shared an anonymous report showing detailed on-ground research of LK's locations. This report has demonstrated how the company's accounts raise red flags by actually sitting in the locations and counting customers. People might think exposing fraud usually involves the secret service (who visit the short-seller, not the perpetrator of course) and clandestine operations. Well in case of Luckin Coffee it was about sitting down at cafés and counting.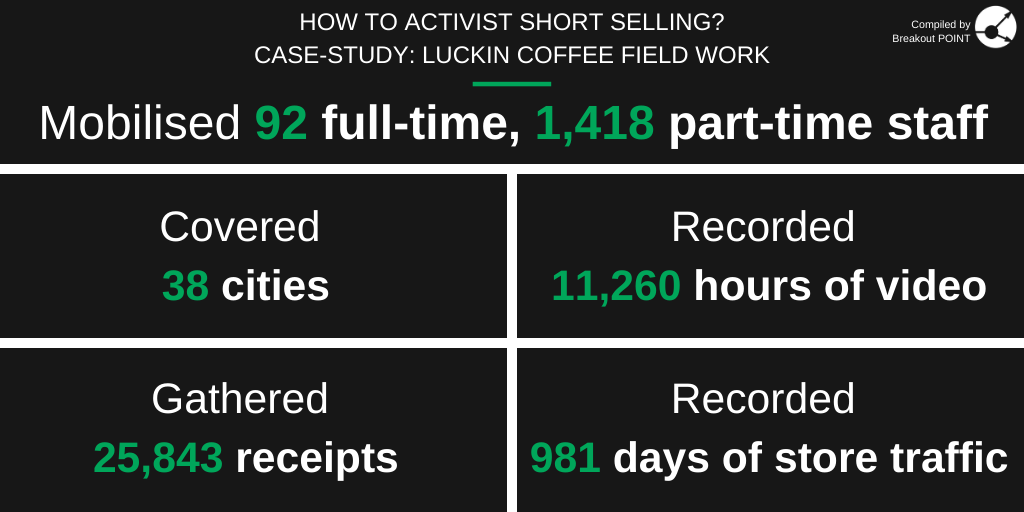 The second major event of the year was none other than Wirecard. Much has been written about the German payment company. Now it is likely only a matter of a time when we see Scorsese or another famous director directing something along the lines of Der Wolf aus Ascheim. For now, the German TV shared a documentary "The Fall of Wirecard: A story of seers, deceivers and the deceived" looking at the events. This Wirecard documentary kicks off with words by a well-known short seller, Marc Cohodes: "You knew these guys were done".
While the eventual failure of the company came as a no surprise for many short-sellers, some of which have been targeting the company actively for the past three years (sceptics were around even before), the repercussion might not only stop at the company. The role of Germany's financial regulator also got a lot attention. It will also be interesting to see if we get an answer to a question we heard many times in 2020; 'Where is Jan Marsalek?'.
Finally, Quintessential Capital Management (QCM), led by Gabriel Grego, also made a significant mark on the short-selling community this year. Not only that QCM recorded yet another zero on their track record after exposing a multi-year fraud at Akazoo (SONG), but QCM has also shown that activist short-selling can contribute to decisions aimed at the protection of patients.
QCM alongside Marc Cohodes started a campaign against Penumbra (PEN), a medical device company due to allegations of serious lapses in corporate governance which allegedly led to deaths of patients exposed to PEN's products. The campaign is still unravelling, but the shorts already won a major battle as the FDA requested that Penumbra voluntarily remove the JET 7 Xtra Flex from the market to protect patients. It is unlikely to stop here, and further concerns have been raised:
We believe $PEN's clinical trials are contaminated by the involvement of actors accused of accepting large bribes and participating in sham clinical trials in the past. Xtra Flex recall not a matter of "bad luck" but more pervasive rot. https://t.co/JC1f7cmkY2pic.twitter.com/4pDGYRw76f

— Marcus Aurelius (@AureliusValue) December 28, 2020
We would remind the readers that when QCM issued the initial report on PEN the market actually bid up the stock. As QCM likes to say, investors should be more careful next time and perhaops consider the following.
Evergreen tweet of QCM https://t.co/dmX9Z3V6OH

— Breakout Point (@BreakoutPoint) November 25, 2020
It should also be noted that before QCM, it was Roddy Boyd of The Foundation for Financial Journalism who raised some of the allegations regarding PEN's devices.
Hindenburg's claim to fame
Hindenburg Research not only has an interesting name which could portray how 2020 went for most of the humanity but the short-seller also solidified its track record as an activist short-seller par excellence.
Not only that they have published the most campaigns this year (standing at 24 now), but also had some of the best results across the board. Five of ten best performing 2020 short calls are by Hindenburg. Their most successful short was a Hong-Kong listed company which was deemed fraudulent by the short-seller. The stock has ended lower by 95%. They also successfully targeted several high-flying stocks during the summer of this year. Wins Finance Holdings Inc (WINSF) or Genius Brands International Inc (GNUS) are just two who ended up lower than 75% after Hindenburg's report.
However, perhaps the most notorious campaign ran by Nate Anderson, the founder of Hindenburg, was targeting Nikola (NKLA), the poster child of the recent SPAC and EV boom.
The short-seller exposed the company on the 10th of September and claimed that NKLA's trucks are just a show for the public and that the insiders have misled investors. Specifically, the report talked about the now infamous NKLA's video of its truck 'in motion'. Hindenburg alleged that the company just pushed the truck downhill as it was not ready to be functioning by itself. In one of the most awkward responses to a short-seller campaign in our records, the company admitted to this via the following legalese which they thought might somehow stop the cratering of their share price.
Nikola described this third-party video on the Company's social media as "In Motion." It was never described as "under its own propulsion" or "powertrain driven."
The key takeaway, whenever you see a new vehicle, always ask whether it is moving under its own propulsion.
Nate Anderson, founder of Hindenburg Research, sees many opportunities in 2021 and kindly shared these thoughts:
In 2020 we started to build out our team and that has made a big difference in our output and quality. We expect 2021 will be just as active if not more so. There is certainly no shortage of opportunities—we've never seen this number of multi-billion dollar frauds and stock promotion schemes.
Other prolific activist short-sellers include the team at J Capital Research (J Cap) who were able to see a major success at Northern Dynasty Minerals Ltd (NAK) as the mining company collapsed and J Cap was proven right. They also provided further research into LK before it imploded. White Diamond also continued to scour the small-cap space for dubious companies this year. Their biggest success was the target of a small biotech with COVID-19 claims in early February, a theme which played out many times after.
Higher Standards in 2021?
The above short campaigns are not evidence of an overall excellent standard of work by activist short sellers in 2020. As QCM's Gabriel Grego put it for another Breakout Point's post in 2020:
It is full of abysmal examples of short attacks: full of innuendos, unsubstantiated allegations and imprecise/incorrect evidence. These "attacks" are very damaging to the hard work of those of us who strive to maintain high ethical and professional standards.
The higher the standards of work, the better. The standards are clearly reflected in elements Mr. Grego pointed out above, and sometimes even also in the way authors communicate with their audience. For example, our engine noted one author who referred to a number of own subsequent new short calls in 2020 as "my best report ever." The author's tweets with this designation were regularly deleted afterwards, while we often observed what seemed to be unfavorable stock movements around the same time.
2021 – Year of the 'China short'?
While we saw major successes in a number of areas of the short-selling space, one area which has been nothing but an extreme challenge for shorts is China. Our database has over 10 campaigns targeting Chinese-based US-listed companies. Many times the short-sellers allege complete fraud.
However, we are yet to witness another Luckin. Stocks such as Jinko Solar (JKS), a solar company in focus of Bonitas, IQ, a Chinese version of Netflix in focus of Wolfpack and Muddy Waters, or the most notorious of all GSX, an online education company have been holding up well despite the strong claims. For instance, GSX has been targeted by more than six different activist short-sellers, starting with Grizzly Research.
While the stocks have gone up, at least in some cases, cracks seemingly started to show. In the case of GSX, the company had to justify an extreme increase in the cost of marketing in Autumn. One very well-known twitter user had this to say:
Does anybody doubt $GSX is fabricating its financials? This is a $17B fraud in plain site. What a time to be alive.@muddywatersrepic.twitter.com/szL5iBdLzU

— TC (@TESLAcharts) November 20, 2020
Others seem to be relatively quiet, but many investors are eagerly expecting the first few months of next year when the U.S. auditing companies will have to certify the financial accounts of many of these firms. Some believe this might be the ultimate catalyst and assume that some auditors might refuse to certify.
Another tailwind for the short-sellers might be the U.S. government which is looking at potentially delisting Chinese companies if they do not comply with the US auditing standards.
What bubble?
Another area of the market that has proven challenging for short-sellers are the SPAC/Alternative Energy/Retail Favourites stocks. This ragtag group of stocks has been in focus by the likes of r/wallstreetbets and seemingly supported by ARK Innovation, Warren Buff..sorry Dave Portnoy, or Chamath Palihapitiya. Mix this with a bit of government support, favourable monetary policy and easy access to the markets and you have a fresh new breed of market participants, the YOLO retail traders of 2020.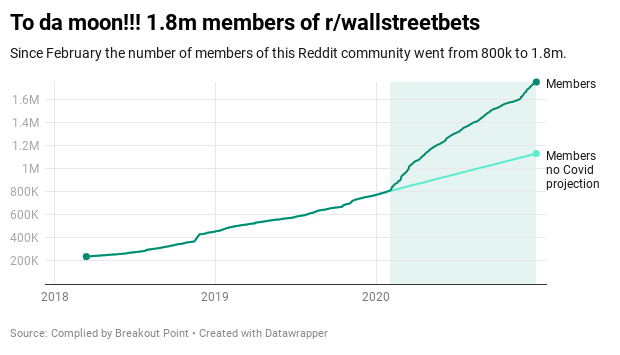 While some short-sellers had success targeting the volatile stocks which are swarmed by retailers hoping for another mooning, some have only seen the share prices go up. Blink Charging (BLNK) can be one example. Mariner and Culper Research shared their view on this EV-charging stock and alleged broken infrastructure and dubious corporate governance with the key insiders having a tainted business record. While the stock initially sold-off, the shares are now up over 300%. Plug Power (PLUG) or FuelCell Energy (FCEL) are also other examples of alternative energy stocks which have doubled or tripled despite serious doubts from the short-sellers about the viability of the businesses.
However, that being said Citron Research got back in the game lately and started to target some of these retail favourites such as Luminar Technologies (LAZR) or Electrameccanica Vehicles Corp (SOLO) and achieved relative success so far. Both EV-related stocks are so far down more than 15%. The arguments for being short these stocks are usually pretty straightforward for an investor who still believes fundamentals matter. However, while Citron did achieve success on these shorts and also had great overall success in 2020 ("Andrew Left's Citron Capital Ends 2020 Up 155% Net Of Fees"), similar 2020 calls often seemed to be what some would call a "sucker bet".
We will see whether the excitement about the retail favourites will last in 2021 as well. If you are interested in the latest most popular stocks and sentiment among the retail traders be sure to check out our Retail Popularity services. We are jumping in where Robinhood API left off and are providing a proxy for retail interest in single stocks.
---

---
FAQ | Q: Can I publish parts of above data and analytics in an article? A: As long as you reference our work in your article - yes, you can.
FAQ | Q: Could you provide more related data and analytics? A: Sure, join Breakout Point and start benefitng from our services.
* Note: Presented data and analytics is as of available on 2021-01-02, UTC 12:00.
The services and any information provided by Breakout Point or on the Breakout Point website shall not be, or construed to be any advice, guidance or recommendation to take, or not to take, any actions or decisions in relation to any investment, divestment or the purchase or sale of any assets, shares, participations or any securities of any kind. Any information obtained through Breakout Point and its services should never be used as a substitute for financial or other professional advice. Any decisions based on, or taken by use of, information obtained through Breakout Point and by its services are entirely at own risk.