This week we have registered eight new major short research reports and flags, with targeted shares trading 17% lower on average.
The most influential was short of J Capital Research. The short-seller targeted yet another Chinese-based company which is allegedly faking its bitcoin business.
We also highlight campaigns that have targeted stocks that recently featured a heavy run-up despite many red flags.
Lastly, we talk about what ShadowFall is still short and what campaigns have had a tough week as the stock continued to go up.
---
Bits and Pieces
On 'negative analysis': Co-founder of Lemonade had this to say on short research:
Yes, you're right. But from my experience, most of the BS is coming from negative analysis, not positive one. It's just my observation, and I might be biased

— Shai Wininger (@shai_wininger) January 11, 2021
However, after some time and after a discussion with Fintwit, we have seen an error admission.
I'm removing my rant about negative posts. You were right, I was wrong! ... must have woken up on the wrong side of the bed. Thanks for calling me on my shit

— Shai Wininger (@shai_wininger) January 12, 2021
Stating the expected: We have seen a record lasting short selling ban in South Korea. Thus, this article in Bloomberg does not come as a surprise:
South Korea's prime minister says he's not a fan of short-selling as the country moves to remove a pandemic-issued ban on the trading practice
Another war story: Nate Anderson of Hindenburg Research recently shared a peculiar detail about due diligence they once did with Gabriel Grego of QCM. It involves an exotic dancer, flowers and a hunt for a signature:
Gabriel Grego, Police Investigator Among Short Sellers [In-Depth Profile]
---
Need retail flows and sentiment? Robinhood's API, which provided popularity data, recently ceased operation. This data was popular not only with journalists and momentum investors, but also with short sellers, who frequently applied reverse Robinhood swarming strategies. The good news is that there are a few great alternatives and proxies for Robinhood's popularity data, eg our Retail Popularity plan provides real time retail sentiment, estimates retail popularity and positioning, and alerts about activities of VIP retail investors.

---
Big Movers
One of this week's biggest mover on the right side for the shorts was the new campaign of J Capital Research (JCap) who targeted Bit Digital Inc. (BTBT) an $896m bitcoin mining company. They mainly focused on the business due to allegations of ...
(Get full weekly report and stay on top of activist short selling developments - Join Breakout Point).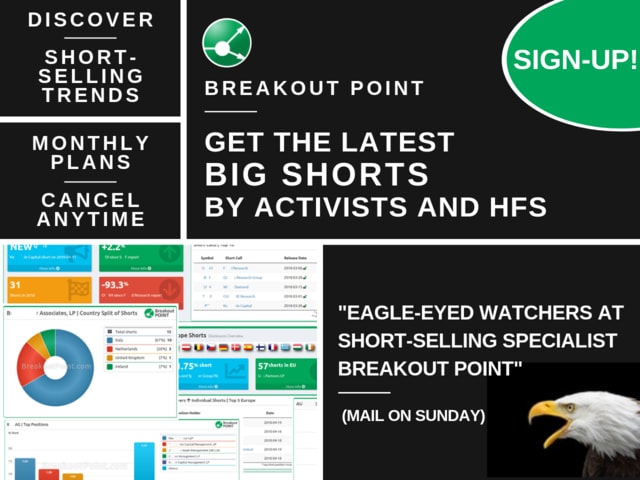 ---
FAQ | Q: Can I publish parts of above data and analytics in an article? A: As long as you reference our work in your article - yes, you can.
FAQ | Q: Could you provide more related data and analytics? A: Sure, join Breakout Point and start benefitng from our services.
* Note: Presented data and analytics is as of available on 2021-01-08, UTC 20:00.
The services and any information provided by Breakout Point or on the Breakout Point website shall not be, or construed to be any advice, guidance or recommendation to take, or not to take, any actions or decisions in relation to any investment, divestment or the purchase or sale of any assets, shares, participations or any securities of any kind. Any information obtained through Breakout Point and its services should never be used as a substitute for financial or other professional advice. Any decisions based on, or taken by use of, information obtained through Breakout Point and by its services are entirely at own risk.