Last week we have registered four new major short campaigns and calls.
We have seen Kerrisdale take a shot an alternative energy company which has been targeted five times before. According to the short-seller, the recent run-up should present the opportunity to finally short the stock profitably.
We also highlight Bronte Capital's thoughts on the broader market as they have released their annual report. The fund had a challenging year and sees SPACs and the retailer crowd as culprits.
Finally, we look at which stocks have been registering major moves last week.
---
Bits and Pieces
Citron's short in GameStop (GME): A lot of happened here, culminating with an open letter by Citron, where they mentioned many mob reactions to their short call and said that that they will not be commenting on GME anymore, The share prices subsequently soared on Friday (Friday's close +51%). As we outlined to our Retail Popularity clients a number of times, GME has been in unprecedented focus of reddit users. Our clients can find out which stocks are touted as 'new-GME's'.
An unprecedented amount of fraud?: Felder thinks so with a quick rundown of the most notorious cases in the past year.
Gladstone now without 'one of the best short-sellers in the industry' as top investigator leaves.
Eisman's biggest current short: Steve Eisman of 'The Big Short' fame, discussed on Bloomberg why he is shorting subprime auto lender Credit Acceptance (CACC). On individual level, this is his biggest short, while on a industry level the biggest short seems to be in educational industry.
---
Need retail flows and sentiment? Robinhood's API, which provided popularity data, recently ceased operation. This data was popular not only with journalists and momentum investors, but also with short sellers, who frequently applied reverse Robinhood swarming strategies. The good news is that there are a few great alternatives and proxies for Robinhood's popularity data, eg our Retail Popularity plan provides real time retail sentiment, estimates retail popularity and positioning, and alerts about activities of VIP retail investors.

---
Big Movers
This week's among major mover on the right side for the shorts was Cleanspark (CLSK), a $618m bitcoin mining company. The stock was targeted by Culper Research due to allegations of unsustainable business and promotional scheme which misled investors. CLSK has dropped about 10% this week and is already down 29% since Culper's report roughly two weeks ago. According to the report, the downside opportunity still has legs as they eventually see the shares as a zero.
The company has indirectly responded to the allegations as they have released an 8-K which said that they are investigating Culper and might take legal action. However, this did not seem to stop the negative trend of the stock.
On the other side of the tracks, there were a couple of stocks which were causing problems to the short-sellers. Beyond, above-mentioned GME, it was SPI Energy (SPI) and Nano-X (NNOX).
The first stock is short of Grizzly Research. They have targeted the company due to allegations of being a constant pump and dump which led to an unsustainable share price spike in October of last year.
As of now, the stock is up over 40% since the initial report. The company has recently registered positive share price performance due to a press release about cooperation with one firm to design EVs. Right up the alley for the EV-hungry retail crowd.
The second stock is short of both Muddy Waters and Citron Research. These two heavy hitters have had a tough going at this medtech company. They targeted the stock with serious allegations of fake product and overblown claims by insiders. So far these have not made the stock anyhow disliked by the market. The shares are now up over 33% since Citron's initial report and have registered a strong week based on the news that Cathie Wood and her firm ARK has entered into a position.
It will be interesting to see whether the recent price action will spark an update from the short-sellers.
---
Bronte's thoughts on the market
Bronte's Ganymede Fund reported its results and the fund manager behind the famous investment vehicle, John Hempton had to delve into what has driven the tough year at the fund. The return was about 3% in 2020.
One of the key reasons for the relatively muted performance was apparently the rise of retail. The crowd has bid up stocks which are usually profitable for Bronte on the short side. 2020 had been disappointing as these stocks just continued to shoot through the roof. The fund has identified SPACs as the potential fuel which continues to support the market.
However, according to Bronte, the new craze is the last stage of the current bull market which is likely to eventually end similarly to the dot-com bubble. While early 2000s might be repeating, Hempton also sees another historical period similar to today's environment and that is the early 70's and the rise of the 'blank check companies'. He sourced heavily from the book 'The Go-Go Years' from which even the title can apparently already showcase what could be in store for the markets. The SPAC craze has started in 2020 and so far has been running for several months, but as the book suggests, it could well be years before we see the true top.
With this in mind, we would like to remind readers that our Retail Popularity offering enables you to stay on top of the stocks that Bronte likes to short. Perhaps 2021 will be different.
---
The sixth time the charm?
This week we have spotted Kerrisdale Capital publishing on Plug Power (PLUG). The short-seller targeted this $40bn renewable energy company due to allegations of an unsustainable business model and excessive valuation.
Most importantly, the report believes that through PLUG the market is betting on hydrogen being widely adopted. However, the company itself has had little..
(Get full weekly report and stay on top of activist short selling developments - Join Breakout Point).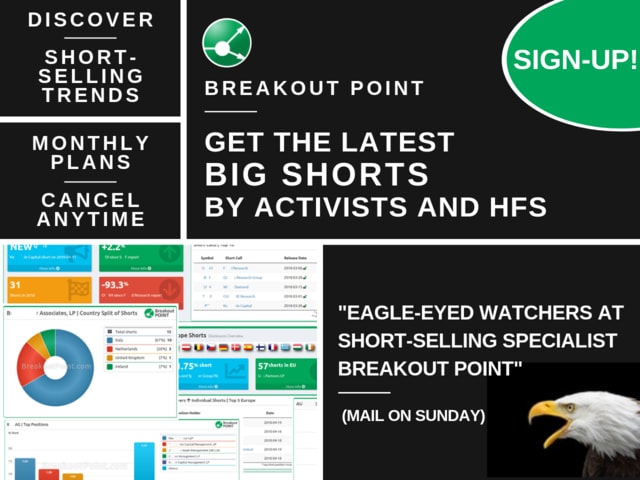 ---
FAQ | Q: Can I publish parts of above data and analytics in an article? A: As long as you reference our work in your article - yes, you can.
FAQ | Q: Could you provide more related data and analytics? A: Sure, join Breakout Point and start benefitng from our services.
* Note: Presented data and analytics is as of available on 2021-01-23, UTC 12:00.
The services and any information provided by Breakout Point or on the Breakout Point website shall not be, or construed to be any advice, guidance or recommendation to take, or not to take, any actions or decisions in relation to any investment, divestment or the purchase or sale of any assets, shares, participations or any securities of any kind. Any information obtained through Breakout Point and its services should never be used as a substitute for financial or other professional advice. Any decisions based on, or taken by use of, information obtained through Breakout Point and by its services are entirely at own risk.