Today in premarket on January 7 we are seeing the following stocks with high retail popularity estimates: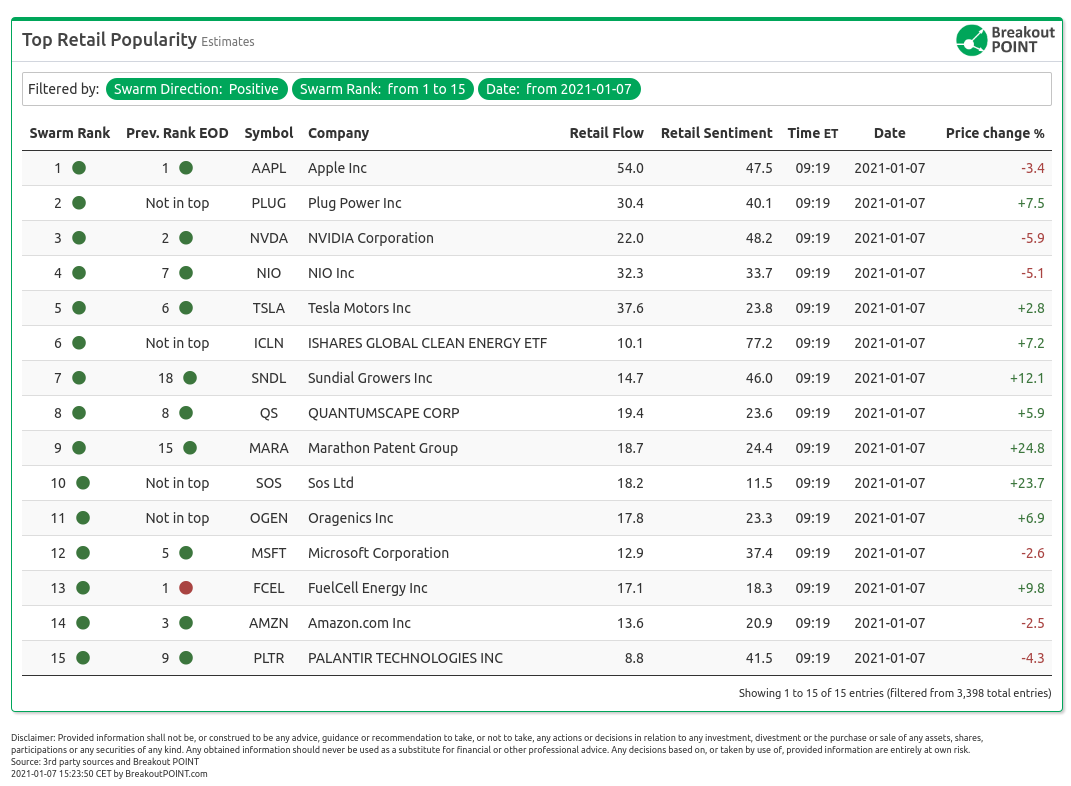 Positive Retail Sentiment
Today's notable positive retail sentiment stocks in the list include Apple (AAPL), Nvidia (NVDA), Plug Power (PLUG), FuelCell (FCEL), Nio (NIO), and Oragenics (OGEN).
Retailers have shown significant interest in AAPL today as the company is nearing its next quarter at the end of the month. The market also noticed a slight sell-off of the stock this week and thus some traders saw this as a good moment to do the thing they mostly got famous for last year, buying the dip.
Looking to add quite a bit of $NIO & $AAPL this week.

— THE GREEK TRADER (@GreekTrader777) January 4, 2021
As per the tweet, the situation is similar at the Chinese TSLA clone, NIO. The pressure on this stock in the past few days was provided by the US government which is said to consider banning investments in the likes of BABA or TCEHY. However not many are so far concerned about the stock price. The retailers are also eyeing the upcoming NIO day on the 9th of January to see further gains.
NVDA got on the list due to the news that UK regulator will scrutinize the company's deal with Arm Holdings worth $40bn. r/wallstreetbets was quick to dismiss this as immaterial and instead suggested it could be a good buying opportunity. Other than that we note the usual chatter on Twitter and Seeking Alpha.
OGEN, a small biotech, shows that the retailer crowd is still excited by COVID19 vaccines. The company announced that they acquired a part of a new technology to be added to the vaccine. Both Reddit and Twitter day traders shared bullish targets of $3 per share given the news. r/pennystocks shared the same information as the below tweet.
$OGEN in. Huge lag relative to penny bio high fliers. Remember recent $3 price target announces. This one should get going big here soon.

— Michael Hunt (@Michael___Hunt) January 6, 2021
Finally, we are seeing two other stocks becoming popular due to the elections in Georgia and both are related to alternative energy. The market is hoping that both PLUG and FCEL will be major beneficiaries of the Democratic win. The party might be more inclined to support these businesses. It might showcase such support in the upcoming stimulus which might be enhanced after the successful elections for the Democrats. Furthermore, PLUG has scored a significant victory in getting over $1bn in investment from a South Korean company. This has lifted the stock up and pre-market points to further gains. Reddit and Twitter were all over the news as many traders have been holding the stock for a while now and were celebrating gains.
Dominant retail selling pressure
Finally, we mention tickers with estimated dominant retail selling pressure: PFE MRNA
---

---
FAQ | Q: Can I publish parts of above data and analytics in an article? A: As long as you reference our work in your article - yes, you can.
FAQ | Q: Could you provide more related data and analytics? A: Sure, contact us and we'll try to help as soon as possible.
* Note: Presented data and analytics is as of available on 2020-01-07, UTC 13:00.
The services and any information provided by Breakout Point or on the Breakout Point website shall not be, or construed to be any advice, guidance or recommendation to take, or not to take, any actions or decisions in relation to any investment, divestment or the purchase or sale of any assets, shares, participations or any securities of any kind. Any information obtained through Breakout Point and its services should never be used as a substitute for financial or other professional advice. Any decisions based on, or taken by use of, information obtained through Breakout Point and by its services are entirely at own risk.