At Breakout Point we track most popular retail investors' stocks. As part of this, we track stocks that are being discussed and mentioned by the retail investors on social media. The best known website for retail discussions is Reddit. The website is the epitome of the 2020 retail trading boom, specifically the subreddit r/wallstreetbets (r/wsb) which now boasts about 1.8m members.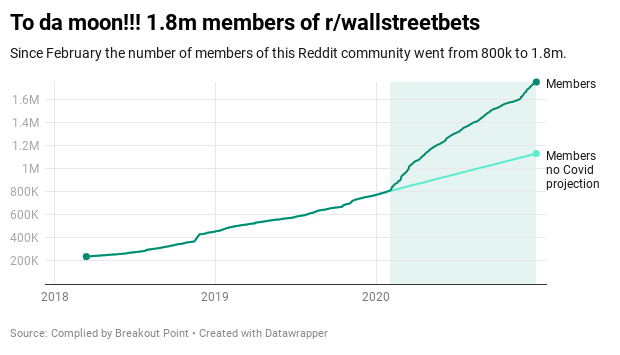 This subreddit has been even mentioned by a person who some might call the proto-r/wsb, Jim Cramer. Given the popularity of this and others subreddits, it is beneficial to pay attention to what is trending on the whole website. In this post, we are going to discuss the stocks that have been most actively mentioned by retail investors in the past week.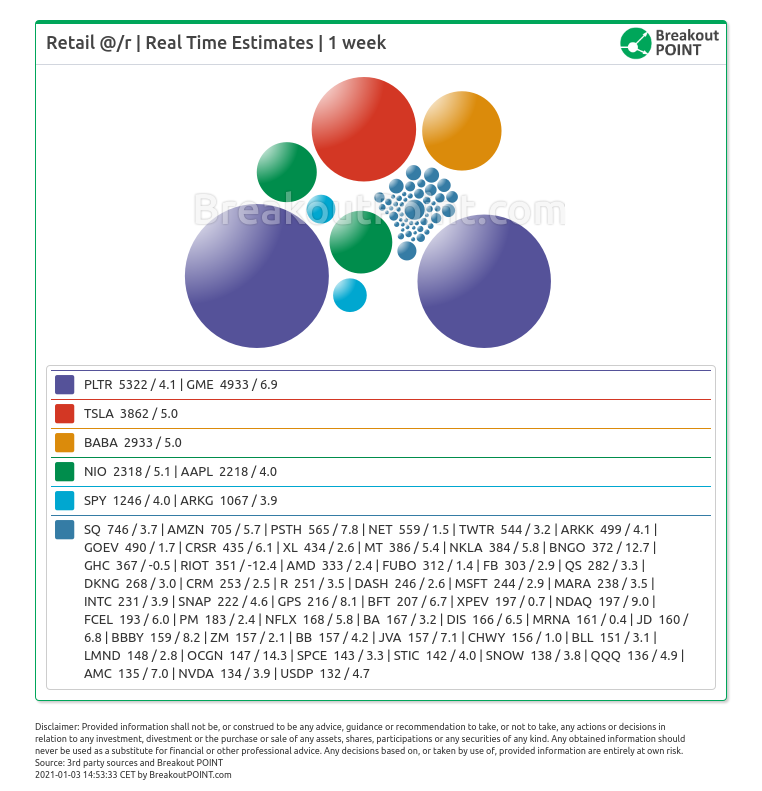 Usual Suspects
Among the top 10 most mentioned stocks we can find all the notorious tickers, from the ultimate EV stock which is now a proud member of the SP500 to its Chinese clone and the staple tech play, Apple. Perhaps an honourable mention should go Palantir (PLTR) this week. The tech company took Reddit by storm and even after its IPO has remained one of the most favourite stocks of the website. While wallstreetbets is the flagship subreddit for the business, the shares are discussed even on more 'reserved' subreddits such as r/investing where they pay close to attention to any development in the company's business. r/options also features a prominent discussion of how to best play the PLTR stock.
r/wsb-specific
While most of the top 10 stocks have earned their spot on the list given the overall popularity across the market, the second most mentioned stock in the past week actually does not come up as much in other places as Reddit and specifically r/wsb. Gamestop (GME) has had an excellent year due to the company's efforts in reinvigorating their business which was deemed dead by many. The stock is up over 200% in the past six months and has recently registered a strong rebound which led the shares to touch prices that the company have not seen in the past three years. This has resulted in numerous threads on the subreddit celebrating their gains. The comment sections in most of the thread are wildly optimistic about future gains. Some threads talk about their new short-term call option positions as Redditors are hoping for further share price appreciation.
All this madness about GME was partially driven last week by the news that one of the major shareholders have increased their stake and are in talks with the board of the company to ensure proper creation of shareholder value in the future.
r/SPACs - the run continues
One of the major trends of 2020 is this new way of going public and Reddit quickly reacted to set up a dedicated subreddit which now has over 53,000 members scouring for the best deal. This week was no different. Canoo Inc (GOEV), a commercial EV play, was featured heavily as the stock has hit a rough patch after its over 100% run early in the month. Redditors were quick to react and offered their views on why people should buy the dip (it has to do with a recent share structure issue).
Another example is the SPAC of Pershing Square (PSTH) which began trading in the middle of November, but quickly garnered a lot of attention from Reddit. Due to its positive share price performance so far, the trend does not seem to fade away. r/wsb has seen many threads hoping for an eventual 'mooning' of the stock as more becomes known about what the plans are. Reddit even created a specific subreddit r/PSTH which has about 1,600 hopeful members. Given the involvement of Bill Ackman, it might be that this might be one of the 2021 SPACs to look out for, of course after this (imaginary) one.
I'm calling the top on SPACs. pic.twitter.com/MFtem7Stqs

— Trevor Scott (@TidefallCapital) December 29, 2020
2020 at r/wsb in a nutshell
For anyone interested in a good overview of what were some of the most 'memorable' trends amongst the top plays at r/wsb and elsewhere we would suggest this thread which recounts most of these:
A comprehensive list of all the stuff pumped on this sub in 2020. Congrats retards! from r/wallstreetbets
---

---
FAQ | Q: Can I publish parts of above data and analytics in an article? A: As long as you reference our work in your article - yes, you can.
FAQ | Q: Could you provide more related data and analytics? A: Sure, join Breakout Point and start benefitng from our services.
* Note: Presented data and analytics is as of available on 2021-01-02, UTC 13:00.
The services and any information provided by Breakout Point or on the Breakout Point website shall not be, or construed to be any advice, guidance or recommendation to take, or not to take, any actions or decisions in relation to any investment, divestment or the purchase or sale of any assets, shares, participations or any securities of any kind. Any information obtained through Breakout Point and its services should never be used as a substitute for financial or other professional advice. Any decisions based on, or taken by use of, information obtained through Breakout Point and by its services are entirely at own risk.