This week we have registered three new major short campaigns.
The most talked about was by Hindenburg Research who targeted a SPAC backed by Chamath Palihapitiya.
We also highlight the developments in campaigns targeting China Hustle 2.0 as the end might be near for several stocks according to some activists.
Finally, we note the share price movements of the short-squeeze plays.
---
Bits and Pieces
GameStop before GameStop: Barron's published a story on Piggly Wiggly, the GameStop of 1920s:
The GameStop Phenomenon Is Hardly New. Here's How a Similar Squeeze Played Out in 1923.
Famous short seller and retail investor: Cohodes joins forces with Dave Portnoy to tackle recent market issues on a podcast.
Best of RH's Top 100, so far in 2021: We compiled ten YTD best performing stocks that are currently on Robinhood's 100 Most Popular list. Not all of these stocks, were on the list as the year started, such as Zoomedica, Ocugen and Sundial Growers, so YTD perfromance should be used only as a proxy for what could have made the retail investors happy.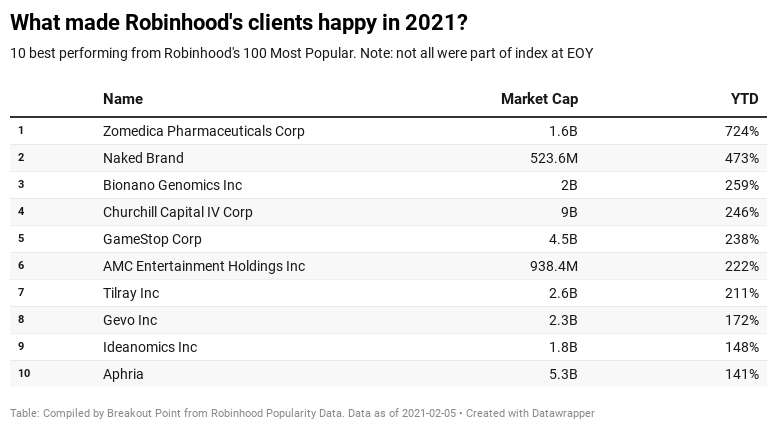 ---
Need retail flows and sentiment? Robinhood's API, which provided popularity data, recently ceased operation. This data was popular not only with journalists and momentum investors, but also with short sellers, who frequently applied reverse Robinhood swarming strategies. The good news is that there are a few great alternatives and proxies for Robinhood's popularity data, eg our Retail Popularity plan provides real time retail sentiment, estimates retail popularity and positioning, and alerts about activities of VIP retail investors.

---
Big Movers
This week's among major movers on the right side for the shorts were the short-squeeze plays which have started to come down from their unprecedented heights.
GameStop (GME) is down about 80% this week as retailers have not been able to keep up the share price. Even the often 'resilient' GSX Techedu Inc (GSX) and Nano X Imaging Ltd (NNOX) have posted negative performances of around 10%. FIZZ, newly targeted by Grizzly, also had a tough week as it continued to crater from the highs made in the middle of the month.
On the other side of the tracks, there were a couple of stocks which were causing problems to the short-sellers. This week it was especially Facedrive (FD), initially short of Hindenburg Research. The short-seller targeted the stock due to allegations of poor business performance and stock promotion which is not rooted in reality.
These claims did not seem to have been taken into account by the market which has pushed up the shares by 82% just in the past week. The stock has jumped on the back of the broader short-squeeze in the market but has maintained the momentum. It has closed a private placement and released a flurry of press releases about the future of the business.
Given Hindenburg's initial downside target of about 95%, it will be interesting to see whether the market will ultimately reassess its opinion.
---
Hindenburg and the 'King of SPACs' in focus
While some activists have said that they will pause when it comes to publishing new campaigns, Hindenburg took a different approach and targeted a popular $2bn insurance company (Medicare), Clover Health. CLOV was originally a SPAC backed by Chamath Palihapitiya. Hindenburg wrote about CLOV due to allegations of undisclosed investigation amid supposedly dubious business practices.
Most importantly, the report believes the company is being investigated by the DOJ due to the way CLOV operates. Apparently, DOJ is interested in various issues spanning from potential kickbacks to misleading marketing practices and undisclosed third-party deals. Moreover, Hindeburg's own research found what the DOJ is likely looking for. They have found a thinly-disclosed subsidiary which allegedly portrays itself as independent and free from any connection to CLOV while it is owned by it.
Seek's website claims "We don't work for insurance companies. We work for you", despite literally being owned by $CLOV, an insurance company.

Its activities are also under investigation by the DOJ. pic.twitter.com/9E0q5D59T1

— Hindenburg Research (@HindenburgRes) February 4, 2021
They also allegedly pay doctors high fees as an incentive to use their software. CLOV is also apparently running a risk of overbilling governmental agencies.
Finally, the report also raises red flags around the management of CLOV. There is allegedly a high turnaround of key executives. The company has had 3 different CFOs and COOs in the span of just four years as can be seen below.
$CLOV CTO left 6 months before the first release of the supposed "disruptive" Clover Assistant software in July 2018 (likely a sign that development wasn't going great.)

Clover's executive team has been in turmoil, with 3 CFOs, 3 COOs, and 2 General Counsels in the last 4 years pic.twitter.com/Q0C3vtcpgF

— Hindenburg Research (@HindenburgRes) February 4, 2021
The CTO has left before finishing what the company calls 'a disruptive' software application. Last year, CLOV's current CEO has been accused of siphoning over $100m from his previous venture.
Due to all this, the short-seller sees significant downside opportunity. However, they are not short themselves which they explain in the conclusion of the report. Hindenburg has released the detailed report without the ability to profit from their effort. They explained there thinking within a discalimer:
"We have no position (short or long) in Clover Health because we think in this moment for public markets, it is more important for people to understand the role short sellers play in exposing fraud and corporate malfeasance."
So far, the campaign has been successful as the shares have dropped about 12% during the first trading day. The company responded on Friday with an interesting take as they decided to answer all of the questions posed by Hindenburg. They have confirmed that they are under DOJ investigation but dismissed it as immaterial as well all of the other claims. Hindenburg alreday provided a response to that.
Mr. Palihapitiya, commented Hindeburg's work via Twitter:
For those following $CLOV, trust the process and the facts. pic.twitter.com/AfSHhNVLSe

— Chamath Palihapitiya (@chamath) February 5, 2021
China News
Over the past weeks, it was rather quiet on the front of China Hustle 2.0 as the main topic of the conversation were short squeezes of all kinds. However, that does not mean that there were no developments.
First, activists are eagerly awaiting the month of April. In this month, a lot of the targeted companies should release their 20-F filings or annual reports. These have to be fully audited and thus many activists believe the companies will not be able to obtain the sign-off on these needed audits due to the strong allegations of fraud. Perhaps the most closely scrutinized stock will be...
(Get full weekly report and stay on top of activist short selling developments - Join Breakout Point).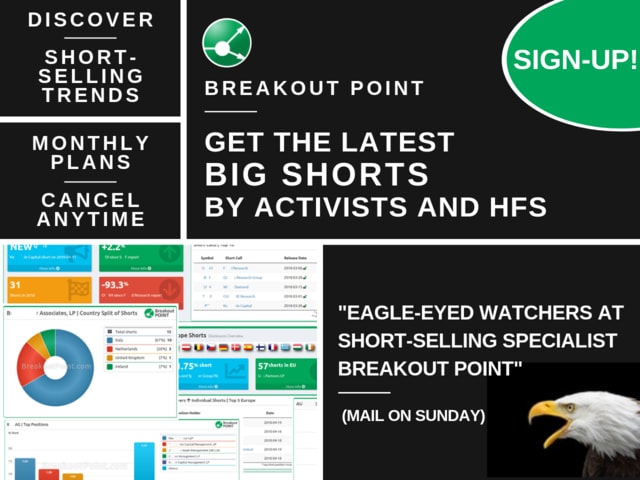 ---
FAQ | Q: Can I publish parts of above data and analytics in an article? A: As long as you reference our work in your article - yes, you can.
FAQ | Q: Could you provide more related data and analytics? A: Sure, contact us and we'll try to help as soon as possible.
* Note: Presented data and analytics is as of available on 2021-02-06, UTC 12:00.
The services and any information provided by Breakout Point or on the Breakout Point website shall not be, or construed to be any advice, guidance or recommendation to take, or not to take, any actions or decisions in relation to any investment, divestment or the purchase or sale of any assets, shares, participations or any securities of any kind. Any information obtained through Breakout Point and its services should never be used as a substitute for financial or other professional advice. Any decisions based on, or taken by use of, information obtained through Breakout Point and by its services are entirely at own risk.