This week we have registered three new major short campaigns, with targeted stocks trading about 30% lower on average.
We saw Wolfpack pick a fight with another Chinese-based company. This time it seems that some retailers have sided with the company.
We also note two updates on previous campaigns of high-flying stocks which used to be in the penny stock territory before the retail boom last year.
Finally, we look at the most recent price gyrations in a couple of stocks targeted by short-sellers.
---
Bits and Pieces
Robinhood on short sellers "the whales":
"And then, there are the big short sellers — the whales. These traders are few and far between, but gain notoriety because they make bold claims and big bets that a company is inherently rotten, and the price is set to fall, hopefully to $0."
Interactive Brokers' CEO to CNBC on days of GME squeeze:
"We have come dangerously close to the collapse of the entire system"
GME hearing in the Capitol via MarketWatch:
'Chairwoman Waters ended the hearing by saying that "I'm more concerned than ever than retail investors are being fleeced." She promised a second hearing, where lawmakers would hear from regulators and consumer advocates as to what steps should be taken to modernize financial regulations.'
---
Need retail flows and sentiment? Robinhood's API, which provided popularity data, recently ceased operation. This data was popular not only with journalists and momentum investors, but also with short sellers, who frequently applied reverse Robinhood swarming strategies. The good news is that there are a few great alternatives and proxies for Robinhood's popularity data, eg our Retail Popularity plan provides real time retail sentiment, estimates retail popularity and positioning, and alerts about activities of VIP retail investors.

---
Big Movers
This week's among major movers on the right side for the shorts was the new campaign of Bonitas Research which targeted an $828m drone company due to allegations of being a pump and dump scheme.
Most importantly, the report believes the company has misled investors as it has allowed a rumor to be released about a potential deal with Amazon. However, at the end of last year, the e-commerce giant allegedly refuted this and said that they do not work with UAVS in any capacity. Before this happened the stock went from being a penny stock to $16 per share, at the same time insiders have offloaded over 90% of their position. Bonitas also alleges that the fund involved with UAVS has been fined by the SEC in the past in a pump and dump case.
Moreover, the short sellers says that it is unlikely the company will be able to successfully compete in the drone business. Before a recent acquisition, the business allegedly had no IP or drone tech whatsoever.
Due to all this, the short-seller sees a significant downside as the market will start to realize that the position of UAVS is not as rosy as it might have seen.
The stock has dropped over 36% on the first day. This has prompted a quick backlash in the retail community which has followed the stock closely.
One of the Twitter profiles which were highlighted by Bonitas during the pump had this to say.
$UAVS added here. This is stupid.

— StanTheTradingMan (@StanTradingMan) February 18, 2021
Company publicly responded in the premarket on Friday.
On the other side of the tracks, there were a couple of stocks that were causing problems to the short-sellers. This week it was CleanSpark (CLSK) and Nearmap (NEA).
Most recently, CLSK was targeted by Culper Research in January of this year due to allegations of unsustainable business and promotional scheme which misled investors. The company recently announced a new bitcoin venture which is apparently economically unfeasible. Since then CSLK has provided a brief reply to the claims and reported numbers that missed expectations. Despite this the stock surged over 30% in the past few days. The reason for this share price action is not clear as there was no fundamental news that would warrant such optimism.
The second stock which has seen a strong rebound was NEA which was targeted by J Cap Research just last week. While the stock initially sold-off, the price quickly recovered this week as NEA rose by 20%. This was mostly due to the company's response and their earnings release which the market saw a good enough defence against the claims.
J Cap still stands behind their initial thesis and wrote a response.
$NEA AX carefully avoided any mention of Eagleview patent infringement. The reply read like like it was drafted by a committee of lawyers. See our response: https://t.co/LtOVDu2Nwp

— J Capital (@JCap_Research) February 15, 2021
They believe the company ignored significant points and improperly answered others.
---
Wolfpack picking a new fight
This time with a Chinese-listed company focused on aerial vehicle technology. The short-seller targeted Ehang Holdings (EH) due to allegations of...
(Get full weekly report and stay on top of activist short selling developments - Join Breakout Point).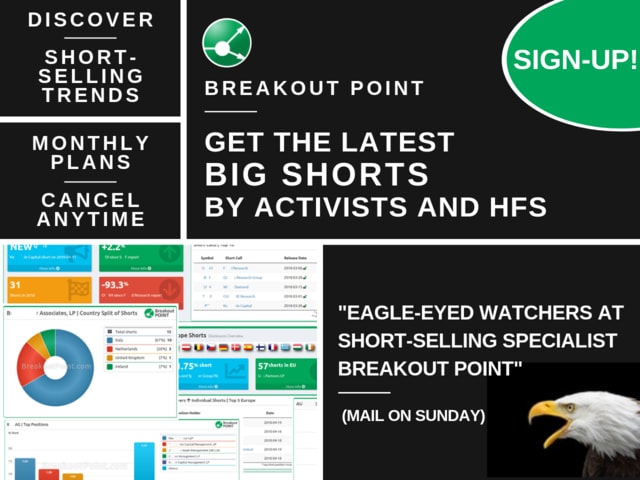 ---
FAQ | Q: Can I publish parts of above data and analytics in an article? A: As long as you reference our work in your article - yes, you can.
FAQ | Q: Could you provide more related data and analytics? A: Sure, contact us and we'll try to help as soon as possible.
* Note: Presented data and analytics is as of available on 2021-02-19, UTC 12:00.
The services and any information provided by Breakout Point or on the Breakout Point website shall not be, or construed to be any advice, guidance or recommendation to take, or not to take, any actions or decisions in relation to any investment, divestment or the purchase or sale of any assets, shares, participations or any securities of any kind. Any information obtained through Breakout Point and its services should never be used as a substitute for financial or other professional advice. Any decisions based on, or taken by use of, information obtained through Breakout Point and by its services are entirely at own risk.