In this post, we look at the 10 best-performing stocks in the popular Robinhood's Top 100 Most Popular stocks list so far. As our business is tracking what the retail investors are talking about, the list is one of the channels we use to keep abreast of the developments in the retail mooniverse.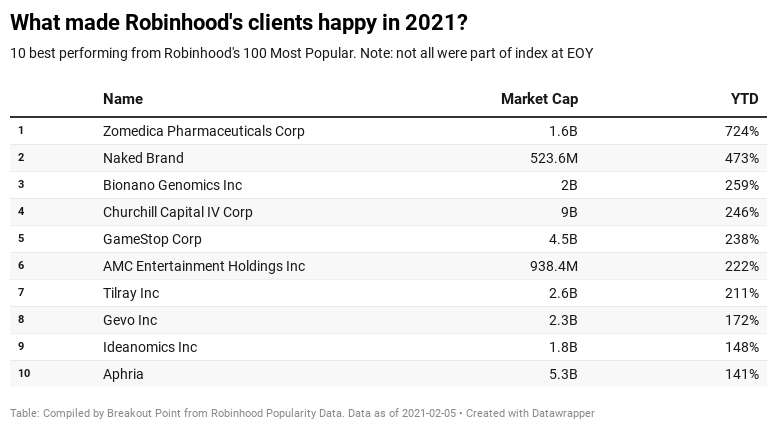 As one could have expected most of the best-performing stocks from the start of the year are either meme stocks or stocks that have been pushed up by the strong short-squeeze which started in the middle of the month.
The top stock could be somewhat of a surprise to the casual viewer of the retail trends. Zomedica (ZOM) has certainly started out as a meme stock for many. While there was some initial interest in the stock before, the real break for the company came when the market has learned that none other than Carole Baskin was paid to mention the stock during one of her sessions. r/pennystocks quickly caught on and went with it. The shares ripped and have been holding their gains ever since.
What started out as a peculiar Tiger King reference, now seems to be getting popular among retail investors. You can even spot Reddit thread such as this one which 'begs' retailers not to talk about ZOM as a speculative play, the next GameStop (GME) or AMC Entertainment Holdings (AMC). The OP even says that it is better not to use rocket emojis or mention diamond hands. The thread concludes ZOM should be regarded as a serious investment.
What is not a surprise is that the short-squeeze plays are still on the list. While GME and AMC have lost significant value from the unprecedented highs, YTD percentage gain still qualifies them. Robinhood recently lifted the restrictions for the stocks, but it seems that this might not have much of an effect anymore. Both stocks are far from recent highs as of Friday the 5th of February.
One of the few squeeze stocks that have been able to partially withstand the downward pressure is Naked Group (NAKD). Previously an unknown penny stock featuring a New Zealand-based business has quickly become a favourite due to its short interest. The stock has dropped about 2/3 from the highs, but Reddit threads such as these (apparently penned by a person working at a long-only hedge fund) show that the story might not be over.
The list also includes a name which has been targeted by activist short-sellers. Specifically, it is Ideanomics (IDEX). The month of January was stellar for the stock as the company has released several press releases about their business developments. Throw in the EV-related acquisitions from late 2020 and you seemingly have a currently winning formula. However, it should be noted this goes against the claims of both Hindenburg Research and J Capital Research (J Cap) who released a public report on the same day in June of last year. Hindenburg called it 'egregious and obvious fraud' while J Cap crowned the company 'Champion of Promotes'. But many Twitter traders seem to see it differently:
$GMC$DOGE$IDEXpic.twitter.com/tG8il7FYrE

— BetTheDog (@Bet_TheDog) January 30, 2021
Finally, what would it be for a retail list if it did not include a SPAC. The only SPAC that made it is Churchill Capital (CCIV). This has been a sleepy stock for most of 2020, but in early January investors started to get increasingly excited as rumors started to fly around. It has been said that CCIV is likely to merge with Lucid Motors, an EV-related business. This was enough to start a momentum which continues to this day. The stock had a volatile past week but is making new highs. Just on Friday the CEO of Lucid Motors said that he can neither deny nor confirm the SPAC speculation which was mostly met with positive comments about how the talks are likely ongoing.
If you like this content, be sure to check out our full retail offering which is at your disposal 24/7 and makes sure you are up to date.
---
Need retail popularity, flows and sentiment? Robinhood's API, which provided popularity data, recently ceased operation. This data was popular not only with journalists and momentum investors, but also with short sellers, who frequently applied reverse Robinhood swarming strategies. The good news is that there are a few great alternatives and proxies for Robinhood's popularity data, eg our Retail Popularity plan provides real time retail sentiment, estimates retail popularity and positioning, and alerts about activities of VIP retail investors.

---
FAQ | Q: Can I publish parts of above data and analytics in an article? A: As long as you reference our work in your article - yes, you can.
FAQ | Q: Could you provide more related data and analytics? A: Sure, contact us and we'll try to help as soon as possible.
* Note: Presented data and analytics is as of available on 2021-02-05, UTC 20:00.
The services and any information provided by Breakout Point or on the Breakout Point website shall not be, or construed to be any advice, guidance or recommendation to take, or not to take, any actions or decisions in relation to any investment, divestment or the purchase or sale of any assets, shares, participations or any securities of any kind. Any information obtained through Breakout Point and its services should never be used as a substitute for financial or other professional advice. Any decisions based on, or taken by use of, information obtained through Breakout Point and by its services are entirely at own risk.