This week we registered six new major short reports and a number of follow-up reports.
Among the most interesting ones was by Grizzly Research, who targeted a drone company.
We also note the continued discussion between the bulls and the bears in the case of SOS Ltd. The stock now recovered since the initial reports of the short-sellers.
Finally, we look at the most recent price gyrations in a couple of stocks targeted by short-sellers.
---
Bits and Pieces
The veteran short seller Marc Cohodes had this to say about the recent weeks.
The Market is simply broken...

— Marc Cohodes (@AlderLaneeggs) March 10, 2021
---
Need retail flows and sentiment? Robinhood's API, which provided popularity data, recently ceased operation. This data was popular not only with journalists and momentum investors, but also with short sellers, who frequently applied reverse Robinhood swarming strategies. The good news is that there are a few great alternatives and proxies for Robinhood's popularity data, eg our Retail Popularity plan provides real time retail sentiment, estimates retail popularity and positioning, and alerts about activities of VIP retail investors.

---
Big Movers
This week's there were only a few stocks that moved in the right direction for the short-sellers. The biggest mover was CytoDyn (CYDY) which was down more than 40%.
This biotech was targeted by several activists. In 2021 we saw two reports so far. First, it was Saique Research and then Aristides Capital. Both short-sellers were alleging that the company is facing serious product deficiencies and that the trial of a possible solution against COVID19 is likely to fail.
The short-sellers were vindicated early in the week as the company released the trial data which disappointed. Aristides wrote a thread explaining how the thesis was proven right.
Our favorite "biotech" short $CYDY finally released a real-ish data set from their failed clinical trial of 22-year-old asset leronlimab in severe & critical covid-19 patients, and as you would expect with Nader Pourhassan: it's shenanigans! (a thread)https://t.co/EmI1vrFNEg

— Midwestern Hedgie (@MidwestHedgie) March 9, 2021
At the end of the thread, they wrote that they are is still short and that there is likely further downside on the back of the results.
On the other side of the tracks, there were a couple of stocks that made troubles for the activists. Notably, it was Beam Global (BEEM) and Ehang (EH) both of which started to strongly rebound after a very week last week.
BEEM, an EV charging company, surged about 55% with Thursday providing most of the gains. While the uptrend was likely partially spurred by the general recovery in the market, on Thursday the company did release news about a new contract with the US government where US Forest Service apparently bought one unit from BEEM. This was seemingly enough to lift the stock by 22%. BEEM is short of Mariner Research.
EH, a drone business, had a strong start to the week as they announced they plan to launch an electric aircraft with a 400km range. After this, the shares then continued to trend higher throughout the rest of the week and the shares ended up about 49%. EH was targeted by Wolfpack due to allegations of fraudulent behaviour.
Most importantly, the report believes the company has exaggerated its connection with a key customer. Wolfpack found that the customer has a dubious presence in China. They also allegedly did not recommend buying EH's products. The customer was also involved with EH's pre-IPO financing, which allegedly motivated them to pretend to be larger.
This did not seem to bother the market anymore. Some on SA even argued that Wolfpack's research, allegedly filled with inconsistencies, enhanced the company's transparency which will lead to better outcomes in the future. We will see whether Wolfpack is going to try to refute some of the new points.
---
SOS ping-pong continues
On Tuesday we saw the SOS's efforts, a Chinese crypto-related business, to minimize any doubts about the company. SOS was targeted in late February by Culper and Hindenburg due to allegations of potentially fraudulent behaviour and dubious corporate governance. This week the company released a press release modelled as FAQs with questions such as 'What is your company address?' or 'What is the nature of your business?'. They did delve into some of the key points about the thesis, but according to the short-sellers the answers provided even strengthened some of the claims.
Hindenburg released a detailed thread picking up apart SOS's response. According to them, the company admitted several key claims of the short-sellers, as seen below..
(Get full weekly report and stay on top of activist short selling developments - Join Breakout Point).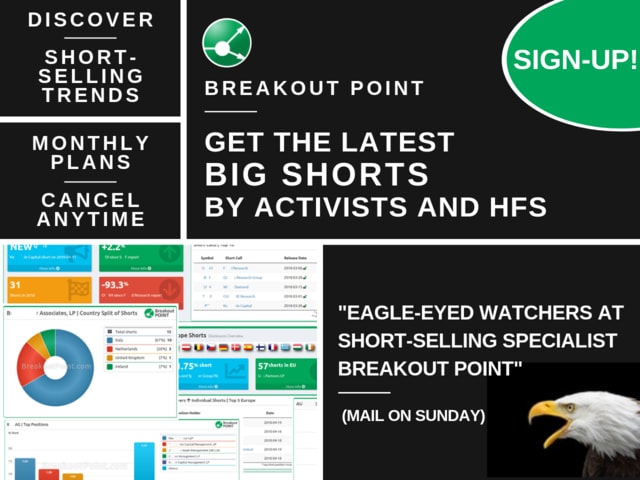 ---
FAQ | Q: Can I publish parts of above data and analytics in an article? A: As long as you reference our work in your article - yes, you can.
FAQ | Q: Could you provide more related data and analytics? A: Sure, contact us and we'll try to help as soon as possible.
* Note: Presented data and analytics is as of available on 2021-03-13, UTC 12:00.
The services and any information provided by Breakout Point or on the Breakout Point website shall not be, or construed to be any advice, guidance or recommendation to take, or not to take, any actions or decisions in relation to any investment, divestment or the purchase or sale of any assets, shares, participations or any securities of any kind. Any information obtained through Breakout Point and its services should never be used as a substitute for financial or other professional advice. Any decisions based on, or taken by use of, information obtained through Breakout Point and by its services are entirely at own risk.