This week we registered four new campaigns.
The most impactful were so far, new from Muddy Waters and new from Mariner Research. The latter targeted an EV company which according to the activist, raises significant red flags. The stock is now down over 20%, but the report sees it as a potential zero.
We also note the back and forth in the case of SOS. This week we even saw other short-sellers join the discussion on the side of the bulls.
Finally, we look at the most recent price gyrations in a couple of stocks targeted by short-sellers.
---
Bits and Pieces
(1) Odey's Hedge Fund Surges Record 38% on Mega Short-Bond Trad (via Yahoo Finance)
(2) In a Surprise Twist, Most Activist Shorts Are Up This Year (via Institutional Investor. with Breakout Point's data):
But short sellers including Muddy Waters and Citron Research are changing their approaches after the GameStop squeeze.
(3) ARKs focus now boring?
Amount of focus on $ARKK is

— Breakout Point (@BreakoutPoint) March 4, 2021
---
Need retail flows and sentiment? Robinhood's API, which provided popularity data, recently ceased operation. This data was popular not only with journalists and momentum investors, but also with short sellers, who frequently applied reverse Robinhood swarming strategies. The good news is that there are a few great alternatives and proxies for Robinhood's popularity data, eg our Retail Popularity plan provides real time retail sentiment, estimates retail popularity and positioning, and alerts about activities of VIP retail investors.

---
Big Movers
This week's among major movers on the right side for the shorts, there were a couple of stocks. The market now seemed to have turned favourable for the short-seller in some areas.
Among the best performers for the short sellers was Exro Tech which has plunged about 26.5% in W9. This was after a report by Mariner Research was published. Mariner targeted this $517m Canadian EV company due to allegations of dubious corporate governance.
Most importantly, the report believes the company touted partnerships that are of limited value to the shareholders. As per Mariner, many of the supposed partners seem small and immaterial (one is operating out of a mailbox, the other has a single store etc.) and this goes against what EXRO's management has been saying to investors.
Moreover, according to Mariner, the insiders of the company also raise red flags. The founder was allegedly previously the CEO of a company that collapsed. Due to all this, the short seller sees a significant downside and sets a price target of almost zero.
The company released a short rebuttal saying that the claims are incorrect and false.
Also, among the best performers was Beam Global (BEEM), which fell by over 28%. The stock was again targeted by Mariner, who believed this $426m EV charging company is running an unsustainable business model.
Most importantly, the report believed the company would see falling revenues in the coming quarters as governmental entities have stopped ordering BEEM's charging station. This is allegedly not a surprise as the cost of the station is sometimes 100x costlier than the mainstream systems. The company also stopped disclosing their backlog supposedly in order to hide this deterioration.
The company did not yet release new fundamental info, but the stock is likely pressured by the broader bearish sentiment across the 'hot sectors' of EV and others.
On the other side of the tracks, the past week was light on stocks that went up. Apart from SOS, which we delve into in a separate section below, it was GameStop (GME) that went up the most. The shares are up more than 20% in W9.
---
The new battle stock?
This week we have seen a rise of a new battle stock, Sos Ltd (SOS), which has everyone talking. This crypto-related Chinese business was targeted by two short-sellers last week. Hindenburg and Culper allege the company lied about its crypto venture and engaged in all sorts of dubious decisions, which raise significant red flags. The reports also talked about the supposedly missing headquarters of the company.
Given the strong claims, the activists saw an immediate impact and the shares sold-off strongly. However, the stock is now up about 8% since the initial reports. The rebound was likely partly due to the strong support of retail investors who did not share the activists' view: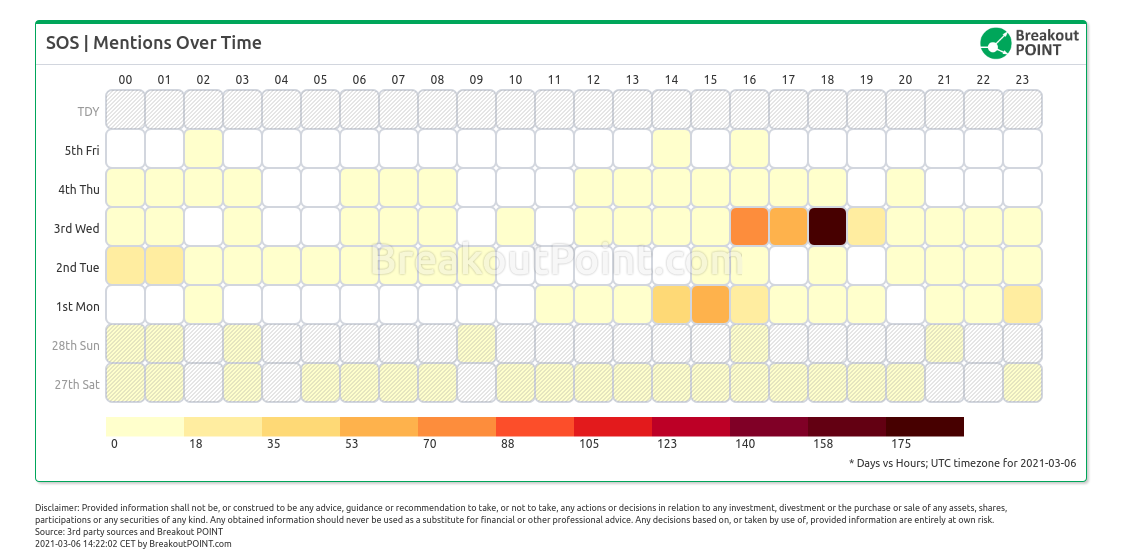 What also likely further fuelled this sentiment was a report by another short-seller, Scorpio, who actually questioned whether Culper and Hindenburg did the proper research...
(Get full weekly report and stay on top of activist short selling developments - Join Breakout Point).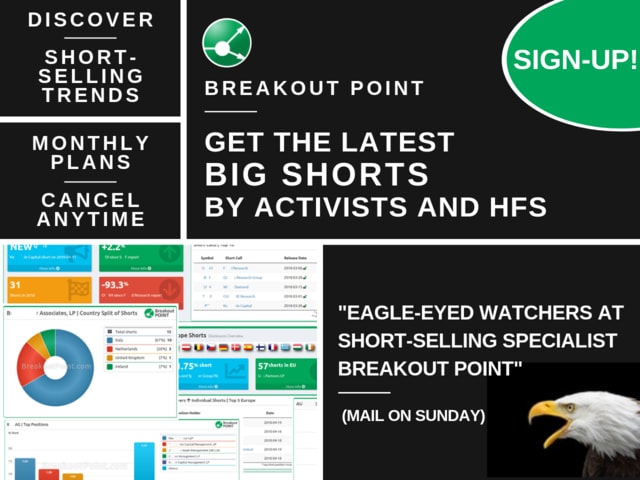 ---
FAQ | Q: Can I publish parts of above data and analytics in an article? A: As long as you reference our work in your article - yes, you can.
FAQ | Q: Could you provide more related data and analytics? A: Sure, contact us and we'll try to help as soon as possible.
* Note: Presented data and analytics is as of available on 2021-03-06, UTC 12:00.
The services and any information provided by Breakout Point or on the Breakout Point website shall not be, or construed to be any advice, guidance or recommendation to take, or not to take, any actions or decisions in relation to any investment, divestment or the purchase or sale of any assets, shares, participations or any securities of any kind. Any information obtained through Breakout Point and its services should never be used as a substitute for financial or other professional advice. Any decisions based on, or taken by use of, information obtained through Breakout Point and by its services are entirely at own risk.