This week we have registered two new major short campaigns.
Fuzzy Panda returned with another hard-hitting research full of alleged serious red flags. Both the company and the stock did not react so far.
GSX filed its 20-F, which left the short-selling community guessing what is next. They also ruminated about who could actually bring the supposedly much-needed accountability for the markets.
Lastly, we are tracking the most recent stock price gyrations at two alleged stock promotion scams.
---
Bits and Pieces
$AMC "apes" gleefully track the short interest in the stock as management issues 400 million shares over the past year, and pays itself huge bonuses. #FinanceNihilismhttps://t.co/mcNrHorxy0

— Diogenes (@WallStCynic) April 29, 2021
---
Get most popular retail stocks. Track real time retail sentiment and popularity via our APIs and dashboards.

---
Big Movers
This week's we saw several stocks that moved in the right direction for the short-sellers. The biggest mover was American Battery Metals (ABML), a mining company initially targeted by Spruce Point back in March of this year. The stock is down about 15% for the week and over 30% since the report.
Spruce mainly targeted the company due to allegations of stock promotion not based on reality.
Most importantly, the report believes the company has touted an opportunity to enter the recycling of EV batteries. They talked about generating significant amounts of revenue soon and did not forget to mention their plan to build a recycling facility near Tesla Gigafactory. Apparently, all this is unlikely to ever come to fruition. The company also allegedly exaggerated the permit they supposedly have.
ABML seemed to have sold off this week due to the significant run-up that happened last week (likely due to new institutional funding and potential NASDAQ uplisting). It might be that investors were taking some of the profits as there was no single major news tied to the fundamentals.
On the other side of the tracks, we have seen Alpine 4 Technologies (ALPP) jump about 25% this week. The company was initially targeted by Grizzly Research in March of this year. Grizzly targeted this $633m drone company due to allegations of it being a scam.
Most importantly, the report believes the company's recent claim to fame through two acquisitions of drone-related entities is nothing but a pump and dump scheme. Grizzly thoroughly researched the acquisitions and allegedly found out that both of them are defunct. The first acquisition targeted talked about a production facility that they own, but in reality, that is supposedly not true. The other entity was previously a charity and seems to be just a shell.
While the stock started to decline after the report, recently, the stock rebounded and even surpassed the price when Grizzly published. The stock is now up 6% since the report.
Most of the action happened in the middle of this week as the company announced yet another acquisition. The market rejoiced and pushed up the shares as investors are hopeful about the new venture. Grizzly did not update their thesis, but it will be interesting to see if they ended up doing due diligence on the new target as well.
---
New from Fuzzy Panda
This week we also saw the short-seller behind the successful Workhorse campaign target a $300m company focused on accident prevention tech due to allegations of serious red flags connected to management and corporate governance.
Most importantly, the report believes the company's key insiders are connected to money launderers, penny stock promoters and other individuals who had issues with the law. According to the short seller, the company is also full of related parties through family connections.
Moreover, the short-seller alleges...
---
(Get full weekly report and stay on top of activist short selling developments - Join Breakout Point).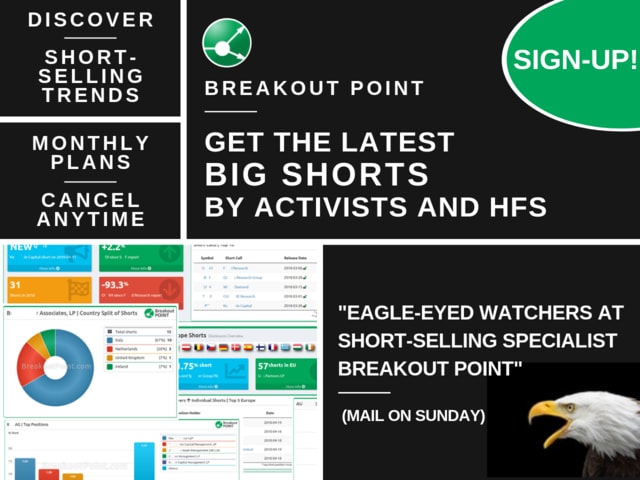 ---
FAQ | Q: Can I publish parts of above data and analytics in an article? A: As long as you reference our work in your article - yes, you can.
FAQ | Q: Could you provide more related data and analytics? A: Sure, contact us, and we'll try to help as soon as possible.
* Note: Presented data and analytics is as of available on 2021-04-30 UTC 12:00.
The services and any information provided by Breakout Point or on the Breakout Point website shall not be, or construed to be any advice, guidance or recommendation to take, or not to take, any actions or decisions in relation to any investment, divestment or the purchase or sale of any assets, shares, participations or any securities of any kind. Any information obtained through Breakout Point and its services should never be used as a substitute for financial or other professional advice. Any decisions based on, or taken by use of, information obtained through Breakout Point and by its services are entirely at own risk.