This week we have registered one new major short campaign and a number of negative flags and follow-ups.
Muddy Waters aimed at an insurance company that allegedly suffers from a fatal security flaw that leaks customer data. The company went on to Twitter to set the record straight. Shares are up, but Muddy Waters is not convinced.
We also note the success of Fuzzy Panda at their EV target, which, according to the short seller, still presents an opportunity for short-sellers.
Lastly, we are tracking the most recent stock price gyrations at an advertising company and EV charging business.
---
Bits and Pieces
Great YTD for activist shorts. While Wolfpack Research has the best performing short call, Hindenburg Research has been the most active and very consistent. Also in terms of number of stocks that declined at least 15% two auditors stand out.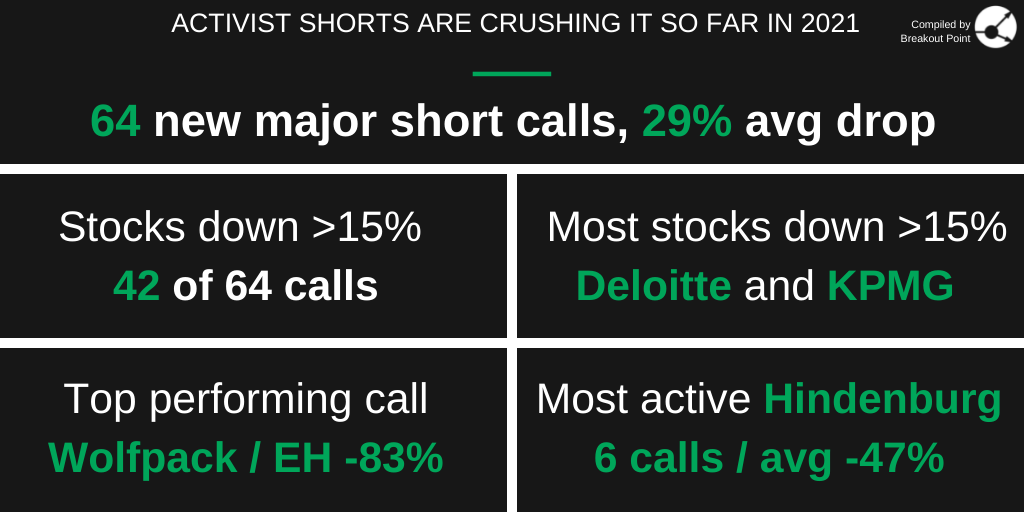 How did our Twitter followers fare with the King of SPACs?
Did you make money with King of SPACs?
(honest answers only)

— Breakout Point (@BreakoutPoint) May 13, 2021
AKO Capital wins with their short position in Jenoptik, with the shares down following earnings results.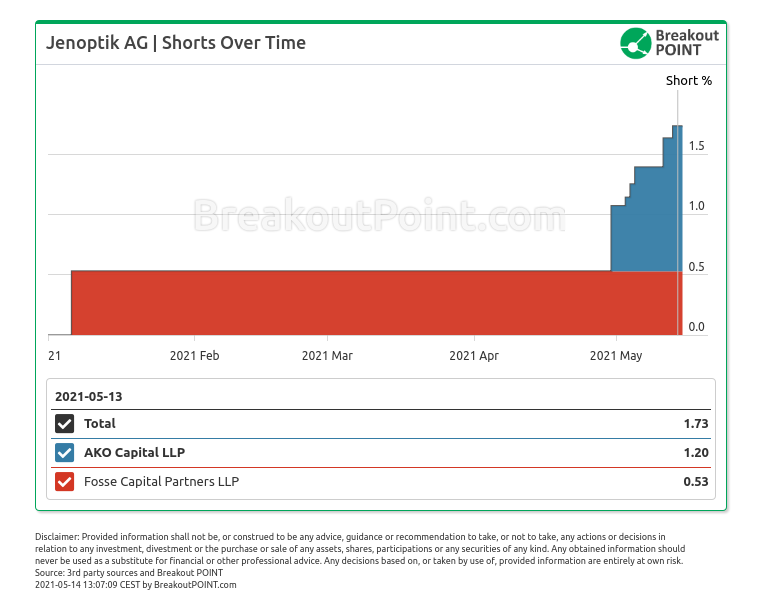 ---
Get most popular retail stocks. Track real time retail sentiment and popularity via our APIs and dashboards.

---
Big Movers
(Note: data as of 2021-05-14 UTC 11:00)
This week's we saw several stocks that moved in the right direction for the short-sellers. The biggest mover was Magnite (MGNI) which is down 31% in the past week. Spruce initially targeted this $3.12bn sell-side advertising platform due to allegations of dubious financials and dubious management.
Most importantly, the report believes the company's origins are flawed. The company was created as a result of a merger. Both companies supposedly hid their problems by creative accounting. The fundamentals can also be questioned as their organic growth is small compared to peers. According to the short seller, MGNI's covenants are increasingly challenging, which might support the negative outlook for the business.
Initially, Spruce took a beating on the stock as the market liked a new acquisition by MGNI. However, this week the stock plummeted after the disappointing earnings report. The market was likely especially disappointed by that very acquisition. Spruce was warning about this in February of this year.
Congrats $MGNI bulls. We don't like the SpotX transaction; we believe it validates our concerns that RUBI/TLRA wasn't scaling and couldn't succeed on its own. Net Income missed targets by 65% ($5.8 v $16.9m). Now heavy dilution + muddling the financials even more. Good luck.

— Spruce Point Capital (@sprucepointcap) February 5, 2021
The short-seller did not yet provide an update. The stock is down about 10% since the initial report.
The second-biggest decliner of this week is Beam Global (BEEM). This EV charging company was targeted by Mariner Research in January of this year due to allegations of an unsustainable business model.
Most importantly, the report believes the company will see falling revenues in the coming quarters as governmental entities have stopped ordering BEEM's charging station. This is allegedly not a surprise as the cost of the station is sometimes 100x costlier than the mainstream systems. The company also stopped disclosing their backlog supposedly to hide this deterioration.
The thesis is likely to get validated as Q1 results have been postponed by the company. This has sparked an 11% fall in the share price and takes the shares lower by about 68% since Mariner released their report.
On the other side of the tracks, we are still not seeing many stocks that would go against the short-sellers. The biggest mover was Tyro, which was up 7%. However, this was an event-driven short by Viceroy Research, and thus the current developments are not as relevant. Right behind Tyro was Porch Group (PRCH), which was also up about 7%. This is short of Spruce Point due to allegations of dubious business model. The stock went up, likely due to being named as a top idea by a sell-side report. The shares are down 22% since Spruce report in April of this year.
---
Muddy vs Lemonade
This week we have seen the short-seller target this $3.69bn insurance company due to allegations of legal liability stemming from low consumer protection.
Most importantly, the short-seller believes the company has failed to secure customer data. Muddy was apparently able to access accounts of customers without their permission and extract key personally identifiable information from the accounts. Supposedly, they found this weakness by accident, and it was then also found by relatively cheap industry-standard security software.
Due to this, the short-seller believe the company's share price could be pressured as the business could become liable for alleged breaches in both the US and European privacy laws.
The company was quick to react.
1/ Let's set things straight up front: What @muddywatersre found were links to 4 insurance quotes shared by Lemonade users themselves. (aka, they loved it so much, they shared 'em).

That is not a vulnerability, it's by design! https://t.co/JJhFmOzUAW

— Shai Wininger (@shai_wininger) May 13, 2021
However, Muddy questioned this and started to say that LMND is...
---
(Get full weekly report and stay on top of activist short selling developments - Join Breakout Point).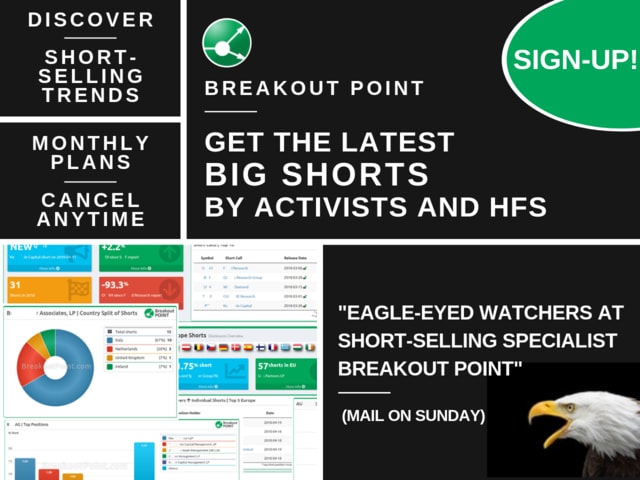 ---
FAQ | Q: Can I publish parts of above data and analytics in an article? A: As long as you reference our work in your article - yes, you can.
FAQ | Q: Could you provide more related data and analytics? A: Sure, contact us, and we'll try to help as soon as possible.
* Note: Presented data and analytics is as of available on 2021-05-14 UTC 11:00.
The services and any information provided by Breakout Point or on the Breakout Point website shall not be, or construed to be any advice, guidance or recommendation to take, or not to take, any actions or decisions in relation to any investment, divestment or the purchase or sale of any assets, shares, participations or any securities of any kind. Any information obtained through Breakout Point and its services should never be used as a substitute for financial or other professional advice. Any decisions based on, or taken by use of, information obtained through Breakout Point and by its services are entirely at own risk.