This week we have registered two new major short campaigns and a couple of updates.
Perhaps the most anticipated campaign was by Boatman Capital who targeted a coal company's IPO. We also note Western Edge's seemingly a very interesting find in the small-cap space.
We are also focusing on new developments at yet another infamous EV company. Lordstown might not be able to start commercial production.
Lastly, we are tracking the most recent stock price gyrations at two COVID19 biotechs.
---
Bits and Pieces
Hindenburg's founder commented move in CLOV, one of this week's meme-stocks:
Dear WSB,

I hope you squeeze $CLOV up to $50.

Sincerely,

Hindenburg founder/apparent sworn enemy (no position) pic.twitter.com/kzIVFuDTh6

— Nate Anderson (@ClarityToast) June 8, 2021
Extremely low readings of short interest
The last time the median S&P 500 short interest was this low was at the absolute peak of the dotcom bubble. GS chart: pic.twitter.com/MPAHL6WCog

— Robin Wigglesworth (@RobinWigg) June 8, 2021
---
Get most popular retail stocks. Track real time retail sentiment and popularity via our APIs and dashboards.

---
Big Movers
This week's we saw several stocks that moved in the right direction for the short-sellers. The biggest mover was Ocugen (OCGN), which is down about 38% this week. The stock was initially targeted by logphase Research due to allegations of unlikely drug approval.
Most importantly, the report believed the company is unlikely to see its vaccine, which is being co-developed with Indian companies approved in the US due to several complicating factors such as legal and political. The company will also need to dilute shareholders to get access to the cash needed to move forward with the approval.
The thesis got a new boost as the company announced it would likely need another trial to get the vaccine available in the US. The company was expected to try and get Emergency Use Approval from the FDA, but this is now not going to happen, and thus the road to the US market now seems much more distant.
Since the initial report, the shares are down about 21%. The short-seller saw up to 75% downside.
On a volatile side of the tracks, we have seen some movements against and then in favor of the short-sellers. Most notably, the market has pushed up, but then down Mountain Valley MD Holdings (MVMD). The stock was as high as 80%. This is due to news that MVMD's main COVID19 asset might be facing a favourable environment due to developments connected to Ivermectin, as per the below tweet.
Real science and political barriers being hammered down relating to #ivermectin only a matter of time $MVMD$MVMDFhttps://t.co/Vmw1e6eW2f

— Leigh Hughes (@leighmhughes) June 7, 2021
MVMD was initially targeted by Night Market Research due to allegations of rampant stock promotion and dubious business model.
Most importantly, the report believed the company's effort in developing a drug platform is nothing but a promotion to pump the share price. None of the insiders have any relevant work experience. Night Market found no evidence of any medical background when it comes to MVMD's lead scientist. The company's only relevant asset is an 8-year old patent.
While the news seems to go against the thesis, the company's stock price failed to gain much traction after its initial increase. Thus it might be interesting to continue to track the situation.
---
Further problems at RIDE?
While most EV stocks were able to rebound slightly after the strong sell-offs a couple of months ago, some were unable to enjoy the trend as much. This is especially the case with Lordstown Motors (RIDE). The stock was initially targeted by Hindenburg, who targeted the company due to allegations of inflated business opportunity.
Most importantly, the report believed the company had touted many contracts which are dubious or are allegedly not finalized. Some of the largest customers of RIDE are based out of dubious address and do not have much history of being in business, much less having the capacity to order tens of thousands of EV vehicles. Others have told Hindenburg that they just considered buying from RIDE, and they did not commit to anything.
These claims were then partially validated as the company failed to generate news against the thesis. Now, it seems the thesis is looking even stronger. This is mainly because of the below tweets which questions RIDE's ability to start commercial production.
KPMG adds a "Going Concern Notice" for $RIDE...now we know why Lordstown's filings were late.

Next stop Chapter 7 liquidation pic.twitter.com/EVSdtb9nJj

— FuzzyPanda (@FuzzyPandaShort) June 8, 2021
$RIDE 10-K/A hidden gem.

Company discloses a 2nd SEC subpoena! pic.twitter.com/r1iWYoPh3f

— FuzzyPanda (@FuzzyPandaShort) June 9, 2021
On Monday, RIDE reported results of special committee investigation of Hindenburg Research report and said:
Lordstown Motors made periodic disclosures regarding pre-orders which were, in certain respects, inaccurate.
CEO and CFO resigned from the company.
It seems that this message has spooked other EV names in the space as well. Thus it will be interesting to monitor the space going forward. There are still many stocks that have been targeted by activists, such as Workhorse (WKHS) by the above Fuzzy Panda or Quantumscape (QS) by Scorpion Capital.
---
A zero right out of the IPO gates?
Large parts of the short-selling community were eagerly awaiting the new short report by The Boatman Capital Research. The short-seller ended up targeting a thermal coal company, Thungela, which debuted on the South African stock market on Monday. Boatman targeted this soon to be public thermal coal company due to allegations of understated liabilities.
Most importantly, the report believes the company severely...
---
(Get dashboards access and full weekly report. Stay on top of activist short selling developments - Join Breakout Point).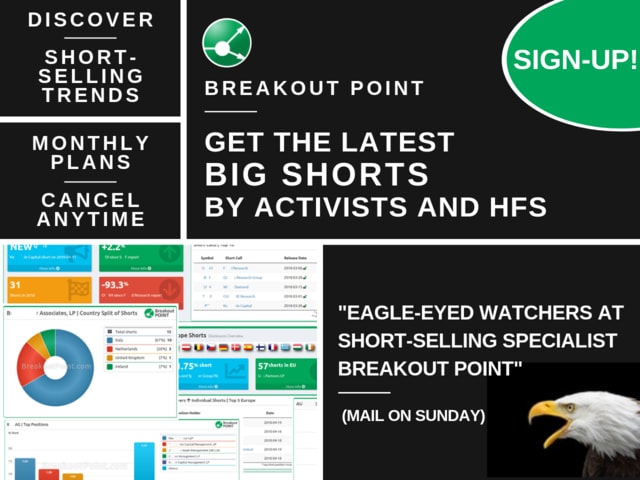 ---
FAQ | Q: Can I publish parts of above data and analytics in an article? A: As long as you reference our work in your article - yes, you can.
FAQ | Q: Could you provide more related data and analytics? A: Sure, contact us, and we'll try to help as soon as possible.
* Note: Presented data and analytics is as of available on 2021-06-14 UTC 12:00.
The services and any information provided by Breakout Point or on the Breakout Point website shall not be, or construed to be any advice, guidance or recommendation to take, or not to take, any actions or decisions in relation to any investment, divestment or the purchase or sale of any assets, shares, participations or any securities of any kind. Any information obtained through Breakout Point and its services should never be used as a substitute for financial or other professional advice. Any decisions based on, or taken by use of, information obtained through Breakout Point and by its services are entirely at own risk.