This week we have registered one new short campaign, one short call and several updates.
Bleecker put out another campaign focusing on an alleged pipe dream based on the idea of Disney World for the NFL.
Viceroy continued to focus on an African oil and gas project with new allegations. Shares are resilient.
Lastly, we are tracking the most recent stock price gyrations at several previous targets, from a dubious payment company to a seemingly too-good-to-be-true tech play.
---
Bits and Pieces
WSB negative on a stock? We spotted past week a rare occasion when r/wallstreetbets are negative on a stock. Of course, there is a twist as the stock in focus is Melvin Capital's long position.
ESG and short sellers: Harvard's Money Manager Has a Plan to Turn Short Sellers Against Emitters
Bleecker is back: New profile of Bleecker Research that made a comeback to activist short selling stage: Why This Former Kingsford Analyst Is Launching an Activist Short Fund, Short Selling Woes Be Damned
More bad news for Lordstown Motors, March short of Hindenburg Research: Department of Justice opens investigation into EV startup Lordstown Motors
GTT Communication, Wolfpack Research's short from June 2019 that already declined about 90% since the report, got in focus again this week as NYSE suspended trading. Wolfpack Research had this to say
We predicted this in our inaugural report, published over two years ago - June 6, 2019. And guess what? We are still short $GTT. If you think our strategy is "smash & grab" or "short & distort" - think again. https://t.co/Yw25l7z6Dvpic.twitter.com/TheW1WejPz

— Wolfpack Research (@WolfpackReports) July 2, 2021
With Robinhood's IPO filing, we asked our followers if they'll rather buy or short shares. Almost 42% of 396 respondents say they'll short it:
When Robinhood IPOs I'll...

— Breakout Point (@BreakoutPoint) July 1, 2021
---
Get most popular retail stocks. Track real time retail sentiment and popularity via our APIs and dashboards.

---
Big Movers
This week's we saw several stocks that moved in the right direction for the short-sellers. One of the biggest movers was Humbl (HMBL) which is down 15% in the past five days. Hindenburg focused on HMBL in May of this year due to allegations of dubious business model and operations.
Most importantly, the report believed the company has not been able to execute even its...
---
(Get dashboards access and full weekly report. Stay on top of short selling developments - Join Breakout Point).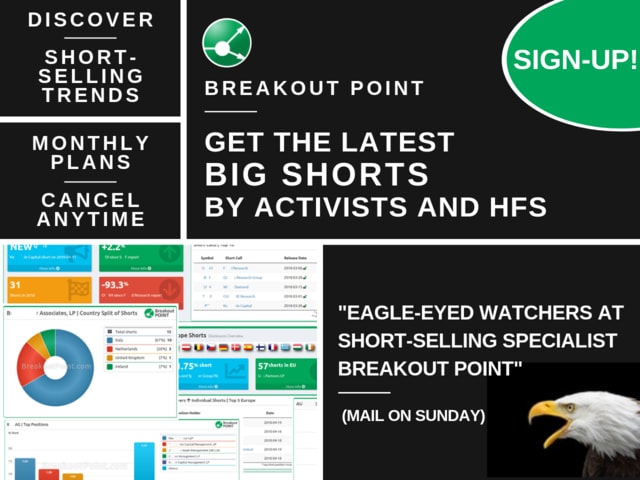 ---
FAQ | Q: Can I publish parts of the above data and analytics in an article? A: As long as you reference our work in your article - yes, you can.
FAQ | Q: Could you provide more related data and analytics? A: Sure, join Breakout Point and start benefitng from our services.
* Note: Presented data and analytics is as of available on 2021-07-03 UTC 14:00.
The services and any information provided by Breakout Point or on the Breakout Point website shall not be or construed to be any advice, guidance or recommendation to take, or not to take, any actions or decisions in relation to any investment, divestment or the purchase or sale of any assets, shares, participations or any securities of any kind. Any information obtained through Breakout Point and its services should never be used as a substitute for financial or other professional advice. Any decisions based on, or taken by use of, information obtained through Breakout Point and by its services are entirely at own risk.