This week we have registered two major activist shorts campaigns.
Valiant Varriors came out with their first report in 2021 and targeted a Hong Kong-listed stock due to allegations of widespread fraud. Initially, the stock cratered but has rebounded over 40% since. The two sides entered into a heated discussion.
Lastly, we are tracking the most recent stock price gyrations at several previous targets, a dubious cybersecurity company now without a CEO, a new medical supplies target and notorious biotech.
---
Bits and Pieces
A look at auditors and SPACs - Are the dominant SPAC auditors up to the job?

Viceroy continues to pound on ReconAfrica, now talking about deleted web posts. The stock went somewhat up in W29.
Un-Promotional Services - ReconAfrica paid promoters @OilandEnergy have quietly pulled advertised materials from their site, and re-instated them when called out by our team. https://t.co/XgtkduMDTh

Almost all articles are written by fake "contributors". #thread$RECO 1/n

— Viceroy (@viceroyresearch) July 21, 2021
So far in July, we detected record amounts of short selling when it comes to European short disclosures and the imbalance between shorts added and shorts reduced. These five stocks were on our dashboard's movers list had the highest increase in disclosed short interest over the past 20 workdays.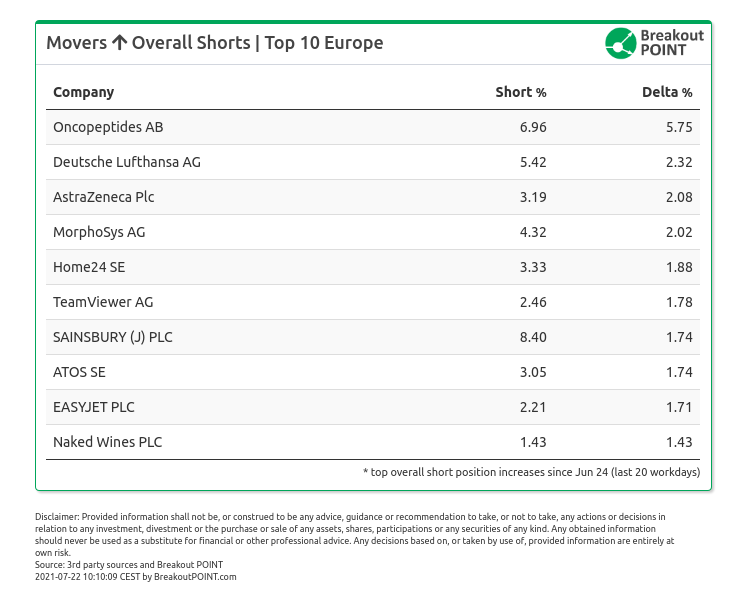 ---
Get most popular retail stocks. Track real time retail sentiment and popularity via our APIs and dashboards.

---
Big Movers
This week's we saw several stocks that moved in the right direction for the short-sellers. One of the biggest movers was Intrusion (INTZ), as it was down over 50% in the past five days. This cybersecurity company was targeted by White Diamond Research in April of this year due to allegations of dubious product and questionable track record.
Most importantly, the report believed the company's core new product is supposedly without any significant underlying intellectual property and is based on open-source tech, which is freely accessible. According to the White Dimaond, the beta test of the product was also done by associated parties with INTZ. The product documentation is allegedly filled with buzzwords but leaves out any meaningful information.
The stock cratered this week due to the news of its CEO departing. In its reports, White Diamond was specifically writing about the troubles of the CEO and its supposedly overly promotional language. While original price target of about -86%, set by the activist, has been reached White Diamond sees further downside ahead.
I think there's a good chance $INTZ goes to zero. The market cap is still $100M. They could be under an SEC investigation, the former CEO could go to jail, and the shareholder lawsuits are coming up.

— White Diamond (@WhiteResearch) July 20, 2021
Another stock that was down is AdaptHealth Corp. (AHCO) which is down roughly 11%. The reason for the move was a new campaign released early in the week. The $3.3bn medical supplies company was targeted by Jehoshaphat Research due to allegations of accounting red flags.
Most importantly, the report believes the company is...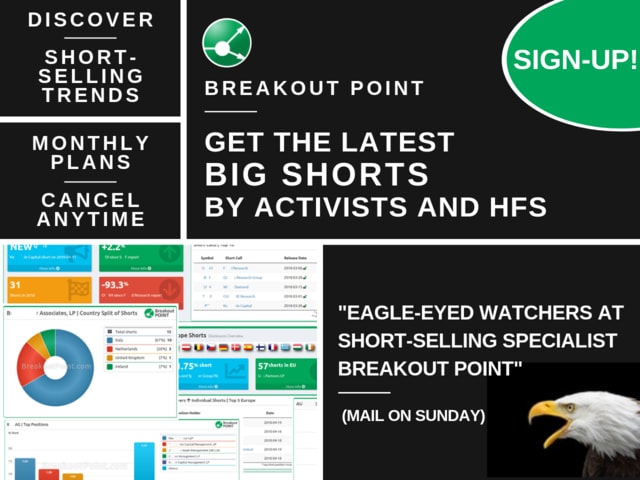 ---
FAQ | Q: Can I publish parts of the above data and analytics in an article? A: As long as you reference our work in your article - yes, you can.
FAQ | Q: Could you provide more related data and analytics? A: Sure, join Breakout Point and start benefitng from our services.
* Note: Presented data and analytics is as of available on 2021-07-23 UTC 10:00.
The services and any information provided by Breakout Point or on the Breakout Point website shall not be or construed to be any advice, guidance or recommendation to take, or not to take, any actions or decisions in relation to any investment, divestment or the purchase or sale of any assets, shares, participations or any securities of any kind. Any information obtained through Breakout Point and its services should never be used as a substitute for financial or other professional advice. Any decisions based on, or taken by use of, information obtained through Breakout Point and by its services are entirely at own risk.