This week we have registered two major activist shorts campaigns.
Bleecker came out with a fresh look at an old name that the activist wrote about in 2016. Two others also wrote about the name in the past.
We also point out several smaller updates related to Freedom Holding (FRHC) and Lemonade (LMND).
Lastly, we are tracking the most recent stock price gyrations at several previous targets, a bitcoin miner, a dubious medical device company and a Chinese social media company.
---
Bits and Pieces
The market reacted with +12% to news of Odey's AMC short
The real estate firm - which Citron Research targeted in a 2012 short report - now faces a reckoning on its $300 billion in liabilities
Great performance of 2021 short calls by Wolfpack Research

---
Get most popular retail stocks. Track real time retail sentiment and popularity via our APIs and dashboards.

---
Big Movers
This week's we saw several stocks that moved in the right direction for the short-sellers. One of the biggest movers was Moxian (MOXC), which is down over 50% in the past five days. This social network based in China was targeted by Wolfpack last week due to allegations of regulatory failings.
Most importantly, the report believed the company does not have the proper licenses to operate in China. According to the short seller, the company failed to disclose any of this to the investors and made several allegedly untrue statements. Wolfpack believes the company has not run a legitimate business since 2018.
The company did not respond to the report in a very detailed way. This is perhaps part of the reason why the shares started to drop this week, as per Wolfpack's suggestions.
$MOXC breaking. Question for management, Margin calls for stock loans being called in? Asking for a friend. pic.twitter.com/3tLiBIjCqU

— Wolfpack Research (@WolfpackReports) August 4, 2021
Another stock that is struggling is Nevro Corp (NVRO), which is down roughly 25%. This medical device company was initially targeted by Scorpio Capital due to allegations of product concerns and fraudulent behaviour of the insiders.
Most importantly, the report believes the company's main product was approved by the FDA based on dubious tests which the insiders have manipulated. According to Scorpio, the product was an early success, but it never continued to grow due to its alleged inefficiency. The success was supposed to be also purported by what seems to be a kickback scheme to handsomely reward doctors who prescribe NVRA's device.
The recent decline in the stock occurred due to disappointing earnings where the management had to explain why the business lacks traction. Scorpio was not impressed and pointed out:
The $NVRO CEO Keith Grossman's comments were an embarrassment. A stock promoter posing as an operational genius eg Conceptus disaster. Sell side ate it up. He even blamed summer travel. Implied that competitors' quarters were fine unlike NVRO's only bc they stuffed the channel. https://t.co/wIaaiiHtJW

— Scorpion Capital (@ScorpionFund) August 5, 2021
You can also see that Herb Greenberg, who recently announced he would launch his own activist venture, is interested in the stock. NVRO is down about 29% since Scorpio wrote about the situation in January of this year.
On the other side of the tracks, we have seen some movement against the activists this week. The most notable stock was Bit Digital (BTBT) which went up over 90%. This crypto mining company was initially targeted by J Capital Research due to heavy allegations of fraudulent behaviour.
Most importantly, the report believed the company has lied about its new bitcoin venture. They are supposedly operating thousands of bitcoin miners, yet on-the-ground due diligence supposedly shows that no one is aware of these machines. According to J Cap, neither the companies that supposedly sold the machines to BTBT nor the governmental entities in locations where the company is believed to operate.
The stock is now up seemingly due to a rebound in the crypto market and overall interest from retail day traders. The company also filed a new offering worth about $120m.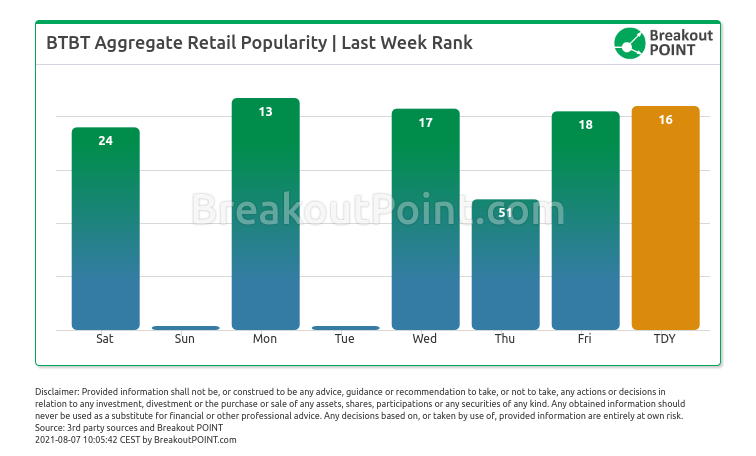 According to J Cap, however, the red flags do not stop popping out as per the below tweet.
So the Ionic Ventures buying $20 mln in shares from $BTBT (https://t.co/YhgCFSPBSt) turns out to be the Ironridge Global partners whom the SEC accused of manipulating microcap prices. Kudos to @FuzzyPandaShort for finding this https://t.co/q5cL1KKW5Q

— J Capital (@JCap_Research) August 5, 2021
The thread featured the research of others who also claimed BTBT is without any real business. They pointed out the company fails to disclose the location of its operations.
---
New name, old troubles?
This week we also saw Bleecker Research target Asensus Surgical (ASXC), a $543m medical device company, due to allegations of a failed product and business model.
Most importantly, the report believes the company is trying to...
---
(Stay on top of short selling developments - Join Breakout Point).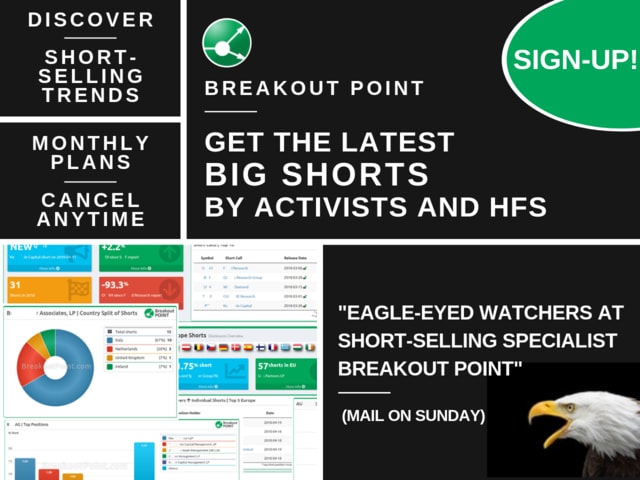 ---
FAQ | Q: Can I publish parts of the above data and analytics in an article? A: As long as you reference our work in your article - yes, you can.
FAQ | Q: Could you provide more related data and analytics? A: Sure, join Breakout Point and start benefitng from our services.
* Note: Presented data and analytics is as of available on 2021-08-07 UTC 08:00.
The services and any information provided by Breakout Point or on the Breakout Point website shall not be or construed to be any advice, guidance or recommendation to take, or not to take, any actions or decisions in relation to any investment, divestment or the purchase or sale of any assets, shares, participations or any securities of any kind. Any information obtained through Breakout Point and its services should never be used as a substitute for financial or other professional advice. Any decisions based on, or taken by use of, information obtained through Breakout Point and by its services are entirely at own risk.