This week we have registered one new major activist shorts campaign.
Wolfpack came out with a report featuring strong allegations of fraud in another US-listed Chinese-based company. The market so far creates trouble for Wolfpack as this retail favorite stock shot up after the report was released.
Viceroy released another update aimed at its Canadian junior oil target. The stock is down 20% in the past five days, and it seems the thesis is playing out.
Lastly, we are tracking the most recent stock price gyrations at several previous targets, a dubious tech firm, a failing telehealth business and a possible Chinese NKLA clone.
---
Bits and Pieces
Big short vs ARKs: Cathie Wood says Michael Burry doesn't understand innovation space after he bets against ARK fund.

Hindenburg's founder in the focus of NYT: A Skeptical Stock Analyst Wins Big by Seeking Out Frauds

Overwhelming results of our poll: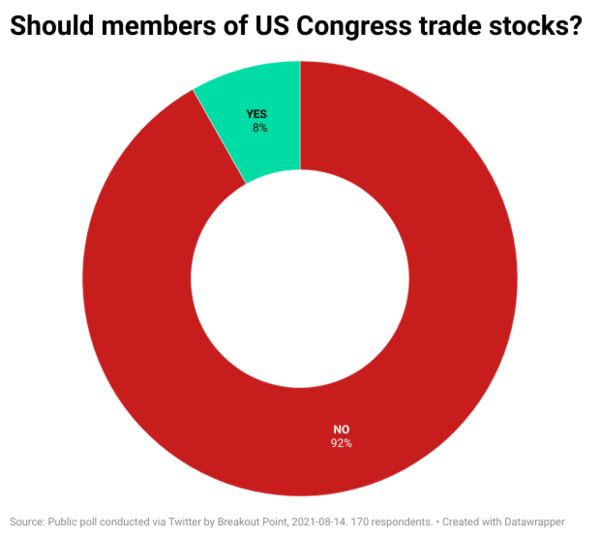 ---
Get most popular retail stocks. Track real time retail sentiment and popularity via our APIs and dashboards.

---
Big Movers
This week's we saw several stocks that moved in the right direction for the short-sellers. One of the biggest movers was View (VIEW) which is down about 16.5% this week, in spite of going up 22% on Friday. This tech company was targeted by Jehoshaphat Research at the beginning of June. The short-seller targeted this $1.7bn technology company due to allegations of a poor business model and weak balance sheet.
Most importantly, the report believed the underlying economic model is not feasible, and the company will continue to burn cash. Their smart glass is being sold at a deeply negative gross margin, and the company is unable to increase prices.
The stock is now down due to further issues which surfaced recently. The company announced it would have to likely restate its accounting due to concerns about adequacy of warranty accounting as per below.
(1/3) $VIEW, which we published on just 2 months ago, is unable to report Q221 earnings because its audit committee has begun an independent investigation into its warranty accounting.

In layman's terms: They likely overstated their already horrendous gross margins... pic.twitter.com/H4nTYwQ3IY

— Jehoshaphat Research (@JehoshaphatRsch) August 16, 2021
Jehoshaphat initially saw about 60% downside opportunity but now believes this could create existential challenges for the company, burning a material amount of cash each quarter.
Overall it has been a great week for Culper Research with two names landing a spot in top five decliners. These are Aterian (ATER) and Cleanspark (CLSK). ATER is down about 85% since May's short call, while CLSK is down 73% since January's short call. Another Culper's short that has moved down significantly was Ontrak (OTRK) which is down about 50% in the past week. This stock is not on our list as we only highlight YTD campaigns, but the move is worth highlighting. The stock was initially targeted in May of last year by Culper Research due to allegations of questionable corporate governance and business model challenges.
Most importantly, the report claimed that management had misrepresented OTRK's relationship with several clients. One example for all can be UnitedHealth which was routinely showcased as a client of OTRK. Culper believes the contract with UnitedHealth is likely fake, and it likely never paid any money to OTRK. The report also believes the management is misrepresenting the nature of the business as an 'AI-powered telehealth-enabled company' while it should be an ordinary telemarketing business.
The stock fell significantly this week. The company announced another loss of a major customer as per below.
This am, OnTrak $OTRK disclosed (in an 8-K, no PR), that the Company has lost yet another major customer accounting for $42M in billings since July 2020, vs. $108.5M in LTM revs.

Perhaps why Chairman Terren Peizer has been incessantly selling stock? https://t.co/euBt5QiB0Ghttps://t.co/sORqjYW2AUpic.twitter.com/7DcnHZvLYF

— Culper (@CulperResearch) August 19, 2021
This is somewhat a vindication of Culper. Initially, the stock rose sharply against the short-seller and for most of 2020 was up significantly. However, as the cracks finally appeared, the stock started to fall. The stock is down about 50% since the report was released. Culper saw a 100% downside opportunity. Thus the story might not be done yet.
Among biggest gainer was Tusimple (TSP) which is up about 11%. This is a target of Grizzly Research from last week. The short-seller targeted this $7.2bn China-based autonomous driving tech company due to allegations of dubious product and promotional behaviour.
Most importantly, the short-seller believes TSP could be the next Nikola. TSP apparently also misrepresented their tech capabilities and their pre-orders. The company touted they have over 5,000 orders which could generate over $400m of revenue. However, Grizzly believes most if not all orders are easily refundable and are not serious commitments. The SEC inquired about this, and TSP decided to drop the revenue generation forecast altogether. Presumably to avoid legal liability.
While initially, the stock fell, this week, it rebounded. The culprit behind the move could be the sell-side which announced a positive rating of the stock. This also spurred a smaller amount of retail interest.
---
Viceroy cont'd
It would not be a week without news about Recon Africa (RECO), a target of Viceroy Research from this summer. Initially, the short-seller targeted this about $750m Canadian junior oil company due to allegations of being an insider enrichment scheme.
Most importantly, the report believed the company would not discover oil in the purported area they are supposedly operating in. This is mainly due to the lack of data to support the idea that there might be oil. Moreover, where the area is located, Namibia allegedly does not license unconventional or shale oil exploration and extraction. Despite this, RECO believes it will find and operate unconventional oil wells. The company has been quick to release plenty of press releases.
Now the company released a new batch of updates regarding its drilling efforts. Viceroy did not wait long to publish an update.
All significant data presented in the release was from RECO's first well (6-2), which finished in April 7, 2021, ~4 months ago. There's no reason to delay findings this long unless RECO have run these results through every process known to man to report indicators of oil. 2/7 pic.twitter.com/l8kFhGcX42

— Viceroy (@viceroyresearch) August 16, 2021
These developments prompted a sell-off in the shares. The stock is down about 40% in the past 30 days and 17% down in just the past five days. The stock is down 54% since Viceroy first wrote about the company. The company's IR representative took to Twitter to defend the company, as can be seen below.
Apr 22 was the last time our SP closed around C$6.55, now vs then?
- ~$60 mm in cash vs ~$35 mm
- 2nd well confirming hydrocarbons
- 2D seismic and VSP ongoing
- more data & de-risking
- moved to next phase of exploration
- D&O's own more stock
- ~11% more land $RECO$RECAF

— Grayson Andersen (@Grayson_Anderse) August 17, 2021
IR representative also tried to dismiss some of the claims in the newest Viceroy report earlier on. Another group riling against Viceroy is the subreddit r/ReconAfrica which featured several threads discussing the update.
However, several others on Twitter piled on alongside Viceroy and mentioned that even if the allegations regarding corporate governance are not going to come out as true, the fundamental value of the project is still likely zero.
We warned about $RECO which halved its share price since. Mgmt can simply not deliver evidence for ridiculous oil claims of bn of boe without matching well results. Meanwhile, retail lemmings lose interest quickly. A long way still to go to zero…! https://t.co/U2PCsDh4xC

— Alexander Stahel (@BurggrabenH) August 17, 2021
Given the ongoing lively discussion about the stock and the recent negative trend, it is likely worth following the story closely.
---
Wolfpack's latest - Not an easy start
This week we have also seen Wolfpack Research target another US-listed Chinese company called SGOCO Group (SGOC). The short-seller targeted this about $450m holding company with various product lines (from 'Big Data' to Blockchain and lending) due to allegations of...
---
(Stay on top of short selling developments - Join Breakout Point).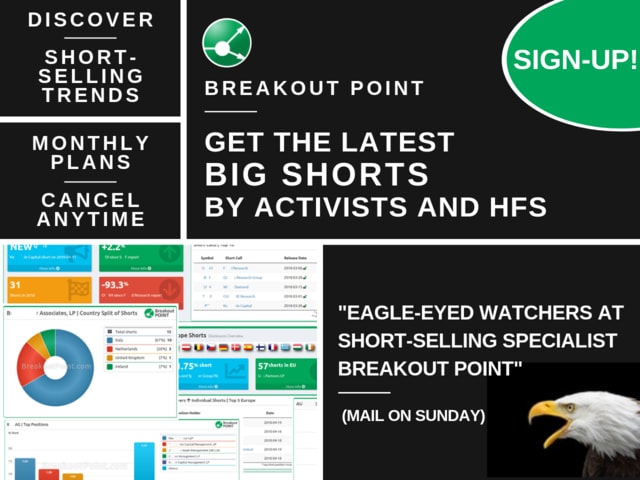 ---
FAQ | Q: Can I publish parts of the above data and analytics in an article? A: As long as you reference our work in your article - yes, you can.
FAQ | Q: Could you provide more related data and analytics? A: Sure, join Breakout Point and start benefitng from our services.
* Note: Presented data and analytics is as of available on 2021-08-21 UTC 10:00.
The services and any information provided by Breakout Point or on the Breakout Point website shall not be or construed to be any advice, guidance or recommendation to take, or not to take, any actions or decisions in relation to any investment, divestment or the purchase or sale of any assets, shares, participations or any securities of any kind. Any information obtained through Breakout Point and its services should never be used as a substitute for financial or other professional advice. Any decisions based on, or taken by use of, information obtained through Breakout Point and by its services are entirely at own risk.