This week we have registered one major activist shorts campaign and a number of follow-up reports.
Bleecker published on a new target, a Miami-based tech IPO which features the usual red flags of dubious business model and questionable track record of the insiders. The CEO responded to the report within two hours.
Fuzzy Panda wrote again on an infamous EV company that seems to offer further downside opportunity.
Lastly, we are tracking the most recent stock price gyrations at several previous targets, a crypto-related play, a renewable diesel company and a cannabis nano-cap.
---
Bits and Pieces
U.S. SEC opens probe into EV company Workhorse Group
Is short selling un-American?
---
Get most popular retail stocks. Track real time retail sentiment and popularity via our APIs and dashboards.

---
Big Movers
This week's we saw several stocks that moved in the right direction for the short-sellers. One of the biggest movers was Cielo Waste (CMC) which went down about 28%. This Canadian renewable diesel company was targeted by Night Market Research in May of this year due to allegations of dubious joint ventures and weak finances.
Most importantly, the report believed the company is unlikely to go through with its joint venture plan. The activist alleged that the JV partner, which should come up with financing for the business, has only $300k in cash and struggles to attract investors. The partner is also a related party as the person behind it used to run Cielo's investor relations team. Cielo itself is struggling to come up with any outside money. They did find an allegedly dubious zero-interest loan, but Night Market questioned who would lend Cielo such money given their financial state.
The reason for the decrease in value could be the press release made public on the 2nd of September. The company announced a new offtake agreement and a few other business developments. While this might be viewed as favourable, the market sold off the stock due to apparent delays in the press release. Thus part of Night Market's thesis might be coming true. The stock is up 3% since the initial report.
The last update by Night Market comes from late July. The short-seller seemed to have reiterated their stance.
Cielo Waste $CMC$CWSFF stock divorced from reality at C$1B valuation (or >50% premium to $GEVO). Meanwhile, key milestones continue to be missed incl. desulfurization (June guide) and production targets. Insiders selling cont'd: COO sold ~1/3 of shares last week pic.twitter.com/NZrXgQt2Oh

— Night Market Research (@NMRtweet) July 19, 2021
On the other side of the tracks, several stocks have moved against the short-seller. It would not be a proper week without Bit Mining (BTCM) showing up in the ranks. The stock had a good week and is up over 48%. This crypto-related stock traded alongside the sector and was up as bitcoin, and other cryptocurrencies rallied. BTCM is short of J Capital, who targeted the company due to allegations of fake business efforts and fraudulent financials.
The second-biggest rally was seen in Enveric Biosciences (ENVB), up over 40% in the past five days. The stock was targeted by The Activist who wrote about this nano-cap company due to allegations of coming dilution and dubious related parties.
Most importantly, the report believed the company has dealt with entities connected to the notorious investor sued for pump-and-dump schemes. These entities have been able to get a hold of warrants which are likely to dilute the current shareholders.
The stock is now down about 40% since the initial report, but it seems the market is now getting excited about a new acquisition made by ENVB. The usual retail channels were relatively busy discussing the rally and where it can go.
---
Bleecker targeting a Miami-based tech IPO
This week we also saw Bleecker target a $140m ad tech firm due to allegations of dubious business model and questionable corporate governance.
Most importantly, the report believes the company's tech is not...
---
(Stay on top of short selling developments - Join Breakout Point).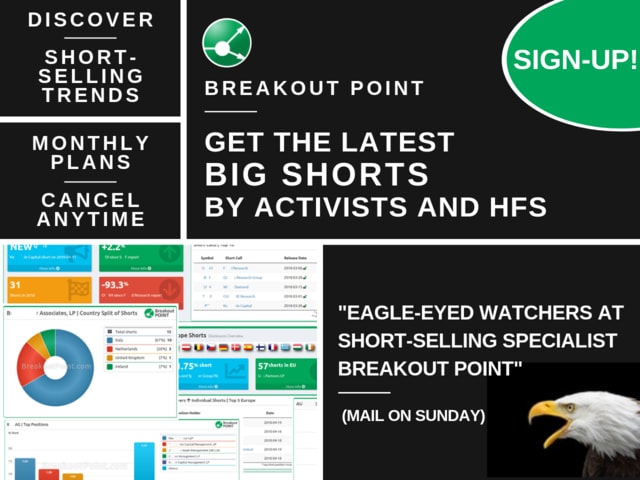 ---
FAQ | Q: Can I publish parts of the above data and analytics in an article? A: As long as you reference our work in your article - yes, you can.
FAQ | Q: Could you provide more related data and analytics? A: Sure, join Breakout Point and start benefitng from our services.
* Note: Presented data and analytics is as of available on 2021-09-06 UTC 10:00.
The services and any information provided by Breakout Point or on the Breakout Point website shall not be or construed to be any advice, guidance or recommendation to take, or not to take, any actions or decisions in relation to any investment, divestment or the purchase or sale of any assets, shares, participations or any securities of any kind. Any information obtained through Breakout Point and its services should never be used as a substitute for financial or other professional advice. Any decisions based on, or taken by use of, information obtained through Breakout Point and by its services are entirely at own risk.