This week we have registered one new major activist shorts campaign.
Swan Street came out with a new report targeting WIMI, a Chinese-based US-listed company, due to classic allegations of China Hustle filled with dubious undisclosed transactions and questionable use of shareholder capital.
Lastly, we are tracking the most recent stock price gyrations at several previous targets, we feature two dubious biotechs, a solar tech company and an EV battery company in a rebound.
---
Save time and ask us for independent short thesis verification. Get our custom support. Contact Breakout Point!
---
Bits and Pieces
Telehealth co. accuses short sellers of defamation-for-profit
Jim Chanos on Chinese economic model
Following headlines that China is unlikely to approve Baidu's purchase of JOYY parts, Muddy Waters reiterated their stance on JOYY
$YY Live is a near-total fraud. Did $BIDU engineer antitrust rejection as a way out? Maybe. But quite possibly it wanted to buy YY Live anyway. We suspected that real cash to be paid was less than announced, so buying fake biz could've been an opportunity to rebalance books.

— MuddyWatersResearch (@muddywatersre) September 24, 2021
Evergrande has been insolvent for years, Citron's Left:
---
Get most popular retail stocks. Track real time retail sentiment and popularity via our APIs and dashboards.

---
Big Movers
This week's we saw several stocks that moved in the right direction for the short-sellers. One of the biggest movers was BeyondSpring (BYSI) which is down 33% in the past week. The stock is a target of Night Market Research who wrote about this biotech at the beginning of this month due to allegations of dubious product.
Most importantly, the report believes the company key drug will not be approved by the FDA as the short-seller apparently spotted several instances of inconsistent data, lack of standard disclosure and poor trial conduct. Allegedly, only about 10% of the enrolled patients are based in the US. According to the short seller, the rest is in China and Eastern Europe where the trial conduct is supposedly questionable, while some of the data rely solely on patients outside of the US which the FDA is unlikely to accept at face value.
The thesis is now at least partially confirmed as BYSI released a new set of data for its lung cancer treatment. Night Market acknowledged the negative sentiment of the market and said that there is plenty more downside present and even stated another catalyst that could see similar trading action to the one this week.
Update: BeyondSpring's lung cancer data presentation revealed concerning holes. $BYSI continues to attribute supposed benefit to nonsensical MOA.

Stock down 35% since our report. Much more downside ahead. Next catalyst - chemo-induced neutropenia Nov 30 PDUFA. We expect CRL.

— Night Market Research (@NMRtweet) September 20, 2021
The other stock which was pressured this week was Berkley Lights (BLI). This is a short of Scorpion Capital who targeted the company just two weeks ago due to allegations of dubious product and corporate governance red flags.
Most importantly, the report believes the company will not be able to sell many more of their machines with a $2m price tag. The alleged reason behind this is that BLI failed to create any innovation with its product despite its language, which suggests the machine is well ahead of other market solutions. Scorpion believes the machine is based on old technology, and other much cheaper machines do the same job. This is supported by a plethora of interviews of former employees, customers and academia.
The stock is down already almost 33%. This week brought more of the same and dropped 19% as the market seemed to have digested the thesis and did not really find a strong enough counter-argument.
On the other side of the tracks, several stocks have moved against short-sellers. The most significant surge was seen in SolarWindow Tech (WNDW) which is up 31%. This solar tech company was initially targeted by ShareSleuth due to allegations of various corporate governance, including an insider who was supposedly charged by the SEC with securities fraud. The thesis is working out as the stock is down 65% since that report.
However, it seems the market decided to give WNDW a boost despite no fundamental news and little interest from the usual retail channels. Thus, it might be interesting to try to see whether this does not create further downside opportunities.
Another stock that had a good week was QuantumScape (QS). This EV battery company was initially targeted by Scorpion Capital due to allegations of dubious product claims and corporate governance.
Most importantly, the report believed the company has misled investors about QS's core battery technology. The short-seller found many instances where the company allegedly lied about how the technology works. They cross-checked these claims with industry experts as well as former employees.
The stock is down about 32% since that report, but the stock now seems to have entered a rebound and is up over 20% this week. However, it seems that the price action might not be due to anything fundamental. Retail investors have recently revived their interest in EV stocks, Lucid being a good example. It seems that LCID took others with it. QS was up over 14% on Thursday and is in big retail focus ever since Tuesday. This is unlikely to affect the thesis and thus Scorpion's research seems still of great interest.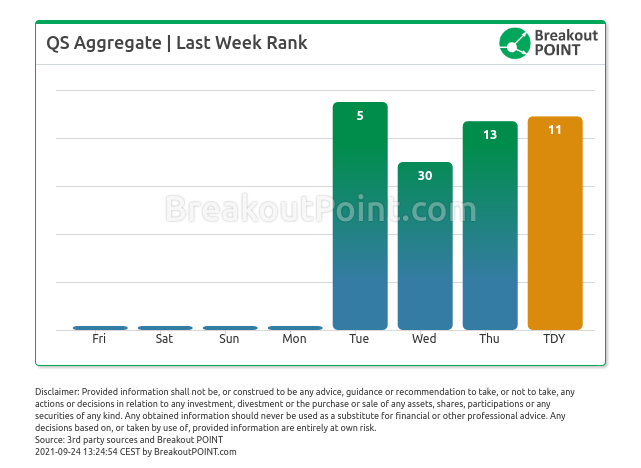 ---
China Hustle rages on
This week we also saw a new campaign by Swan Street Research that targeted WiMi Hologram (WIMI), a $300m Chinese-based US-listed AR company due to allegations of dubious corporate governance and questionable business model.
Most importantly, the report believes the company has ...
---
(Stay on top of short selling developments - Join Breakout Point).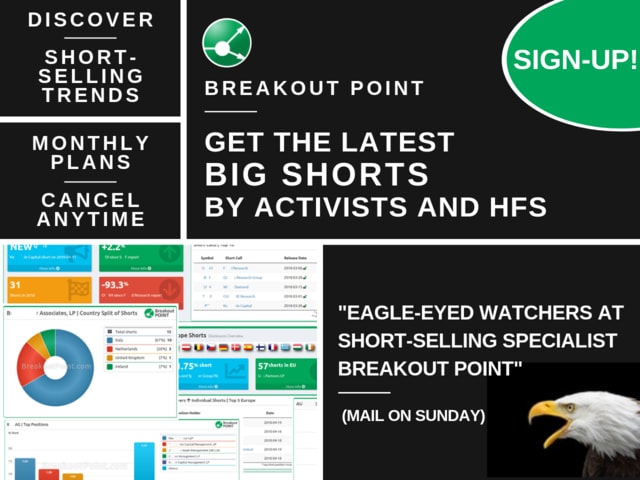 ---
FAQ | Q: Can I publish parts of the above data and analytics in an article? A: As long as you reference our work in your article - yes, you can.
FAQ | Q: Could you provide more related data and analytics? A: Sure, join Breakout Point and start benefitng from our services.
* Note: Presented data and analytics is as of available on 2021-09-25 UTC 11:00.
The services and any information provided by Breakout Point or on the Breakout Point website shall not be or construed to be any advice, guidance or recommendation to take, or not to take, any actions or decisions in relation to any investment, divestment or the purchase or sale of any assets, shares, participations or any securities of any kind. Any information obtained through Breakout Point and its services should never be used as a substitute for financial or other professional advice. Any decisions based on, or taken by use of, information obtained through Breakout Point and by its services are entirely at own risk.