This week we have registered five new major activist shorts campaigns and a number of smaller developments.
We saw J Capital enter the Australian market again by focusing on Vulcan Energy Resources. The campaign had an interesting start. The stock was halted, management responded, but the stock declined 16%. The second most impactful campaign was by Grizzly, who targeted MP Materials, a rare earth company with alleged ties to the Chinese government, which is likely to hurt its prospects.
Lastly, we are tracking the most recent stock price gyrations at several previous targets. We feature the notorious COVID19 biotech, a questionable O&G exploration project in Africa and a Singaporean blockchain company that recently released the results of its internal investigation.
---
Save time and ask us for independent short thesis verification. Get our custom support. Contact Breakout Point!
---
Bits and Pieces
Muddy Waters trying to show the US government how Chinese stocks are hunting the US capital markets.
I wrote a letter to the House Subcommittee holding hearings on China listings. I outline just a few of the ways in which China systematically abuses cap markets, and some of the parties it has co-opted. cc: @BradSherman@billhuizenga@MaxineWatershttps://t.co/thgLStDDeX

— MuddyWatersResearch (@muddywatersre) October 26, 2021
Iceberg managed to successfully time the shorts on THE meme stocks already twice in 2021. After AMC, it was DWAC that quickly plunged almost 40% following the tweets:
We are short $DWAC. Now that initial excitement has passed, we see only risks for investors in near future. Based on Trump's track record, at current price, renegotiation is likely to keep more of the merged company for him.

— Iceberg Research (@IcebergResear) October 25, 2021
Interestingly, where Iceberg Research left AMC (by saying they are not short AMC anymore), John Hempton of Bronte Capital continued:
The funniest thing about $AMC is that some Apes think it is actually worth $18 billion ($27 billion enterprise value).

I can understand a short squeeze thesis.

But a valuation thesis really demonstrates that some Apes are dumb.

— John_Hempton (@John_Hempton) October 29, 2021
Further vindication for 2020 work of Quintessential Capital Management (QCM) was provided this week via $38.8m settlement between the SEC and Akazoo S.A.
Post-SPAC Music Streaming Company Reaches $38.8 Million Settlement in Ongoing Fraud Action
---
Get most popular retail stocks. Track real time retail sentiment and popularity via our APIs and dashboards.

---
Big Movers
This week's we saw several stocks that moved in the right direction for the short-sellers. One of the biggest movers was Recon Africa (RECO) which is down about 17% this week. This O&G exploration company was initially targeted by Viceroy Research due to allegations of being an insider enrichment scheme.
Most importantly, the report believed the company would not discover oil in the purported area they are supposedly operating in. This is mainly due to the lack of data to support the idea that there might be oil. Moreover, where the area is located, Namibia allegedly does not license unconventional or shale oil exploration and extraction. Despite this, RECO believes it will find and operate unconventional oil wells. The company has been quick to release plenty of press releases, but only a few are of significance, and all seem to confirm that drilling for oil is a pipe dream.
There wasn't any news that would specifically explain the downturn in the past few days. However, that is likely the point why the stock is weak. The company has struggled in the past to defend itself from the claims of Viceroy and already released news that validated parts of the thesis. Thus, the negative trend might not end anytime soon.
Another stock that has registered a significant decline is Cytodyn (CYDY). The stock is down about 17% so far in the past five days as there were new documents unveiled in a court case that involves the company. The biotech which is focused on COVID19 solutions was initially targeted by several short-sellers due to allegations of dubious product and corporate governance. They saw the story about the COVID19 asset as incomplete and were expecting significant declines once the market realized it.
The decline happened, but this does not mean that the stock is done, as can be seen this week. The news again confirmed large parts of the thesis as the court document showed an email where the CEO instructed another entity to file an incomplete Biologics License Application (BLA) with the FDA to manage CYDY's stock price.
On the other side of the tracks, several stocks have moved against short-sellers. The most significant surge was seen in Triterras (TRIT), which is up 25%. The stock was most recently targeted by Phase 2 Partners. The short-seller targeted this Singapore-based company focused on blockchain solutions due to allegations of dubious track record of the management.
Most importantly, the report believed the management team has not been transparent when it comes to their track record. Some past engagements were allegedly obscured from proxy statements. Others were mentioned, but the company gave conflicting data about the time of the involvement. Many of the entities also either went supposedly bankrupt or were persecuted by the SEC or are potentially fraudulent.
The surge in the share price occurred as the company has released details about its own internal investigation aimed at some of the claims raised by the short-sellers. Perhaps unsurprisingly, the investigation did not find any wrongdoing. It did not take long before some short-sellers raised concerns about this conclusion.
$TRIT. This one is funny: Our (very independent) audit committee reached the conclusion we are the good guys and that's all! @StockJabberpic.twitter.com/jp3JlfWP4G

— Iceberg Research (@IcebergResear) October 28, 2021
Thus the story is unlikely to be done after this internal investigation.
---
Another Australian development
This week we also saw a new campaign by J Capital Research who focused on an Australian-based miner with operations in Germany.
This is a first report following release of 'better practices for activist short sellers' by ASIC earlier this year. Thus, dynamics were a bit different this time:
report was published outside of trading hours,
trading halt happened before market open,
company had time to analyse and respond,
after release of a full company's response trading resumed, and
shares upon resumption closed -16.5%
...
---
(Stay on top of short selling developments - Join Breakout Point).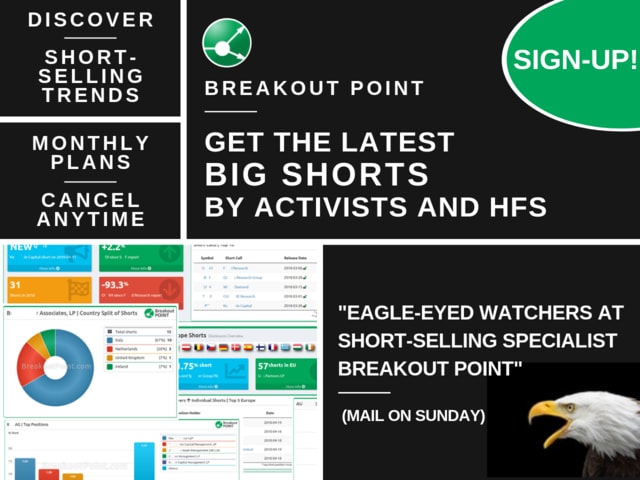 ---
FAQ | Q: Can I publish parts of the above data and analytics in an article? A: As long as you reference our work in your article - yes, you can.
FAQ | Q: Could you provide more related data and analytics? A: Sure, join Breakout Point and start benefitng from our services.
* Note: Presented data and analytics is as of available on 2021-10-30 UTC 11:00.
The services and any information provided by Breakout Point or on the Breakout Point website shall not be or construed to be any advice, guidance or recommendation to take, or not to take, any actions or decisions in relation to any investment, divestment or the purchase or sale of any assets, shares, participations or any securities of any kind. Any information obtained through Breakout Point and its services should never be used as a substitute for financial or other professional advice. Any decisions based on, or taken by use of, information obtained through Breakout Point and by its services are entirely at own risk.