The third quarter of 2021 saw fewer short campaigns. We have seen 'only' 24 new activist shorts campaigns as opposed to the YTD average of 34 per quarter. However, the activists overall kept an impressive track record as many stocks plunged given weakness in some areas of the market.
Wolfpack Research was author of the best performing Q3 short campaign. This entity, together with Night Market Research, White Diamond and Hindenburg Research also tops our list of the best performing short activists on YTD basis.
We highlight a campaign by White Diamond which is now the most successful YTD and three others that have recently joined our list of top 10 YTD decliners.
We also note what seems to be a newfound balance between activist short-sellers and the retail crowd.
---

---
In Q3 2021, we registered and tracked 24 new major campaigns. Out of those, in nine cases shares declined more than 20%.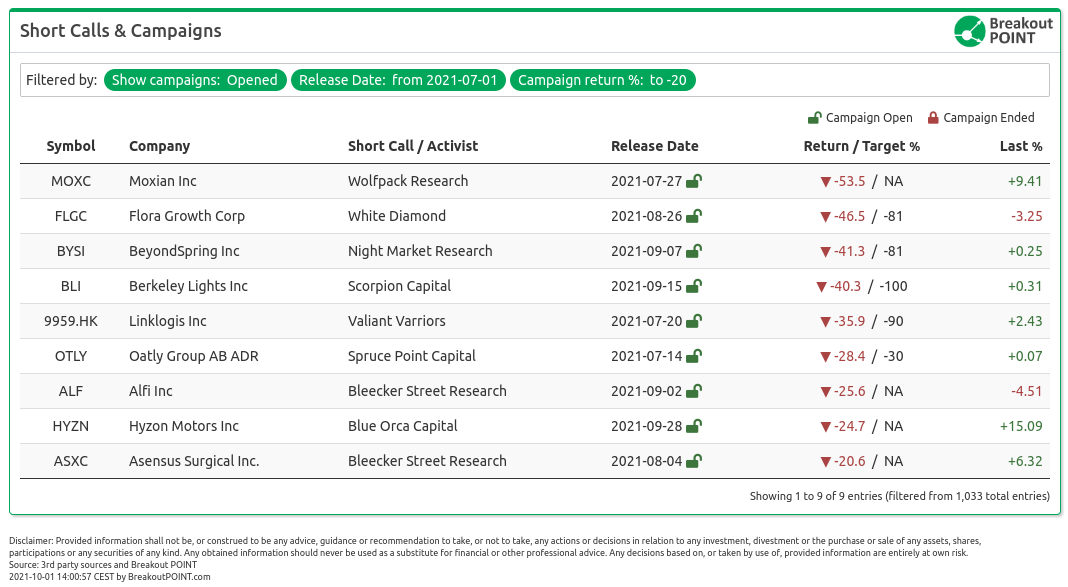 The best performing Q3 short call was on Moxian (MOXC) by Wolfpack Research. MOXC declined 53.5% since Wolfpack wrote about them (Note: Spruce Point Capital also warned about MOXC in series of tweets in Q2). Wolfpack Research, led by OG China Hustle activist, Dan David, is overall having a great year and is second best performing entity among those that had at least three short calls in 2021. The only better performing entitity is a 'somewhat under the radar' activist, Night Market Research, while two ususal suspects that almost always appear on our best-of lists, Hindenburg Research and White Diamond Research are right behind Wolfpack:
---
Many Winners on YTD basis
As aforementioned Q3 was less active, but that does not mean that the stocks did not move. In fact, almost 80% of 103 major new YTD short campaigns are seeing a negative share price since the initial report. The average shares decline following a release of a short or critical call is amazing 25%. This is in spite of what one could assume having in mind meme-stocks developments
At the end of Q3, the following ten 2021 short/critical calls were the top performers: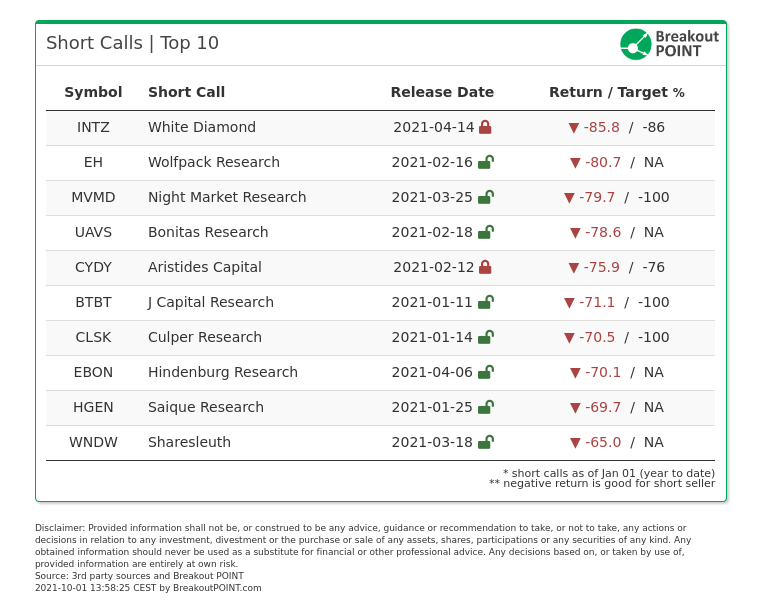 In terms of newcomers in the TOP 10 decliners we see the following campaigns;
White Diamond takes the crown with a focus on a small-cap company. The activist, known for targeting smaller capitalizations, gimmicky products and dubious management teams has celebrated a large win in Intrusion (INTZ). The stock hit 85% downside target set in the report in April of this year. It took the market a while to figure the situation, but once it happened the drop was sudden.
White Diamond initially targeted this, at time of publishing, $500m cybersecurity company due to allegations of dubious product and questionable track record.
Most importantly, the report believed the company's core new product is supposedly without any significant underlying intellectual property and is based on open-source tech which is freely accessible. According to the short seller, the beta test of the product was also done by associated parties with INTZ. The product documentation is allegedly filled with buzzwords, but leave out any meaningful information.
White Diamond was proud to share this in July.
$INTZ announced its CEO has departed. A real bad apple who doesn't belong in business. We warned investors about him twice. Read our 2 reports at https://t.co/snMY0srW0Q.

— White Diamond (@WhiteResearch) July 20, 2021
The second biggest newcomer was Mountain Valley Holdings (MVMD) which was targeted by Night Market Research. The stock is the third biggest loser at Q3 end in our database. Night Market targeted this Canadian-based biotech due to allegations of rampant stock promotion and dubious business model.
Most importantly, the report believed the company's effort in developing a drug platform is nothing but a promotion to pump the share price, and alleged that none of the insiders have any relevant work experience. Night Market found no evidence of any medical background when it comes to MVMD's lead scientist. According to the short seller, the company's only relevant asset is an 8-year old patent.
As the time developed, Night Market was able to see the share price slowly crawl back to levels seen before the great increases in early 2021.
It would not be a Q3 report without mentioning Bit Digital (BTBT). This crypto-related company was first targeted by J Capital Research due to classic allegations of fraudulent behaviour.
Most importantly, the report believed the company did not say truth about its new bitcoin venture. They are supposedly operating thousands of bitcoin miners yet on-the-ground due diligence is supposedly showing that no one is aware of these machines. According to the short seller, neither the companies that supposedly sold the machines to BTBT nor the governmental entities in locations where the company is believed to operate.
Despite the strong claims, the stock was up for a long time due gyrations of the crypto market. It is only in this quarter that we are finally seeing a prolonged negative downtrend. The stock is down 71% and takes the sixth spot on our YTD list of biggest decliners.
The fourth and final newcomer in the top decliners is another crypto-related play targeted by Culper Reserach. Cleanspark (CLSK) was targeted by the activist due to allegations of unsustainable business and promotional scheme which misled investors.
Most importantly, the report believed the company's latest bitcoin effort is questionable. According to the short seller, they have acquired a company that others deemed economically unfeasible as the favourable electricity supply agreement faces a price hike. CLSK has been touting the low-cost mining opportunity, but this will only be present for a limited period of time.
Furthermore, CLSK was apparently a trend chaser in the past, trying to hop on the latest hot industry to juice up its share price. While it worked for a while in 2021, Culper made sure others were aware. Since the initial report, the stock is down 70%. Culper continues to believe there are problems as per below.
In Q2 21, CleanSpark $CLSK gouged out $13.3 million in payroll and G&A expenses despite generating just $11.9 million in revenues - insiders reap healthy paychecks while losses for common shareholders continue to mount.

— Culper (@CulperResearch) August 17, 2021
On the other side of the tracks, there were only a few campaigns that have seen the share price go strongly against the short-seller. According to our records, only five campaigns from this year are seeing a share price that is up more than 20% since the initial reports of the activists. One of the campaigns was more of an event-driven short (TYRO by Viceroy) and another campaign was against Gamestop (GME) stock price of which is hardly influenced by an activist report. Thus in total, you really only have three campaigns that went sharply against the activists.
The most 'negative' development can be seen in Thungela Resources (TGA), which was initially targeted by The Boatman Capital Research. The stock is up over 290% since the report from June of this year. The activists targeted this thermal coal company due to understated liabilities. However, the thesis was not widely accepted by the market and as time went on investors realized TGA is likely to benefit from ever-increasing energy prices and thus bid up the stock. Boatman did not share any updates for now.
The second is Aemetis (AMTX). The renewable orientated company was targeted by Culper Research due to allegations of a dubious track record and business model.
Most importantly, the report believed the company is nothing but a pump and dump scam orchestrated by notorious figures who had previous dealings with the SEC and controlled several entities which went to zero. According to the short seller, the CEO apparently controlled five entities in the past which went bankrupt or to zero, and had to pay a settlement with the SEC sham related-party transactions and faulty revenue recognition. Culper had further concerns, related to alleged related-party transactions.
Despite these claims, the stock is up almost 100% since the initial report from the end of July. The reason for this is that the company seemed to have announced a deal with Delta Airlines. It will be interesting to see whether Culper will update its thesis in light of this change.
The third is Credit Acceptance (CACC). This subprime lender was initially targeted by Steve Eisman due to allegations of regulatory pressure. This is still yet to manifest and thus the stock is sitting 69% higher compared to January of this year.
---
Get most popular retail stocks. Track real time retail sentiment and retail popularity via our APIs and dashboards.

---
Activist shorts and retail crowd - newfound balance?
If you were to go back to Q1 of this year, media was sceptical about the future of short selling, Reddit was swarming with posts about evil short-sellers, hedge funds and any other entity that seemed to fit in the narrative that there is a conspiracy against the retail trader who wants to profit from the stock market.
Some activist short-sellers were wary of releasing new reports. Citron Research said they stop going public with their reports. Hindenburg Research even released one campaign without being short.
A couple of months later and it seems the picture has changed a lot. Retailers are still eyeing heavily shorted stocks and chat about short squeezes (Note: we at Breakout Point devotedly track and analyse in real time all retail investors developments, popular stocks, trends and sentiment changes).
But most of these stocks seem to be left alone by the activists. While some may comment on the developments on Twitter, not many really launched a campaign against one of the short squeezes.
When it comes to brief Twitter commentary, probably the most prominent case are tweets of Iceberg Research, first on July 2:
We are short $AMC. Fundamentals are obvious. After one month of trading sideways and lots of money lost in call options, the pump seems increasingly shaky.

— Iceberg Research (@IcebergResear) July 2, 2021
and then on September 15:
We have increased our short exposure to $AMC

— Iceberg Research (@IcebergResear) September 15, 2021
Iceberg Research's AMC shorts got a lot of backlash from 'apes' community, but seem to have worked out very well for this well-known short activist:
However, activists are mainly busy exposing what they believe to be shady, dubious or overvalued companies that might have fallen from the grace of the retailers. We regularly analyze such stocks such and have many good examples for this. For example, some EV stocks which were wildly popular among the retail crowd need to be included. Fuzzy Panda continues to spread the opinions about Workhorse (WKHS) as can be seen below.
Thank you, we've had good teachers, mentors, and colleagues that keep pushing us to always dig deeper.

As per $WKHS:

CEO resigned
CFO, COO resigned
SEC investigating
Trucks Recalled & Off the Road
Fake Order Book Exposed

Next Up = $200m Debt Default https://t.co/CM3bXQgh4x

— FuzzyPanda (@FuzzyPandaShort) September 30, 2021
Other activists are simply piling away with finding new China Hustle stocks (there were several in Q3 such as HYZN or WIMI) or finding new targets in the usual areas of tech, cannabis or green energy.
Thus, it seems headlines like this "Short Sellers Face End of an Era as Rookies Rule Wall Street" in Q1 are not likely to repeat anytime soon. This probabaly means plenty of more new activist campaigns in Q4.
---
Don't miss latest activist short selling reports and insights - Join Breakout Point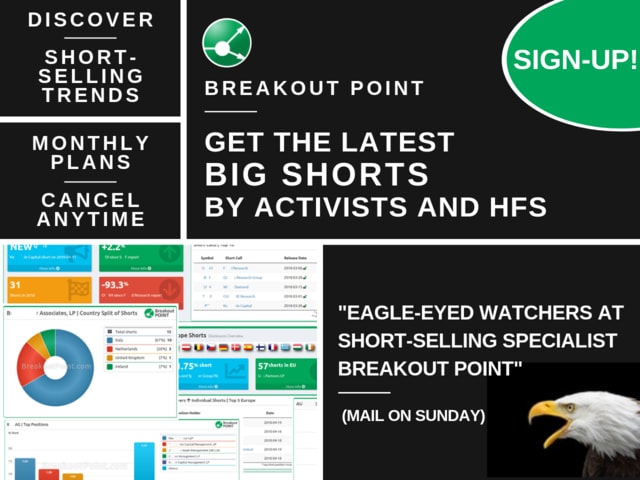 ---
FAQ | Q: Can I publish parts of above data and analytics in an article? A: As long as you reference our work in your article - yes, you can.
FAQ | Q: Could you provide more related data and analytics? A: Sure, join Breakout Point and start benefiting from our services.
* Note: Presented data and analytics is as of available on 2021-10-01, UTC 12:00.
The services and any information provided by Breakout Point or on the Breakout Point website shall not be, or construed to be any advice, guidance or recommendation to take, or not to take, any actions or decisions in relation to any investment, divestment or the purchase or sale of any assets, shares, participations or any securities of any kind. Any information obtained through Breakout Point and its services should never be used as a substitute for financial or other professional advice. Any decisions based on, or taken by use of, information obtained through Breakout Point and by its services are entirely at own risk.