This week we have registered two new major activist shorts campaigns.
They both targeted the same company. Both featured seemingly hard-hitting allegations of highly questionable behaviour alongside dubious product claims. Despite this, the stock is up over 50%, and the market is unfazed.
Lastly, we are tracking the most recent stock price gyrations at several previous targets. We feature a dubious blockchain company that failed to file its annual report, a bioplastics business and an alleged failed roll-up which sold off due to earnings.
---
Save time and ask us for independent short thesis verification. Get our custom support. Contact Breakout Point!
---
Bits and Pieces
CEO of Aterian updates their investigation on alleged naked short selling.
Preliminary data on illegal naked short selling is in: ~7M shares as of October 15th. This is in addition to the 8.1M shares officially short as reported by Nasdaq. We are committed to combating this. $ATER#StopNakedShorting

— Yaniv Sarig (@yaniv_sarig) November 2, 2021
...there are all too many fraudsters, penny stock scammers, Ponzi scheme architects, and pump-and-dump cons taking advantage of investors...
---
Get most popular retail stocks. Track real time retail sentiment and popularity via our APIs and dashboards.

---
Big Movers
This week's we saw several stocks that moved in the right direction for the short-sellers. One of the biggest movers was Triterras (TRIT) which is down more than 15% in the past five days. This Singapore-based blockchain company was most recently targeted by Mostly Borrowed Short Ideas due to allegations of dubious track record of the management.
Most importantly, the report believed the management team has not been transparent when it comes to their track record. Some past engagements were allegedly obscured from proxy statements. Others were mentioned, but the company gave conflicting data about the time of the involvement. Many of the entities also either went supposedly bankrupt or were persecuted by the SEC or are potentially fraudulent.
The claims are now seeing some validation as the company failed to file its annual report within the proposed timeline. Some market participants dismissed this as a detail, but others said that the company is coming apart. It should be noted that the company recently released its own internal investigation, which apparently found nothing wrong with TRIT's accounting.
Another stock that has registered a significant decline is Lightspeed Commerce (LSPD). This Canadian-based SaaS roll-up was initially targeted by Spruce Point due to classic allegations of a troubled roll-up company.
Most importantly, the report believed the company has been inflating its potential while obscuring increasing pressure from the competition. According to Spruce, the company is trying to sell a future where its business model will thrive, but at the same time, LSPD has increased the number of its acquisitions apparently to mask organic declines in revenue growth. The revenue growth is crucial to maintain in order to give a picture of a healthy business with plenty of runway.
It seems LSPD's earnings result confirmed a large part of the thesis as the stock sold off once the numbers hit the market. Spruce had this to say.
This where all the bashers and hate mail I received isn't replaced with a "thanks for the warning" $LSPD

— Spruce Point Capital (@sprucepointcap) November 4, 2021
Initially, they saw a downside of up to 60%. So far, the shares are down about 20% since the initial report. Thus share price action seems to still be in focus of this short seller.
Spruce has been hitting gains in some other stocks as well. For example, Heska Corp. (HSKA) also sold off after it released its earnings.
Maybe $HSKA expectations were a little too high after all: Q3 revenue $60.2m vs $63.8m est. When you're priced for perfection as an industry leader, you better deliver

— Spruce Point Capital (@sprucepointcap) November 4, 2021
The company was targeted by Spruce due to allegations of poor business model and various other concerns.
On the other side of the tracks, several stocks have moved against short-sellers. Aside from SAVA, which we feature in the below section, one of the most significant surges was seen in Danimer Scientific (DNMR). This bioplastics company rose by almost 30% in the past five days. The stock was most recently targeted by Muddy Waters due to allegations of dubious business model and misleading investors.
Most importantly, the report believed the company has oversold its dreams to the market. As per Muddy Waters, the company originally purchased its key asset 13 years ago, and since then, they apparently do not seem much closer to scalable commercialization. Muddy points out several key claims made by DNMR (capacity of production, a type of pre-orders etc.) which do not hold up to scrutiny.
The market seemed to ignore the claims for now as the stock is going up, likely due to the overall macro picture where companies focused on alternative solutions are in favour.
---
Cassava - a new battleground
This week we also saw two new campaigns, both hit Cassava Sciences (SAVA). This $2.3bn biotech was targeted by QCM and by a group of PhDs who formed to write an in-depth report. They both wrote about allegations of...
---
(Stay on top of short selling developments - Join Breakout Point).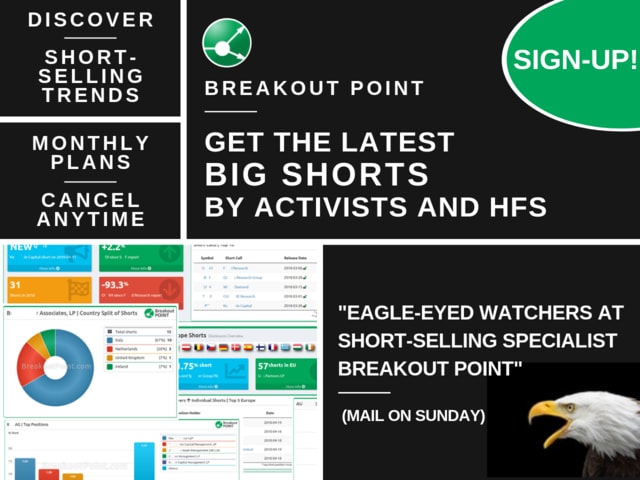 ---
FAQ | Q: Can I publish parts of the above data and analytics in an article? A: As long as you reference our work in your article - yes, you can.
FAQ | Q: Could you provide more related data and analytics? A: Sure, join Breakout Point and start benefitng from our services.
* Note: Presented data and analytics is as of available on 2021-11-05 UTC 12:00.
The services and any information provided by Breakout Point or on the Breakout Point website shall not be or construed to be any advice, guidance or recommendation to take, or not to take, any actions or decisions in relation to any investment, divestment or the purchase or sale of any assets, shares, participations or any securities of any kind. Any information obtained through Breakout Point and its services should never be used as a substitute for financial or other professional advice. Any decisions based on, or taken by use of, information obtained through Breakout Point and by its services are entirely at own risk.