This week we have registered one new major activist short campaign.
Blue Orca took a shot at a lithium-focused company which is up over 250% this year. As per Blue Orca, apparently, the management took advantage of the EV trend and tried to sell an enticing story about a unique technology. The short-seller surprisingly found some red flags. The company fired back alongside retailers.
Lastly, we are tracking the most recent stock price gyrations at several previous targets. We feature a dubious biotech which had a though week, a fintech stock which failed to deliver its revenue target and a recycling stock which is back in vogue after challening earnings.
---
Bits and Pieces
Robinhood, others win dismissal of meme stock 'short squeeze' lawsuit.
Meet J Capital, the controversial short sellers driven by 'moral outrage'.
Monthly rebalancing for retail activities index? We're sceptical
What Does "Everyone" Think? S&P Dow Jones Indices Introduces S&P 500 Twitter Sentiment Index
Muddy Waters on controversial topic of short position holding periods:
Why do activist short sellers often de-risk shortly after going public with a report?

Freddy Brick from @muddywatersre explains why the days right after dropping a report are the most dangerous to carry significant risk.

Full interview: https://t.co/KM7ScuTNm4

Thread pic.twitter.com/sChHqcQAAJ

— zer0es.tv (@zer0estv) November 19, 2021
---
Get most popular retail stocks. Track real time retail sentiment and popularity via our APIs and dashboards.

---
Big Movers
This week's we saw several stocks that moved in the right direction for the short-sellers. However, one stock that had wild moves in both directions this week, caught our attention - Humbl (HMBL). It was Hindenburg who initially targeted this fintech company due to allegations of dubious business model and operations.
Most importantly, the report believed the company has not been able to execute even its simplest tasks. For example, according to Hindenburg, the users of the app still can't send or receive money through it. This is a problem given HMBL presentation of itself as a payment company.
The stock initially dropped this week due to weak Q3 numbers and the market realizing the $100m revenue potential is likely far away from being real. There was another Seeking Alpha article which was also bearish and pulled the same thread as Hindenburg. All losses were erased on Friday, after PR on company's "application with OTC Markets for an advancement to the OTCQB tier and then towards an application to the NASDAQ Stock Market". Shares ended about 47% higher on Friday, and the week ended rather flat.
Another stock that has registered a significant decline is Cassava Science (SAVA) which dropped about 23% this week. This biotech stock is the newest battleground between bulls and activist short-sellers. The stock was initially targeted by QCM and a group of PhDs who got together and wrote about the alleged potential of the company. Both reports targeted SAVA due to allegations of an insider enrichment scheme and dubious product.
Most importantly, the reports believed the company has forged research that it used to test its Alzheimer-focused drug. According to the activists, the Phase 2 trial was also apparently mired with serious irregularities. Also, according to the activists, the drug is supposedly worthless as the excitement was built on various cherry-picking of seemingly promising data.
The initial reaction of SAVA was to go up over 40% in an apparent attempt to short squeeze the activists. However, the shareholders are now facing several negative news. The company dropped as they have announced an SEC investigation and removed the scientific board from its website potentially signalling changes. The company also dropped research into one of its other assets. QCM believes the bulls are being drowned and the stock has significant downside ahead.
The bull is still puffing and charging, but it's wound is deadly and it's demise is now near. $savahttps://t.co/9xboxhgDHO

— Quintessential Capital Management (@QCMFunds) November 17, 2021
On the other side of the tracks, several stocks have moved against short-sellers. One of the most significant surges was seen in Purecycle Tech (PCT) which rose 32%. It was Hindenburg who targeted this SPAC due to allegations of dubious business model and questionable track record of insiders.
Most importantly, the report believed the company is unlikely to ever generate much shareholder value. As per activist, their purported technology was not featured in a single peer-reviewed study so far. This questions their ability to outcompete the many other businesses trying to revolutionize the recycling of plastics.
So far Hindenburg is winning as the stock is down 47% since the inital report. However, the shares staged a slight rebound this week as bulls started to see silver lining in the Q3 results which initially pushed the stock lower by about 20%.
Retail channels started to push the below narrative.
$PCT: Keep an eye on execution for this recycler.
Now it is becoming a v v large position.
Listen to the 3Q call if u can:
2022: Ironton at 100m lbs - going to GA plant at 600m lbs.
We're at $1bn+ ebitda on the first 2 plants.
And there will be far far more than 2 plants.

— Michael Taylor (@Mike_Taylor1972) November 11, 2021
---
Muddy Waters riding high on earnings
While the earnings season is slowly coming to close, the short-sellers still talked about several stocks which released their numbers. Muddy Waters faced three earnings this week and they all supported the initial thesis. The first reaction was aimed at Multiplan (MPLN). This healthcare analytics was initially targeted by Muddy due to allegations of significant business challenges.
Most importantly, the report believed the SPAC promoter which was in charge of acquiring MPLN's business has missed a crucial point about incoming...
---
(Stay on top of short selling developments - Join Breakout Point).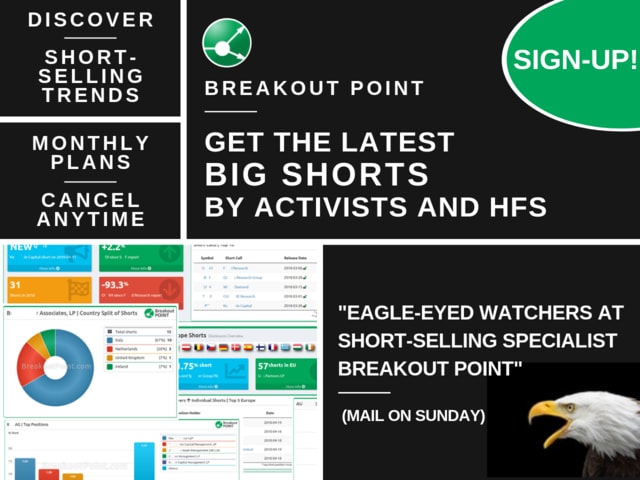 ---
FAQ | Q: Can I publish parts of the above data and analytics in an article? A: As long as you reference our work in your article - yes, you can.
FAQ | Q: Could you provide more related data and analytics? A: Sure, join Breakout Point and start benefitng from our services.
* Note: Presented data and analytics is as of available on 2021-11-20 UTC 12:00.
The services and any information provided by Breakout Point or on the Breakout Point website shall not be or construed to be any advice, guidance or recommendation to take, or not to take, any actions or decisions in relation to any investment, divestment or the purchase or sale of any assets, shares, participations or any securities of any kind. Any information obtained through Breakout Point and its services should never be used as a substitute for financial or other professional advice. Any decisions based on, or taken by use of, information obtained through Breakout Point and by its services are entirely at own risk.