The relationship of the newly minted retailer traders and short-sellers was rocky from the beginning. It began with GME and AMC and continued with the retail traders focusing on short-squeezes. High short interest and short squeezes remained the main narrative in many popular retail stocks in 2021. The popular subreddit r/shortsqueeze speaks for itself. Sometimes they succeeded, sometimes only temporary and only to see them become 'bagholders' in the vocabulary of fintwit in the end.
Activist short-sellers, who go public with their research, were wary of this sentiment towards the shorts. After GME and huge focus on Citron Research's short call, Hindenburg Research even released a report without putting on a short position, while Citron decided to quit posting short research altogether. Market pundits were announcing the end of short-selling as we know it. However, as time went by, the activists have slowly but surely started to call out some of the meme stocks and point to possible flaws in the companies.
This 'awakening' was met with a strong reaction from the Reddit crowd. In this post, we bring you the most memorable clashes thus far.
---
Get most popular retail stocks. Track real time retail sentiment and retail popularity via our APIs and dashboards.

---
Apes and Ice
Perhaps we should start with Iceberg Research who was met with formidable amount of negative reactions from one of the most active retail communities. Citron was the first 'adversary' of r/wsb and other subreddits talking about GME and other meme stocks, but that was when the stock was still going up. Iceberg released several tweets about them being short AMC in July which was a different time.
Redditors were still very much talking about the stock, with the stock moving sideways but at high YTD levels. At that time, Iceberg initiated their short, which they announced on Twitter.
We are short $AMC. Fundamentals are obvious. After one month of trading sideways and lots of money lost in call options, the pump seems increasingly shaky.

— Iceberg Research (@IcebergResear) July 2, 2021
Cue the reactions over at Reddit, especially over at r/amcstock. Redditors started with the usual jokes about how the offices of Iceberg looks. Then transformed into sleuths and started a background check on the entity, which ended up with an amusing post about how Iceberg Research might employ one person in Thailand. In total, there are over 50 threads aimed at Iceberg with more or less the same goal of trying to discredit that single tweet.
When Iceberg said they closed out their short as AMC declined by about 30%, the threads did not change. The most popular one had big red stop signs and said that Iceberg Research is not real and that traders should ignore them.
The top comment on that very thread was: 'I thought they looked a bit suspicious. As what type of hedge funds posts their position so openly on the stock market.'
---
---
We might understand where the fury of retailers comes from. The market situation has been wild for many months and years, and January meme-stocks trading halts seem to still need a lot of clarification. But going out against only a few tweets in this manner is surprising.
Recently, Iceberg got similar treatment when they went short Digital World Acquisition Corp (DWAC), the meme Trump SPAC. Despite Iceberg's pertinent timing of the short, r/DWAC_stock picked up where the AMC crowd left off.
---
---
Zack Attack(ed)
Another story worth mentioning is the Zack Morris saga. This Twitter profile is very popular among retail investors, not only as it publicly shares own meme-stocks picks, but also due to peculiar way of communicating. A quick introduction to the profile can be done through the below video.
I feel super honored! Thank you all for the love!!! I LOVE PUMPING!!! https://t.co/epxbW1ipEz

— Zack Morris (@MrZackMorris) October 20, 2021
In the video, you can see two stocks that actually caught the interest of activist short-sellers. The first was Camber Energy (CEI) which was in focus of Kerrisdale Capital and the second one was DatChat (DATS) which Culper Research wrote about. In both cases, the reports talked about overhyped potential. Culper went a bit further and called DATS a stock promotion scheme. CEI is now down about 60% since Kerrisdale's report, and DATS is down 28% since Culper's.
Despite the allegations in the report, Zack Morris was unfazed and certainly had interesting reactions to Culper. Following another recent short report, he released the following.
Give us more short reports!!!!

— Zack Morris (@MrZackMorris) October 20, 2021
'The Master FURU' was less reactive to CEI as Zack just released several tweets after the report saying that nothing has changed and that the stock is going over $3 per share.
As a general lesson, he also shared with the followers on how he plays the short-seller reports.
October 14, 2021
Proto-Clash Retail vs Shorts
It would not be a full list if don't mention a kind of "big bang" or origin event, after which clashes between retail investors and activist shorts multiverses became more frequent. This happened back in 2020 when Wolfpack Research focused their short research on a name that was in the long focus of Dave Portnoy:
Portnoy fired back and called Wolfpack's founder a 'used car salesman'. A nice, brief summary of Wolfpack vs Portnoy clash is also provided in below video:
From our experience, we would just perhaps caution everyone to be wary of the next Enron or Wirecard or Luckin Coffee or Nikola or the other roughly 340 stocks that are down over 50% since they were targeted by activist short-sellers who tried to warn the market about irregularities, deception and sometimes even outright fraud.
---
Don't miss latest activist short selling reports and insights - Join Breakout Point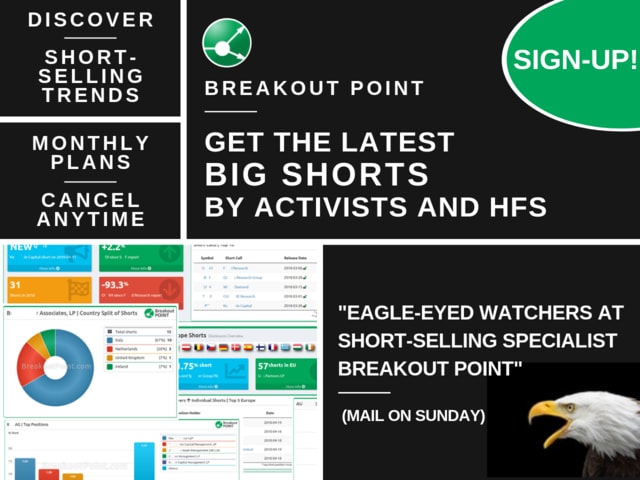 ---
FAQ | Q: Can I publish parts of above data and analytics in an article? A: As long as you reference our work in your article - yes, you can.
FAQ | Q: Could you provide more related data and analytics? A: Sure, join Breakout Point and start benefiting from our services.
* Note: Presented data and analytics is as of available on 2021-11-03, UTC 20:00.
The services and any information provided by Breakout Point or on the Breakout Point website shall not be, or construed to be any advice, guidance or recommendation to take, or not to take, any actions or decisions in relation to any investment, divestment or the purchase or sale of any assets, shares, participations or any securities of any kind. Any information obtained through Breakout Point and its services should never be used as a substitute for financial or other professional advice. Any decisions based on, or taken by use of, information obtained through Breakout Point and by its services are entirely at own risk.