This week we have registered one new major campaign.
Grizzly came out with a classic 'China Hustle 2.0' allegations against a solar company which, according to the activist, apparently faked some of its projects. The stock is down 20%. The company denied everything and is allegedly going to address each point during a conference call next week.
Lastly, we are tracking the most recent stock price gyrations at several previous targets. We feature a questionable real estate company in Germany, a failed biotech and equally disappointing aerial vehicle company based in China.
---
Save time and ask us for independent short thesis verification. Get our custom support. Contact Breakout Point!
---
Bits and Pieces
'The risk presented by naked short sales tends to be greatly overstated. It is entirely inappropriate for ESMA to speculate without any evidence that naked short selling could have occurred in GameStop. We note that when it comes to short selling, European attitudes more resemble those of shamans and witchdoctors than of scientists. If this sort of speculation is valid, we ask why ESMA is not concerned with the possibility of foreign powers having manipulated GameStop – or even aliens having manipulated it?'
CEO of $DKNG telling Jim Chanos, who uncovered the Enron accounting scandal (and all around accounting genius), that he forgot how to do math. https://t.co/aWcRObTWJE

— Nate Anderson (@ClarityToast) December 3, 2021
So far in 2021, short sellers seems to have a clear edge over SPACs:
---
Get most popular retail stocks. Track real time retail sentiment and popularity via our APIs and dashboards.

---
Big Movers
This week's we saw many stocks that moved in the right direction for the short-sellers. Our activist shorts basket of 2021 is up amazing 12.1% this week. The biggest mover was BeyondSpring (BYSI) which dropped 72% in the past five days. This biotech was originally targeted by Night Market Research due to allegations of dubious product.
Most importantly, the report believed the company key drug will not be approved by the FDA as the short-seller apparently spotted several instances of inconsistent data, lack of standard disclosure and poor trial conduct. Allegedly, only about 10% of the enrolled patients are based in the US. According to the activist, the rest is in China and Eastern Europe where the trial conduct is supposedly questionable, while ome of the data rely solely on patients outside of the US which the FDA is unlikely to accept at face value.
The thesis was proven correct in the middle of the week when key set of data came out and disappointed the bulls which believed the management team and its estimates. Night Market released the below tweet showcasing that even their price target was basically hit by this move.
$BYSI CRL for CIN as expected. Shows that FDA's Breakthrough Therapy Designation and highly regarded principal investigators should not be relied upon.

In our Sep 7 report, we put fair value at ~$5/sh (cash plus protein degrader platform value)https://t.co/hDjbIDRHRx

— Night Market Research (@NMRtweet) December 1, 2021
A big drop was also seen in Ehang (EH) which is lower by about 26% in the past week. This aerial vehicle tech company based in China was initially targeted by Wolfpack due to allegations of fraudulent behaviour.
Most importantly, the report believed the company has exaggerated its connection with a key customer. Wolfpack found that the customer has a dubious presence in China. They also did not recommend buying EH's products. The customer was also involved with EH's pre-IPO financing which allegedly gave them the motivation to pretend to be larger than they are.
The reason for the downturn this week was poor earning results which certainly lend significant credibility to Wolfpack's thesis. In any case EH is down 86% since the initial report. Despite the poor results, the bulls on Twitter continued to share arguments as to why EH will eventually rebound and how Wolfpack is wrong.
On the other side of the tracks, only a handful of stocks have moved against short-sellers. One of the most significant surges was seen in Adler Group (ADJ), which is up 8%. ADJ is Viceroy's target.
Most importantly, the report believed the company has been...
---
(Stay on top of short selling developments - Join Breakout Point).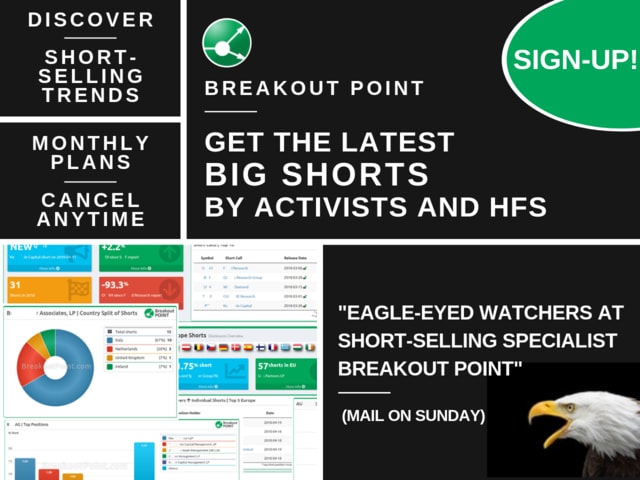 ---
FAQ | Q: Can I publish parts of the above data and analytics in an article? A: As long as you reference our work in your article - yes, you can.
FAQ | Q: Could you provide more related data and analytics? A: Sure, join Breakout Point and start benefitng from our services.
* Note: Presented data and analytics is as of available on 2021-12-03 UTC 22:00.
The services and any information provided by Breakout Point or on the Breakout Point website shall not be or construed to be any advice, guidance or recommendation to take, or not to take, any actions or decisions in relation to any investment, divestment or the purchase or sale of any assets, shares, participations or any securities of any kind. Any information obtained through Breakout Point and its services should never be used as a substitute for financial or other professional advice. Any decisions based on, or taken by use of, information obtained through Breakout Point and by its services are entirely at own risk.