This week we have registered six new major short campaigns.
Four of six stocks are now down since the initial reports.
The biggest mover was by Viceroy who targeted yet another German company due to several serious allegations. S&T AG, the company in question, now seems to be vigorously fighting back.
Muddy Waters also released a new report about what they believe is a classic China Hustle 2.0 stock, KE Holdings. As per the activist, this could be the next Luckin Coffee. Initially, the price moved up, but the market now seems to be putting some weight onto the allegations.
Lastly, we are tracking the most recent stock price gyrations at several previous targets. We feature a dubious plastic company, a Colombian glass business and a crypto company.
---
Save time and ask us for independent short thesis verification. Get our custom support. Contact Breakout Point!
---
Bits and Pieces
Interview with lead analyst of Wolfpack Research
A 26-year-old short-seller on the Reddit retail army and shorting in the longest bull market in history
Nice success for K2 & Associates, Canadian manager that recently appeared for the first time in our European short selling records. Cineworld is down as much as 50% since K2 disclosed a short on November 24.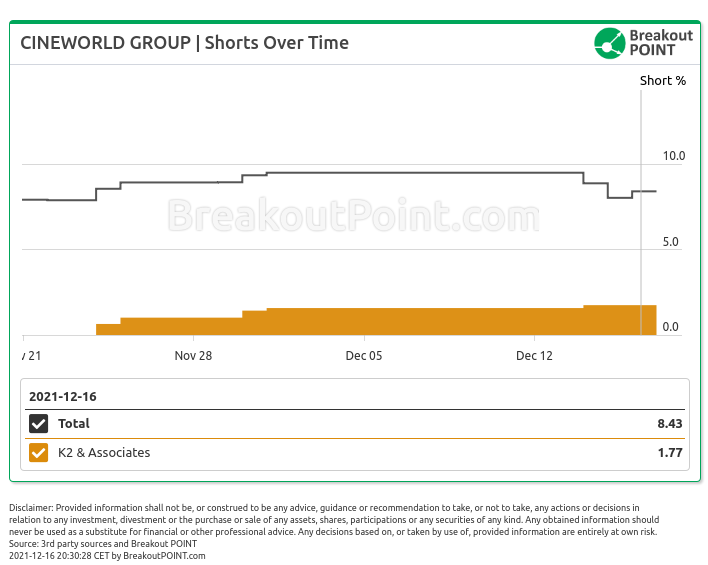 As colorful 2021 is approaching the end, here are ten best performing short calls of 2021:
---

---
Big Movers
This week's we saw many stocks that moved in the right direction for the short-sellers. Among the biggest movers were the new campaigns by Bonitas and Viceroy which we discuss later in the post. Another big mover was Danimer Scientific (DNMR) which is down 31% in the past five days. Most recently, it was Muddy Waters who focused on this bioplastics company due to allegations of dubious business model and misleading investors. DNMR was also targeted by Spruce in April this year.
Most importantly, the report believed the company has oversold its dreams to the market. According to Muddy Waters, the company originally purchased its key asset 13 years ago, and since then, they apparently do not seem much closer to scalable commercialization. Muddy points out several key claims made by DNMR (capacity of production, a type of pre-orders etc.) which do not hold up to scrutiny.
The thesis is working out as the company has struggled to persuade investors that it truly has a workable solution, at least for now. The stock is down over 50% since the report. The reason for the decline this week was DNMR's announcement about significantly dilutive financing as the company is trying to raise cash to stay in business.
Another stock that is down is Eqonex (EQOS). The shares have fallen about 21% in the past five days. EQOS was initially targeted by Iceberg Research due to allegations of dubious product and corporate governance red flags.
Most importantly, the report believed the recent pivot of the company is unlikely to generate much shareholder value. As per Iceberg, their cryptocurrency exchange is rated as one of the last out of several hundred in terms of reported volume. According to the activist, it is apparently unlikely that EQOS is able to somehow beat larger and well-funded competitors in an increasingly crowded market.
The company has changed its name since then, but the thesis seemed to have been proven correct. The stock is down 73% since Iceberg wrote about the situation in April of this year. The activist believed the stock is zero. Also, there is not even much chatter on the usual retail chatter.
On the other side of the tracks, only a handful of stocks have moved against short-sellers. One of the most significant surges was seen in Tecnoglass (TGLS) which is up about 30%. This Colombian-based glass company was the newest target of Hindenburg. The activist targeted TGLS due to allegations of undisclosed related-party transactions and fake accounting.
The stock plummeted on the first day of the report but has since somewhat recovered. TGLS is now down 'only' 28%. There were no new developments that would either support or reject the thesis. It seems however that TGLS does have fairly robust support among retail traders who believe the sell-off was overdone and the allegations are old news.
---
A flurry of new campaigns
This week we saw plenty of activity from activists, especially on Thursday when various outfits released four new reports. With Kerrisdale releasing its Meta Materials short campaign on Tuesday it takes us to five new reports this week.
Perhaps the most impactful campaign was Viceroy's new report targeting a German tech company due to allegations of corporate...
---
(Stay on top of short selling developments - Join Breakout Point).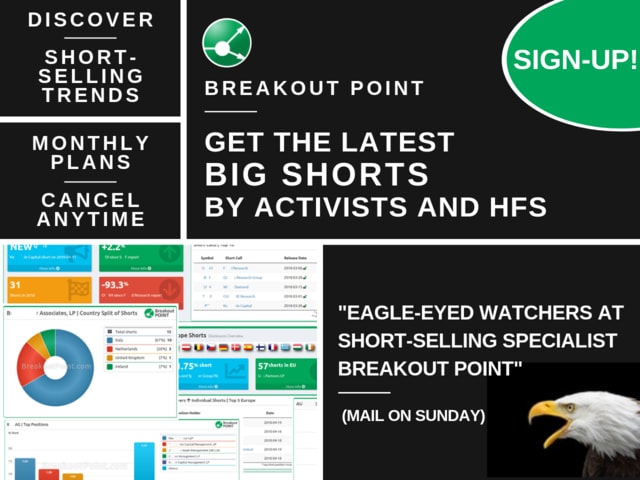 ---
FAQ | Q: Can I publish parts of the above data and analytics in an article? A: As long as you reference our work in your article - yes, you can.
FAQ | Q: Could you provide more related data and analytics? A: Sure, join Breakout Point and start benefitng from our services.
* Note: Presented data and analytics is as of available on 2021-12-17 UTC 22:00.
The services and any information provided by Breakout Point or on the Breakout Point website shall not be or construed to be any advice, guidance or recommendation to take, or not to take, any actions or decisions in relation to any investment, divestment or the purchase or sale of any assets, shares, participations or any securities of any kind. Any information obtained through Breakout Point and its services should never be used as a substitute for financial or other professional advice. Any decisions based on, or taken by use of, information obtained through Breakout Point and by its services are entirely at own risk.