This week we have registered three new major short campaigns and several updates.
We have seen Spruce target a relatively popular retail stock due to allegations of dubious accounting and business model. We also noted a new Hong-Kong based target filled with seemingly strong red flags pointing to possible accounting fraud.
The updates to short reports were mostly aimed at stocks which already started to plummet. Involved activists see further downside.
Lastly, we are tracking the most recent stock price gyrations at several previous targets. We feature a dubious drone company, a supposed wannabe space business and a cannabis venture filled with alleged undisclosed related-party deals.
---
Save time and ask us for independent short thesis verification. Get our custom support. Contact Breakout Point!
---
Bits and Pieces
---

---
Big Movers
This week's we saw many stocks that moved in the right direction for the short-sellers. Among the biggest movers was Momentus (MNTS) which dropped 37.4% in the past week. This space-related company was initially targeted by White Diamond Research (WDR) in October of last year due to allegations of being a pump and dump scheme.
Most importantly, the report believed the company's only tech asset is unlikely to ever work. As per the activist, they apparently lied to investors when they mentioned that they tested the technology in 2019 and that it is operational. The SEC also investigated the claims and labelled the company as a fraud before the company went public. The agency also apparently did not find any potential in the technology.
The stock is down already over 78% since WDR's first written about it. The reason for this is a combination of lack of updates and the resignation of its CEO. This seemed to have also driven MNTS this week. WDR initially saw a 100% downside opportunity as the technology is allegedly worthless. Thus there could still be further downside present.
Another large drawdown was seen in Agrify (AGFY) which dropped about 30% in the past five days. This cannabis-related stock was targeted by Bonitas late last year due to allegations of undisclosed related-party transactions.
Most importantly, the report believed the company has been dealing with entities that are either shareholders of AGFY or are owned by insiders of the company. Several entities were allegedly created just a few days before AGFY engaged with them and they still do not have an operating business according to Bonitas. According to the activist, a large portion of revenues of AGFY come from these supposedly dubious entities.
The stock is down about 52% since the initial report. The latest set of downside came as the market likely did not see any news which would contradict the thesis. The stock was already at similar levels in January when they announced dilutive financing. The shares rebounded somewhat but started to fall again in the middle of February.
On the other side of the tracks, there was some movement against short-sellers. One of the most significant surges was seen in Alpine 4 Holdings (ALPP) which jumped about 30%. This drone company was initially in focus of Grizzly Research due to allegations of it being a scam.
Most importantly, the report believed the company's recent claim to fame through two acquisitions of drone-related entities is nothing but a pump and dump scheme. Grizzly claims to have thoroughly researched the acquisitions and allegedly found out that both of them are defunct. As per activist: the first acquisition targeted talked about a production facility that they own, but in reality, that is supposedly not true; the other entity was previously a charity and seems to be just a shell.
It seems the market largely agreed with the thesis as the stock is now down over 50%. Grizzly initially saw over 70% downside. However, recently the shares caught a bit of a break. This could be due to increasing retail interest. There were a couple of threads on Twitter that seemed to hint towards new investors entering the stock. Retailers seemed to have dismissed the report and did not pay much attention to it.
---
Updates calling for further downside
The market continues to be friendly towards short-sellers. Many earnings releases pressured even one of the most popular stocks such as Palantir or Roblox and others. Thus activists are taking advantage and updating their previous reports as the market might be more receptive to the news which could accelerate the downfall of the stocks. This week we noted three updates that strengthen the previous thesis and will likely pressure the shares going forward.
The first smaller update came from Fuzzy Panda who shared the following on Twitter.
BDO resigned as $ELMS auditor citing "information that an illegal act…has or may have occurred"

BDO refuses to rubber stamp ELMS financials.

Reminder that most of ELMS cash is pledged to pay for the factory.https://t.co/Q3CK3G1EjZpic.twitter.com/PojLST3lTt

— FuzzyPanda (@FuzzyPandaShort) February 15, 2022
Electric Last Mile Solutions, Inc. (ELMS) is an EV-related company that was targeted by the activist just two weeks ago due to allegations of...
---
(Stay on top of short selling developments - Join Breakout Point).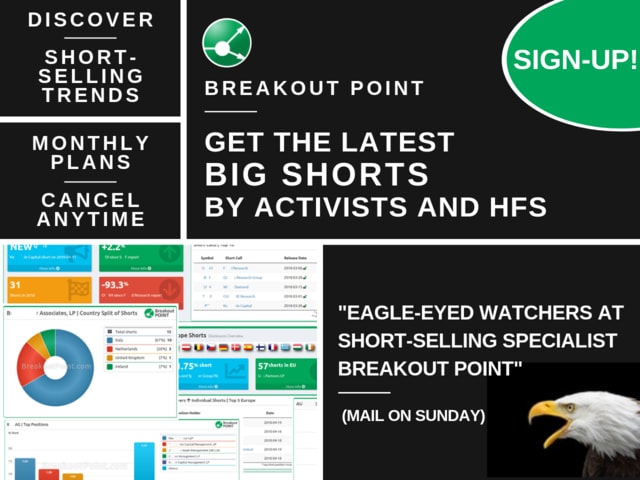 ---
FAQ | Q: Can I publish parts of the above data and analytics in an article? A: As long as you reference our work in your article - yes, you can.
FAQ | Q: Could you provide more related data and analytics? A: Sure, join Breakout Point and start benefitng from our services.
* Note: Presented data and analytics is as of available on 2022-02-19 UTC 10:00.
The services and any information provided by Breakout Point or on the Breakout Point website shall not be or construed to be any advice, guidance or recommendation to take, or not to take, any actions or decisions in relation to any investment, divestment or the purchase or sale of any assets, shares, participations or any securities of any kind. Any information obtained through Breakout Point and its services should never be used as a substitute for financial or other professional advice. Any decisions based on, or taken by use of, information obtained through Breakout Point and by its services are entirely at own risk.