This week we have registered two new major short campaigns and one short call. We also registered a number of follo-ups to existing campaigns.
We highlight the new campaign of Viceroy which is aimed at Samhallsbyggnadsbolaget i Norden (SBB), a Swedish company, and features heavy-hitting allegations about its corporate governance. The stock is up so far and the management has started to fight back against the activist.
Lastly, we are tracking the most recent stock price gyrations at several previous targets. We feature a failing fintech company, a dubious payments company and two retail favourites.
---
Bits and Pieces
We warned $AHCO could not maintain its "8-10% organic growth" story as the Aerocare deal anniversary approached.

They just cut annual organic growth guidance approximately in half. And that's with price inflation everywhere.

Stock down approx 40% *vs S&P* since our report. pic.twitter.com/tfNJzG22Ax

— Jehoshaphat Research (@JehoshaphatRsch) February 24, 2022
---

---
Big Movers
This week we saw several stocks that moved in the right direction for the short-sellers. Among the biggest movers was Humbl (HMBL) which dropped more than 14% in the past five days. This fintech company was initially targeted by Hindenburg due to allegations of dubious business model and operations.
Most importantly, the report believed the company has not been able to execute even its simplest tasks. Hindenburg said that for example, the users of the app still can't send or receive money through it. According to the activist, this is a problem given HMBL presentation of itself as a payment company.
The thesis continues to play out as the stock is down 87% since the initial report and the stock is now currently at 11 cents. The low share price is also why we see the big change in percentage in terms of the price performance.
Another large drawdown was seen in Tyro Payments (TYR), the stock went down 25% in the past week. The Australian payments company was initially targeted by Viceroy due to allegations of nonfunctional machines and dubious business model.
Most importantly, the report believed the company does not have a clear idea of how many payment terminals in the country were offline at the time of the report. Viceroy performed various channel checks and believes that roughly 50% of all devices are offline. According to Viceroy, the outage is likely to spark a significant churn of customers switching to new providers.
While the thesis was event-driven, Viceroy did raise several points about TYR's business model and its potential flaws. This part of the report now might be picking up traction. This is especially because of TYR's results released this week. The loss of the company deepened. The stock is down 38% since Viceroy wrote the first report in January of last year.
On the other side of the tracks, there was some movement against short-sellers. One of the most significant surges was seen in Camber Energy (CEI) which ended up over 37% for the week. This meme O&G stock was targeted by Kerrisdale due to allegations of overhyped potential.
Most importantly, the report believed the company is hardly worth its current market cap. The only asset they have is a stake in an OTC-listed O&G stock which recently violated a loan covenant and a negative book value. The recent surge in energy prices apparently might not benefit the company much due to hedged from 2020.
The thesis played out as the stock is down more than 77% since the report and have been done significantly more than that. However, it is likely that the war in Ukraine has sparked interest in the name as O&G names have been going up following the oil prices.
Another interesting rebound was seen in DraftKings (DKNG) which climbed up by 28%. This is another popular stock focused on betting that was initially targeted by Hindenburg due to allegations of potential legal liabilities due to black market operations.
Most importantly, the report believed the company has concealed its dealings in markets where gambling is prohibited. The report talks about a Bulgarian entity spun off from the official entity with which DKNG merged. This entity is supposedly operating illegal gaming websites. Hindenburg points to supposed evidence in legal documents obtained from all around the world which showcase the use of said entity's technology in illegal markets. Apparently, these illegal operations could be responsible for substantial revenue portion of DKNG.
While this part of the thesis did not yet seem to play out, the stock is already down more than 56% since the report. However, the stock recently rebounded and recouped most of the losses from the earnings results. The rebound does not seem to be driven by anything overly fundamental.
---
Viceroy hitting Sweden
This week we have also seen Viceroy come out with a new report aimed at SBB, a Swedish real estate company. The activist targeted this $6bn stock due to allegations of undisclosed related-party transactions, dubious accounting and rampant insider self-dealing.
Most importantly, the report believes the company's assets are frequently purchased through...
---
(Stay on top of short selling developments - Join Breakout Point).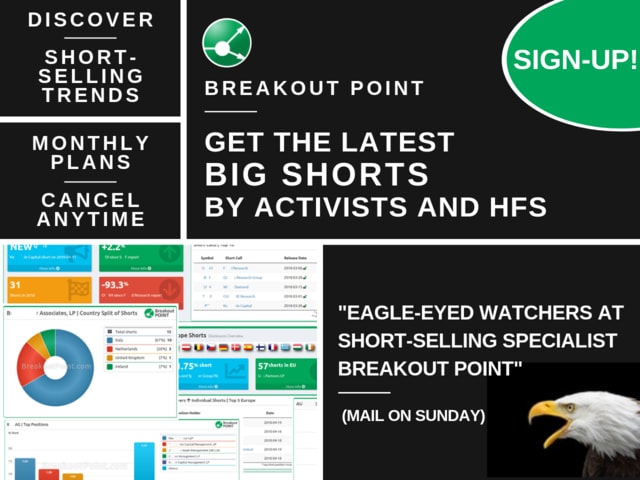 ---
FAQ | Q: Can I publish parts of the above data and analytics in an article? A: As long as you reference our work in your article - yes, you can.
FAQ | Q: Could you provide more related data and analytics? A: Sure, join Breakout Point and start benefitng from our services.
* Note: Presented data and analytics is as of available on 2022-02-26 UTC 10:00.
The services and any information provided by Breakout Point or on the Breakout Point website shall not be or construed to be any advice, guidance or recommendation to take, or not to take, any actions or decisions in relation to any investment, divestment or the purchase or sale of any assets, shares, participations or any securities of any kind. Any information obtained through Breakout Point and its services should never be used as a substitute for financial or other professional advice. Any decisions based on, or taken by use of, information obtained through Breakout Point and by its services are entirely at own risk.