Retail Traders and Start of 2022
It has been an interesting start of the year for the meme-side of the market. Retailers started to grapple with something they have seen only occasionally before, drum roll, falling prices. January has been testing the bullishness of the usual subreddits from r/superstonk, r/amc/, r/PLTR and many others. Just as an example, AMC is down 42% just in the past 30 days.
This negative trend seen in many of the popular stocks is also manifesting in the below table of the year-to-date most focused stocks in retail-verse. Instead of short-squeezes, retailers mainly started to track the earnings of tech giants and chip companies. Tesla still topped the charts as many traders were wondering what to do when facing a margin call (the shares are down 15% YTD).
Many meme-traders also started to explore what r/wallstreetbets and other subreddit might call, the dark side. That is short-selling or being bearish. We noticed more and more talk about put options as can be seen below.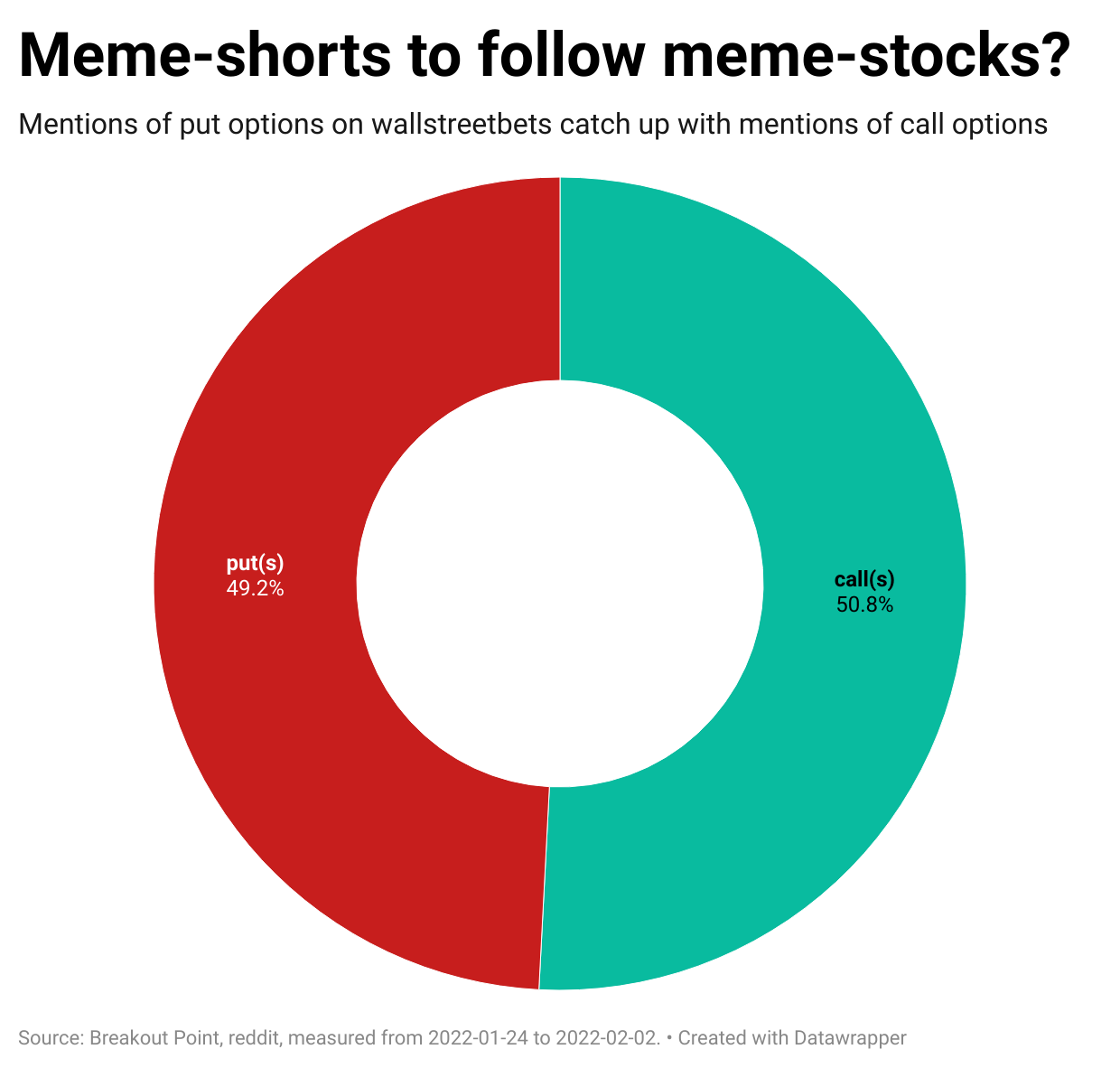 Just a year ago, this was unthinkable. In early 2021, GameStop (GME) was just rebounding from its losses caused by the infamous Robinhood event and any talk of being bearish was promptly killed. However, as the market started to drop this year, retailers flocked to see whether they could make money even now. The 'put talk' this year was present especially before earnings such as Netflix and other players which were seen as struggling with large expectations. One of the most popular threads was about someone allegedly turning $6k into $430k overnight with NFLX puts. This spurred interest in other traders seeking similar profits from a volatile trading environment.
Other names highlighted in our list are mainly EVs and chip stocks. The latter started to rebound on earnings which have not disappointed. EVs continue to struggle.
SPACs and other popular names did not even make it onto top 25 list. Blackberry (BB), which was once as popular as GME or AMC, recently sold their patents for less than what the traders believed which was just one of the blows to the seemingly never-ending bullish points.
Meme-Shorts Incoming?
The put-centric mood even led to an amusing thread of one Redditor over at r/wallstreetbets suggesting causing a bank run via depositing and withdrawing money from a bank until they run out of physical cash and spread the news. Obviously buy puts first:
Another trend that highlighted the rift among the retail traders is the emergence of or a short ARKK ETF, Tuttle Capital Short Innovation ETF (SARK), which gains when ARKK drops. As Cathie Wood's ARKK registered a 26% drop on YTD basis, SARK has been a favourite of surpisingly many. However, that did not stop others from suggesting short-squeezing an ETF.
Cathie was not the only figure frequently discussed on the usual channels. 'Inverse' Jim Cramer has become even more popular these days as retailers are saying that investors should always do the exact opposite of what Cramer recommends. There were plenty of threads analysing his stock picks during his usual CNBC show as traders were always wary of Cramer seeing the market rebound or liking a popular stock such as AMD.
We will see what the retail crowd picks up next, and we will not be surprised if we see rise of meme-shorts in 2022. Given all of what we saw in January, we are certain retailers will continue to reinvent themselves and think of new strategies to chase profits.
---
Get most popular retail stocks. Track real time retail sentiment and retail popularity via our APIs and dashboards.

---
FAQ | Q: Can I publish parts of above data and analytics in an article? A: As long as you reference our work in your article - yes, you can.
FAQ | Q: Could you provide more related data and analytics? A: Sure, join Breakout Point and start benefiting from our services.
* Note: Presented data and analytics is as of available on 2022-02-03, UTC 22:00.
The services and any information provided by Breakout Point or on the Breakout Point website shall not be, or construed to be any advice, guidance or recommendation to take, or not to take, any actions or decisions in relation to any investment, divestment or the purchase or sale of any assets, shares, participations or any securities of any kind. Any information obtained through Breakout Point and its services should never be used as a substitute for financial or other professional advice. Any decisions based on, or taken by use of, information obtained through Breakout Point and by its services are entirely at own risk.