This week we have registered three new major short calls.
We highlight Lilium (LILM) a new target of Iceberg Research who is going after another stock that is supposedly only built on unsustainable hype. As per Iceberg, their tech strategy is apparently not viable and they have been misleading investors about other aspects of the story. The stock is down 21.7% so far, Iceberg continued to update their thesis after the initial report.
Lastly, we are tracking the most recent stock price gyrations at several previous targets. We feature a dubious Chinese-based company, an alleged pump and dump scheme rebounding, another EV fail and pressured security company.
---
Save time and ask us for independent short thesis verification. Get our custom support. Contact Breakout Point!
---
Bits and Pieces
The Wirecard saga continues to play out as activists expected.
Short activism, when executed professionally and ethically and directed against the right targets, is a always a force for good! https://t.co/iMEAk97jO5

— Quintessential Capital Management (@QCMFunds) March 15, 2022
Another one for the 'short-sellers are evil' bingo card, this time via Star Wars-themed meme.
Short sellers are the dumb stormtroopers of the investing galaxy

— Ryan Cohen (@ryancohen) March 15, 2022
Interesting by Phunware (PHUN), a semi-regular retail favourite: They released a simple online form that shareholders can use to prohibit their brokers from lending shares.

Retail investors were not happy about latest Chanos' short that focuses on this long-term retail favorite:
Kynikos Founder Jim Chanos explains why he's short @Coinbase. $COIN. pic.twitter.com/FXFTFVUWh9

— CNBCOvertime (@CNBCOvertime) March 18, 2022
---

---
Big Movers
This week we saw several stocks that moved in the right direction for the short-sellers. Among the biggest movers was Electric Last Mile Solutions (ELMS) which fell 30% in the past five days. Initially, it was Fuzzy Panda Research who targeted this EV company due to allegations of lying to investors, insider dealing and an overall shoddy business model.
Most importantly, the report believed the company has been purchasing Chinese-made EVs and trying to pass them off as 'Made in the USA'. As per the activist, customers of ELMS are also able to return all of the purchased vehicles, this apparently raises questions about ELMS' revenue booking. Fuzzy Panda also mentioned that the customers are also apparently negatively reviewing ELMS products and there seems to be a lack of demand.
The allegations got a significant boost early this week as the company was forced to withdraw guidance and disclosed a probe by the SEC. This then resulted in a significant downward push. The stock tried to rebound somewhat, while the stock is down about 66% since the report.
Another large drawdown was seen in Ipsidy (AUID) which ended up down about 19% lower in the past week. This security company was initially targeted by White Diamond due to allegations of overhyped product and dubious business model.
Most importantly, the report believed the company is unable to generate much shareholder value from its supposedly new tech aimed at 'selfie' verification software. According to the activist, the product has been around for a long time now and it seems AUID still generates most of its revenue from its low tech legacy business. White Diamond also mentioned that the only revenue coming from software sales are allegedly connected to new tech seems to be a legacy governmental contract not connected to the product AUID is marketing to shareholders.
Even though there were no news this week supporting such a negative move, it seems that some of the investors have run out of patience. The stock is down 80% since the report and is now close to the 90% downside target assigned by White Diamond.
On the other side of the tracks, there was some movement against short-sellers. One of the most significant surges was seen in Golden Matrix (GMGI) which jumped over 50% in the past week. This small-cap gaming company was initially targeted by Western Edge in the middle of last year due to allegations of being a pump and dump scheme.
Most importantly, the report believed the company is just a carbon copy of a previous venture headed by the same two employees. According to the activist, the previous entity collapsed and is now trading for pennies on the dollar, whilehe entities even shared the same corporate address and seemed to have been in the same business.
The thesis seemed to be playing out as just at the start of March the stock was down about 40% since the report. However, the company managed to get itself listed on NASDAQ this week which spurred a significant rebound. Western Edge remains silent so far, but it will be interesting to see whether the downside is still a possibility. The stock is now down 'only' 16% since the report.
Another interesting rebound was seen in TROOPS (TROO). This Chinese-based company was initially targeted by Wolfpack Research due to allegations of fraud and serious corporate governance breaches.
Most importantly, the report believed the key insiders and large shareholders of the company have been arrested and named as 'masterminds' of an international fund fraud.
Just last week we have featured the company on the other side as the shares were being pressured by the market for being a Chinese-based US-listed company. This week the stock is up exactly because of the same thing as the Chinese government signalled a willingness to work with the US and to support their Chinese companies on the US stock market.
Despite broader market optimism, the activists had this to say to the recent moves by the Chinese government.
Thank you for having me back Maria, and being one of the only mainstream television hosts staying on this issue. always a pleasure. @McSwainPA@jeff_bartos@herbgreenberg@muddywatersrehttps://t.co/SKoQ2vT7iE

— Wolfpack Research (@WolfpackReports) March 16, 2022
---
Iceberg going after another hype stock?
This week we also saw the activist who was outspoken against some of the most popular retail names in the past (AMC etc.) target Lilium (LILM), a stock focused on electrical vertical take-off and landing aircraft (eVTOL). Iceberg targeted this $1bn company due to allegations of poor product and dubious business model.
Most importantly, the report believes LILM's technology is not sufficient to...
---
(Stay on top of short selling developments - Join Breakout Point).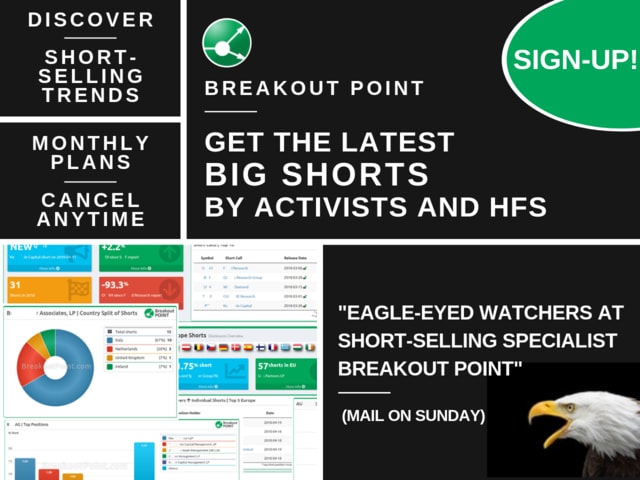 ---
FAQ | Q: Can I publish parts of the above data and analytics in an article? A: As long as you reference our work in your article - yes, you can.
FAQ | Q: Could you provide more related data and analytics? A: Sure, join Breakout Point and start benefitng from our services.
* Note: Presented data and analytics is as of available on 2022-03-19 UTC 10:00.
The services and any information provided by Breakout Point or on the Breakout Point website shall not be or construed to be any advice, guidance or recommendation to take, or not to take, any actions or decisions in relation to any investment, divestment or the purchase or sale of any assets, shares, participations or any securities of any kind. Any information obtained through Breakout Point and its services should never be used as a substitute for financial or other professional advice. Any decisions based on, or taken by use of, information obtained through Breakout Point and by its services are entirely at own risk.