This week we have registered two new major short campaigns.
We highlight Blue Orca's first 2022 report targeting Li-Cycle (LYCI), a lithium battery recycling business. The short-seller alleges all sorts of red flags including a claim of Enron-like accounting and supposedly dubious related-party transactions featuring shareholders paying for CEO's beer holsters. The stock is down almost 9% so far.
Lastly, we are tracking the most recent stock price gyrations at several previous targets. We feature a dubious mining company, a questionable cannabis operation, the superstonk and a recent EV short.
---
Bits and Pieces
A Top Prosecutor, a Short Seller's Confession, and a Columbia Professor Offer Clues to the DOJ Probe of Short Sellers (via II)
An Alleged Fraud Uncovered by a Short Seller (Hindenburg) Ends in Gunfire (via WSJ)
Viceroy continues to pummel SBB's accounting.
$SBB – Contingent Liabilities. Our latest report is now live:https://t.co/keObavvrZw

SBB's transactional counterparty financial accounts show significant contingent assets stemming from sales to SBB, which appear to be performance/event driven. #thread 1/ pic.twitter.com/ZjfFjsvcOb

— Viceroy (@viceroyresearch) March 22, 2022
Night Market reiterates its thesis on a recent short target. The stock is up 17% since the initial report in early March.
Zentek $ZTEK up 25% on no news. Recently uplisted to Nasdaq with a new ticker, this former junior miner and now IP development company has a market value of $300m USD but owns no patents and only generated $705k in revenue last year.. See our report here:https://t.co/MEIGnQjZmt

— Night Market Research (@NMRtweet) March 23, 2022
---

---
Big Movers
This week we saw several stocks that moved in the right direction for the short-sellers. Among the biggest movers was The Metals Company (TMC) which sunk 42% in the past five days. TMC is short of Bonitas from last year. The short-seller targeted this mining company due to allegations of dubious corporate governance.
Most importantly, the short-seller shared a tweet that alleges the management has siphoned off $43m to undisclosed insider investors via an acquisition. Moreover, according to Bonitas, the company apparently artificially inflated their expenditures numbers.
Since that short call, the shares are down more than 57%. The reason for the recent downturn is likely connected to the earnings report which might confirm the overall bearish perspective of the company as outlined by the activist. Retailers remain positive as many are touting TMC due to the recent macro events surrounding Ukraine.
Another large drawdown for Bonotas was seen in Agrify (AGFY) which dropped about 6% in the past week. This is in spite of almost 20% surge on Friday. This is another Bonitas target of late 2021. The short-seller wrote about this cannabis-related company due to allegations of undisclosed related-party transactions.
Most importantly, the report believed the company has been dealing with entities that are either shareholders of AGFY or are owned by insiders of the company. According to Bonitas, several entities were apparently created just a few days before AGFY engaged with them and they still do not have an operating business according to Bonitas, while a large portion of revenues of AGFY come from these supposedly dubious entities.
The thesis is now playing out as the company announced disappointing guidance which sent the shares lower. That being said, given the small market cap, AGFY is likely to be volatile going forward. Some retail bulls are still around and believe the fundamentals, while cannabis again became a popular narrative among retail investors. The stock is now down 62% since Bonitas' initial report.
On the other side of the tracks, there was some movement against short-sellers. One of the most significant surges was seen in Gamestop (GME) which shot up over 60% in the past five days due to the market's renewed interest in all things meme. Activist short-sellers were commenting on this infamous meme stock on plenty of occasions. Citron infamously shared their short before the big squeeze in early 2021. That being said there is no active campaign as of now.
Another interesting rebound was seen in Lilium NV (LILM) which rose almost 50%. This electrical aerial vehicle company was targeted by Iceberg Research just last week. The activist wrote about LILM due to allegations of poor product and dubious business model.
Most importantly, the report believed LILM's technology is not sufficient to produce a product that is going to fit the compliance created by aviation regulators. According to Iceberg, the company was not able to conduct many testing flights and there are apparently serious questions about battery capabilities, while the CEO did not have any aerospace experience prior to starting LILM.
It seemed Iceberg could celebrate early as the stock plunged heavily in the first week. However, this week the tables turned as the stock started to rebound and is up more than 15% since the initial report. This is somewhat peculiar as there has not been much news. The company did not formally respond to the short-seller, nor did it file a material SEC report. Retailers are also relatively quiet, while some are attacking Iceberg, there has not been a huge movement.
Due to the lack of meaningful business developments, it will be interesting to see how the stock fares in the future.
---
Blue Orca and Lithium Batteries
This week we also saw the return of Blue Orca who released their first activist campaign of 2022. They targeted Li-Cycle (LYCI) a $1.4bn recycling company due to allegations of poor corporate governance, dubious business model and questionable accounting.
Most importantly, the report believes the company is using...
---
(Stay on top of short selling developments - Join Breakout Point).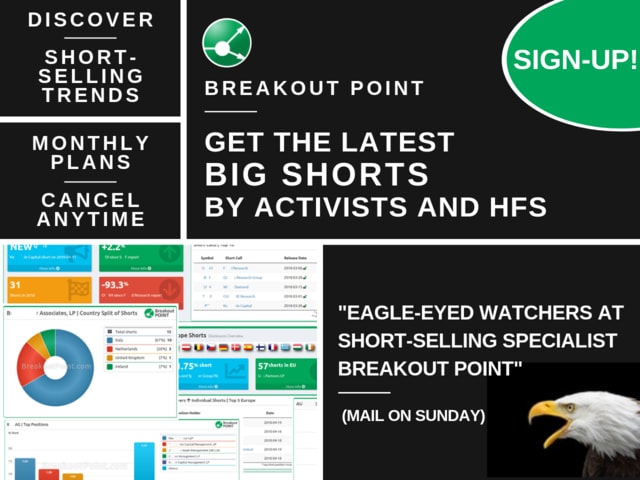 ---
FAQ | Q: Can I publish parts of the above data and analytics in an article? A: As long as you reference our work in your article - yes, you can.
FAQ | Q: Could you provide more related data and analytics? A: Sure, join Breakout Point and start benefitng from our services.
* Note: Presented data and analytics is as of available on 2022-03-19 UTC 10:00.
The services and any information provided by Breakout Point or on the Breakout Point website shall not be or construed to be any advice, guidance or recommendation to take, or not to take, any actions or decisions in relation to any investment, divestment or the purchase or sale of any assets, shares, participations or any securities of any kind. Any information obtained through Breakout Point and its services should never be used as a substitute for financial or other professional advice. Any decisions based on, or taken by use of, information obtained through Breakout Point and by its services are entirely at own risk.