This week we have registered two new major short campaigns and a number of follow-ups.
We note the ongoing saga with SBB a Swedish company that was targeted by Viceroy Research due to allegations of undisclosed related-party transactions and dubious accounting. Viceroy came out with new updates detailing how SBB is allegedlly round-tripping its revenue. The stock initially went up but is now trading lower than before the report.
Lastly, we are tracking the most recent stock price gyrations at several previous targets. We feature two failed EV ventures, a cybersecurity company and a bioplastics business which might be getting another breath.
---
Save time and ask us for independent short thesis verification. Get our custom support. Contact Breakout Point!
---
Bits and Pieces
We noted short covering in European defence stocks. Several money managers seem to be caught wrong-footed there, eg BlackRock covered their BAE Systems and their Leonardo SpA shorts.
Big short in European yacht maker (with Breakout Point data and analysis):
London's Marble Bar makes big short bet on yacht firm as Russian oligarchs face seizure of luxury toys
Muddy Waters comments on their track records and reminds of Beke Holdings:
11 out of 12 ain't bad (#12 - $BEKE - is a fraud) https://t.co/oJDCEtK8rP

— MuddyWatersResearch (@muddywatersre) March 1, 2022
---

---
Big Movers
This week we saw several stocks that moved in the right direction for the short-sellers. Among the biggest movers was Lordstown Motors (RIDE) which fell more than 28% in the past five trading days. This EV stock was initially targeted by Hindenburg due to allegations of inflated business opportunity.
Most importantly, the report believed the company has touted many contracts which are dubious or are allegedly not finalized. Some of the largest customers of RIDE are based out of dubious addresses and do not have much history of being in business, much less having the capacity to order tens of thousands of EV vehicles. Others have told Hindenburg that they just considered buying from RIDE and they did not commit to anything.
The thesis largely played out as the stock is now down 87% since the initial report. The company released its 10-K on Monday and GM confirmed the sale of its RIDE stake. This alone already pressured the shares, but the CEO dumping about $13.5m worth of stock, sealed the ugly week. Hindenburg noted that the founder has plenty of more shares to go.
Another large drawdown was seen in Tusimple Holdings (TSP) which fell 23% in the past week. Initially, it was Grizzly Research who targeted this China-based autonomous driving tech company due to allegations of dubious product and promotional behaviour.
Most importantly, the short-seller believed TSP could be the next Nikola. TSP apparently also misrepresented their tech capabilities and their pre-orders. The company touted they have over 5,000 orders which could generate over $400m of revenue. However, Grizzly believes most if not all orders are easily refundable and are not serious commitments. The SEC inquired about this, and TSP decided to drop the revenue generation forecast altogether. Presumably to avoid legal liability.
The thesis is seemingly playing out as the stock is now down 67% since the initial report. Now it seems the allegations have further support as the company announced a CEO change which caused the slide. Grizzly noted that despite this allegedly dubious CEO change, Ark continues to buy more:
New lows for $TSP today after CEO and Chairman announced their departure. https://t.co/qz36thwCGg@CathieDWood decided to buy millions of shares shortly after our critical report. https://t.co/MxIzAUf236
Let's wait and see how this plays out. pic.twitter.com/8pwbVdm8Fw

— Grizzly Research (@ResearchGrizzly) March 3, 2022
On the other side of the tracks, there was some movement against short-sellers. One of the most significant surges was seen in Darktrace (DARK) as the stock jumped 25% in the past week. This cybersecurity company was initially targeted by ShadowFall due to allegations of a weak business model.
Most importantly, the report believed that the company's business is driven by promotional sales techniques that acquire new clients at a significant discount while customer retention is falling. As per ShadowFall, the business model itself is "watery-thin".
At first, the stock did go lower and was as low as 23%, but since the start of the war in Ukraine, the shares have rebounded strongly. This is because the market is expecting the company is going to be able to catch some of the increased demand for cybersecurity services given Russia's capabilities. ShadowFall did not comment on the development so far.
Another interesting rebound was seen in Danimer Scientific (DNMR) which jumped 23% in the past five days. This bioplastics company was most recently targeted by Muddy Waters due to allegations of dubious business model and misleading investors.
Most importantly, the report believed the company has oversold its dreams to the market. The company originally purchased its key asset 13 years ago, and since then, they apparently do not seem much closer to scalable commercialization. Muddy Waters points out several key claims made by DNMR (capacity of production, a type of pre-orders etc.) which do not hold up to scrutiny.
The thesis seemed to have played out as the stock is down 71%, but it seems the bulls are getting another breath after DNMR's latest earnings. The stock posted numbers that beat estimates and investors were getting excited as the company noted future potential.
---
SBB saga continues
This week we also noted new developments in the recent campaign of Viceroy who targeted a Swedish-listed real estate company, Samhallsbyggnadsbolaget I Norden (SBB). The original report talked about allegations of undisclosed related-party transactions, dubious accounting and rampant insider self-dealing.
Most importantly, the report believes the company's assets are frequently purchased through undisclosed...
---
(Stay on top of short selling developments - Join Breakout Point).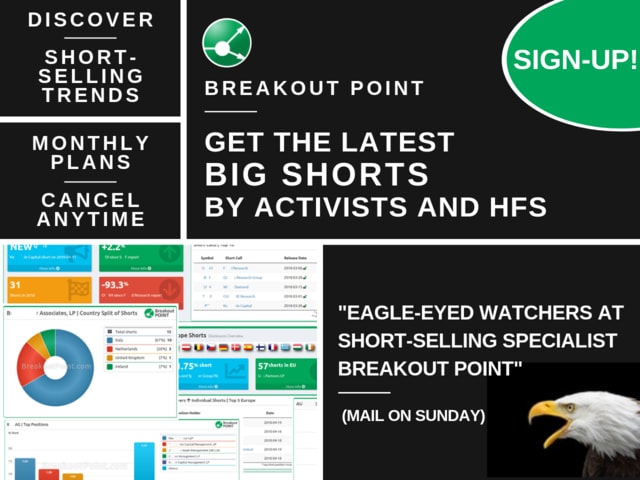 ---
FAQ | Q: Can I publish parts of the above data and analytics in an article? A: As long as you reference our work in your article - yes, you can.
FAQ | Q: Could you provide more related data and analytics? A: Sure, join Breakout Point and start benefitng from our services.
* Note: Presented data and analytics is as of available on 2022-03-05 UTC 10:00.
The services and any information provided by Breakout Point or on the Breakout Point website shall not be or construed to be any advice, guidance or recommendation to take, or not to take, any actions or decisions in relation to any investment, divestment or the purchase or sale of any assets, shares, participations or any securities of any kind. Any information obtained through Breakout Point and its services should never be used as a substitute for financial or other professional advice. Any decisions based on, or taken by use of, information obtained through Breakout Point and by its services are entirely at own risk.