This week we have registered two new major campaigns.
Both campaigns targeted relatively small companies due to allegations of being pump and dump schemes with little real business and a lousy track record. Both stocks are resilient and have a strong following of bulls on Twitter which likely resulted in little selling as a result of the reports.
Lastly, we are tracking the most recent stock price gyrations at several previous targets. We feature struggling biotech, a tech stock dealing with accounting review, a rare-earth stock and an app company that recently announced a venture into metaverse and NFT.
---
Bits and Pieces
---

---
---
Big Movers
This week we saw several stocks that moved in the right direction for the short-sellers. Among the biggest movers was Amylyx Pharma (AMLX) which sunk almost 49% in the past five days. This biotech company was initially targeted by Sumerian Research due to allegations of dubious product.
The company's flagship drug was apparently destined to fail in the upcoming Phase 3 PHOENIX trial. Most importantly, the related Twitter thread believed that studies on AMLX's key drug indicate that the drug is inert and that the next trial on a larger sample size will fail to meet the needed level of significance.
The thesis now seems to be playing out as the drug has met resistance in FDA's advisory committee. They have voted 6 to 4 against AMLX's drug and its Phase 2 data. This obviously punished the share price. However, some believe this is not the end as the company can still apply for FDA approval by June of this year. Thus, bulls still have some hope. It will be interesting whether the developments will alter the thesis or not. The stock is down 32% since Sumerian's initial call.
Another large drawdown was seen in View (VIEW) which dropped 33% in the past week. This technology company was initially targeted by Jehoshaphat Research due to allegations of a poor business model and weak balance sheet.
Most importantly, the report from June last year believed the underlying economic model is not feasible and the company will continue to burn cash. Their smart glass is being sold at a deeply negative gross margin and the company is unable to increase prices.
The thesis is playing out as the company is struggling to file its regulatory papers on time due to issues with accounting. The stock already hit the activist's target, but Jehoshaphat likely sees further downside present as the core of the allegations apparently remain.
$VIEW
Incredibly, the RJ analyst is still too bullish on the biggest problem at this company: its technology!

We discuss these problems in our short report: https://t.co/vsCjVOpdFnpic.twitter.com/2f6hL7j6Et

— Jehoshaphat Research (@JehoshaphatRsch) March 30, 2022
On the other side of the tracks, there was some movement against short-sellers. One of the most significant surges was seen in The Metals Company (TMC) which shot up over 59% in the past five days. Initially, it was Bonitas that targeted this mining company due to allegations of dubious corporate governance.
Most importantly, the short-seller shared a tweet that alleges the management has siphoned off $43m to undisclosed insider investors via an acquisition. Moreover, the company apparently artificially inflated their expenditures numbers.
While the stock is already down 45% since the initial call, the stock has been on a roller coaster ride recently as macro events have spurred interest in all stocks connected to commodities. Couple that with several seemingly positive press releases from the company and the market has started to bid up the stock. Twitter is relatively active with the ticker as well.
Another interesting rebound was seen in DatChat (DATS) which rose about 65%. Culper Research wrote about this app company late last year due to allegations of it being a stock promotion scheme.
Most importantly, the report believed the company is being run by people who previously ran two public companies in the ground. DATS is allegedly on the way as the insiders have neglected the business which has failed to attract much interest.
The thesis seemingly played out as the stock is now down 75% since the initial report, but the market seemed still to have some appetite for the management's press releases. DATS recently announced new efforts in the metaverse and the NFT world. This has caused a rally in the shares. If one takes Culper's allegations seriously, it might seem that the report could be written all over again. Twitter is facing the usual battle of bears vs bulls as one Seeking Alpha author updated their bearish thesis which seems to be in line with the initial findings of Culper.
$DATS - DatChat Enters The Metaverse But I'm Still Bearish https://t.co/1XmiE0BLbj

— Gold Panda (@GoldPanda10) March 31, 2022
---
Two pump and dumps?
This week we also saw two activists target smaller companies due to relatively similar allegations. First, it was Grizzly Research who targeted...
---
(Stay on top of short selling developments - Join Breakout Point).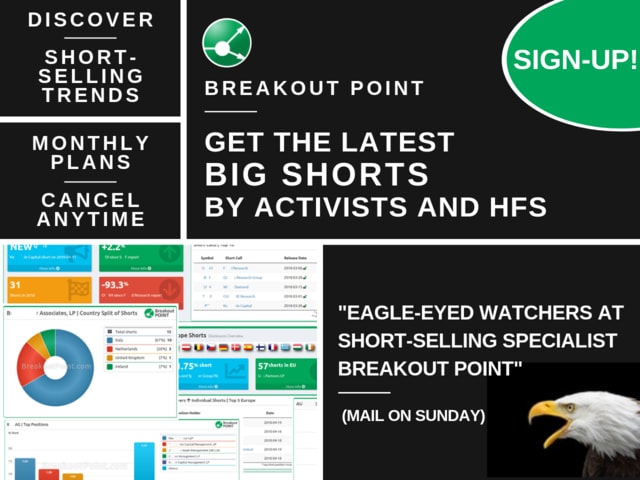 ---
FAQ | Q: Can I publish parts of the above data and analytics in an article? A: As long as you reference our work in your article - yes, you can.
FAQ | Q: Could you provide more related data and analytics? A: Sure, join Breakout Point and start benefitng from our services.
* Note: Presented data and analytics is as of available on 2022-04-02 UTC 10:00.
The services and any information provided by Breakout Point or on the Breakout Point website shall not be or construed to be any advice, guidance or recommendation to take, or not to take, any actions or decisions in relation to any investment, divestment or the purchase or sale of any assets, shares, participations or any securities of any kind. Any information obtained through Breakout Point and its services should never be used as a substitute for financial or other professional advice. Any decisions based on, or taken by use of, information obtained through Breakout Point and by its services are entirely at own risk.