This week we have registered four new major campaigns.
We highlight the new report by Scorpion Capital which targeted IonQ (IONQ) and alleged fraud in the quantum computing space. The stock is down 25% so far with the company briefly addressing the allegations. However, retailers are scrambling to support the bullish thesis and are dismissing the claims.
Veru Inc (VERU) is another stock that got in focus of a short seller this week. Culper targeted this about $900m female condom company due to allegations of poor product and dubious corporate governance. Shares are down 27.8% since.
Two short calls on the same company on the same day were released. This is not the first time for something like that in our records, but is definitely rare. Hindenburg Research and Peabody Research targeted Singularity Future Tech (SGLY), a $140m crypto company, due to heavy allegations of fraud and poor product. Shares are down 37% since.
Lastly, we are tracking the most recent stock price gyrations at several previous targets. We feature a Chinese fintech company, a dubious biotech, another alleged EV scam and a crypto stock.
---
Save time and ask us for independent short thesis verification. Get our custom support. Contact Breakout Point!
---
Bits and Pieces
Founder of Microsoft on Tesla short: "There's a difference between electric cars being adopted, and companies becoming infinitely valuable,"
Nikola: fallen Spac darling now dependent on rescue capital.
Adler saga seems to be nearing another inflexion point, Viceroy continues to see problems.
Conference Questions - Viceroy's latest $ADJ report is now live:https://t.co/iUvQC43CDw

Management continue to lie to stakeholders. @viceroyresearch will continue to correct them. 1/ pic.twitter.com/hshlf5Oe8e

— Viceroy (@viceroyresearch) May 3, 2022
A quick look at the biggest individual % shorts across Europe: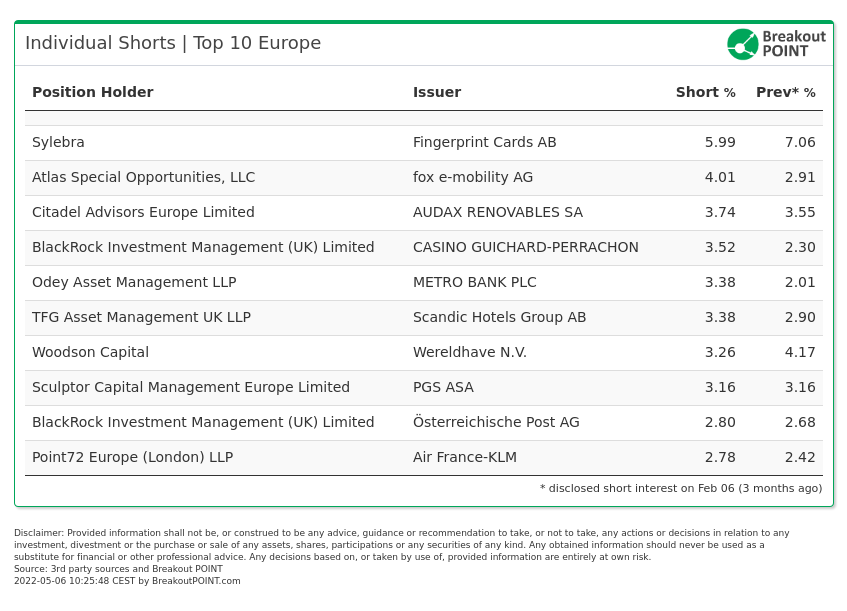 ---

---
Big Movers
This week we saw several stocks that moved in the right direction for the short-sellers. Among the biggest movers was Tenet Fintech (PKK) which sunk 39% in the past five days. Initially, it was Grizzly who targeted this Canadian-listed China-based fintech company due to classic China Hustle allegations.
Most importantly, the report believed the company does not actually own its latest acquisition. As per the activist, the company said that they have paid $30m for its insurance subsidiary. However, Grizzly alleges the money was actually paid to a completely different entity. This is supposedly not new. In 2019, the company talked about a loan which resulted in a 70% in a brokerage business. According to Grizzly, this is apparently false as well.
Grizzly's thesis is now picking up pace as PKK is down 70% since the initial report. The reason for the latest fall can be traced to the earnings results. PKK showcased growth in revenue but recorded a large loss which meant that some shareholders have thrown in the towel and started selling.
Another large drawdown was seen in Veru (VERU) which dropped 27.8% in the past week. VERU is a new campaign released just this week by Culper Research. Culper targeted this about $900m female condom company due to allegations of poor product and dubious corporate governance.
Most importantly, the report believes VERU's most recent effort to create a COVID-19 drug is unlikely to bring much value. As per the activist, apparently, the trial of the drug has been mismanaged and improperly designed. The released results supposedly do not show the entire story as they have not been released in full. This then makes VERU's application for emergency use authorization unlikely to succeed.
Moreover, VERU allegedly assembled a team with significant red flags. For example, according to Culper, the VERU's CEO apparently presided over the collapse of another biotech which faced constant FDA rebukes and poor design in trials. EVP of Clinical Affairs was supposedly previously sued for allegedly faking the development of a prostate cancer test.
Due to all this, the short-seller sees a significant downside. The market is likely to sell the stock once it becomes clear they can't achieve much with their COVID-19 asset.
Culper faced both bulls and bears. Some investors agreed.
great minds think alike $VERUhttps://t.co/jODgcenIv1

— Adrian H (@Adrian_H) May 2, 2022
Some said that the allegations do not have much basis in reality.
I disagree with shorts and doubters of $VERU. Been following VERU for 1+ years now. If you listened to the earnings calls and actually read all press releases and data (other than article the pumped that stock) you would know this isn't fake

— GizmoTrades (@stockexpert25) May 2, 2022
On the other side of the tracks, there was some movement against short-sellers. One of the most significant surges was seen in Eqonex (EQOS) which shot up over 18% in the past five days. EQOS is a former and already covered target of Iceberg who wrote about this crypto-related project due to allegations of dubious product and corporate governance red flags.
Most importantly, the report believed the recent pivot of the company is unlikely to generate much shareholder value. Their cryptocurrency exchange is rated as one of the last out of several hundred in terms of reported volume. It is apparently unlikely that EQOS is able to somehow beat larger and well-funded competitors in an increasingly crowded market.
The thesis has worked out as EQOS is down over 80% since the initial report. Iceberg actually announced they have closed their short at the end of April this year due to the following.
We covered $EQOS, mainly to avoid the volatility of what is now a very small market cap. Stock price down 81%.

— Iceberg Research (@IcebergResear) April 20, 2022
Another interesting rebound was seen in Arcimoto (FUV) which rose about 21%. Initially, it was Bonitas who targeted this EV-related manufacturer due to allegations of misrepresentation and dubious product quality.
Most importantly, the report believed the company lied about its pre-orders and that key customers of FUV were actually tied to undisclosed related parties to a major shareholder of FUV. This shareholder allegedly used the fake demand to pump the shares and then sell into the rally.
The campaign has been working out as FUV was down over 80%. The stock started to rebound slightly as some on Twitter pointed out how heavily the stock is shorted. This likely prompted interest in the stock due to a potential short-squeeze.
---
Quantum Computing and Fraud?
This week we also saw Scorpion Capital release their latest report featuring strong fraud allegations against IonQ (IONQ). The activist targeted this $1.5bn tech company due to allegations of...
---
(Stay on top of short selling developments - Join Breakout Point).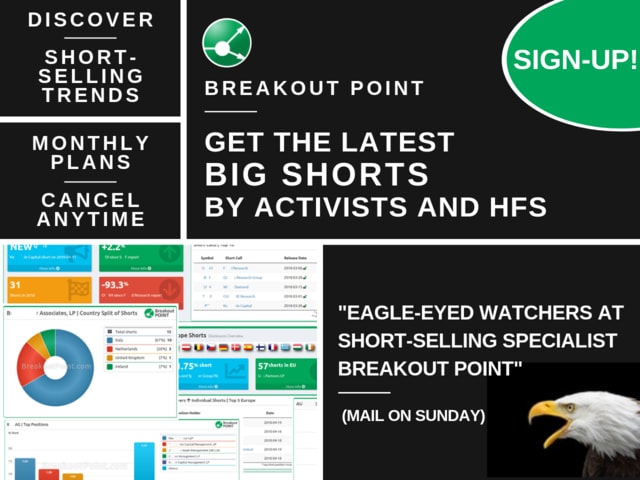 ---
FAQ | Q: Can I publish parts of the above data and analytics in an article? A: As long as you reference our work - yes, you can.
FAQ | Q: Could you provide more related data and analytics? A: Sure, contact us, and we'll try to help as soon as possible.
* Note: Presented data and analytics is as of available on 2022-05-07 UTC 12:00.
The services and any information provided by Breakout Point or on the Breakout Point website shall not be or construed to be any advice, guidance or recommendation to take, or not to take, any actions or decisions in relation to any investment, divestment or the purchase or sale of any assets, shares, participations or any securities of any kind. Any information obtained through Breakout Point and its services should never be used as a substitute for financial or other professional advice. Any decisions based on, or taken by use of, information obtained through Breakout Point and by its services are entirely at own risk.