This week we have registered three new major campaigns. Despite a down market, short-sellers are keeping to themselves and mostly updating their reports and mostly targeting smaller companies.
We highlight a new report by Hindenburg who tagged Twitter as a potential short due to the dynamics of the market and the acquisition bid from Elon Musk. The meme investor himself replied to the short report by showing 'benevolence' towards the short-seller. The shares are down 18% since and Twitter deal is now on hold.
Lastly, we are tracking the most recent stock price gyrations at several previous targets. We feature two blow ups at a speciaity chemicals company and a tech company and a slight rebound at a medical supplies company after positive Q1 results.
---
Bits and Pieces
Crypto focus among short-sellers was ripe, especially around Tether and Coinbase. Kynikos founder and best known COIN short seller weighed in on his view of COIN.
Do traditional "exchanges" keep having this problem? $COINhttps://t.co/zkjAGcn00o

— Diogenes (@WallStCynic) May 12, 2022
Boatman sees further downside in Argo Blockchain even though the shares are down 65% already.
Since @BoatmanCapital first published on @ArgoBlockchain last August the share price has fallen 65%. Our concerns about $ARB remain the same. See our reports here: https://t.co/CIcEJZqHgHpic.twitter.com/JkllSz7JYm

— TheBoatmanCapital (@BoatmanCapital) May 12, 2022
Citron is subtly reminding everyone that they were right on PTON.
$PTON was the perfect example of an overpromotional CEO, and confirmation bias of wealthy and healthy fund managers. All the stocks down 80%+ from peak, this was most obvious. 15 mos ago JPM put a $200 tgt on $PTON...and they're investigating short sellers?

— Citron Research (@CitronResearch) May 10, 2022
---

---
Big Movers
This week we saw several stocks that moved in the right direction for the short-sellers. Among the biggest movers was View (VIEW) which sunk 58% in the past five days. Initially, it was Jehoshaphat who targeted this technology company due to allegations of a poor business model and weak balance sheet.
Most importantly, the report believed the underlying economic model is not feasible and the company will continue to burn cash. Their smart glass is being sold at a deeply negative gross margin and the company is unable to increase prices.
As per the activist below, their thesis now seems to be entirely correct as the company is struggling to file SEC filings on time and are likely running out of money.
$VIEW doing us the courtesy of running out of money almost exactly by our deadline (we published on June 1, 2021).

This stock isn't imploding because it's a SPAC, it's imploding because the company is dead. pic.twitter.com/KxAIshK8eQ

— Jehoshaphat Research (@JehoshaphatRsch) May 10, 2022
Initially, the activist saw a 62% downturn target which they already hit.
Another large drawdown was seen in Amyris (AMRS) which dropped 28% in the past week. This speciality chemicals company was targeted by Western Edge due to allegations of questionable track record and accounting.
Most importantly, the report believed the company has a dubious track record of delivering what the management has touted several times. One lawsuit alleges the company has misrepresented progress with one customer and that customer refused to lie to AMRS auditors. The report also talks about several instances where the company completely missed guidance.
The thesis now seems to be proving correct as the stock is down more than 90% since the initial report. This week, the report got further support from the Q1 results of the company which disappointed the investors and forced them to continue to sell their shares.
On the other side of the tracks, there was several movements against short-sellers. One of the most significant surges was seen in Adapthealth (AHCO) which shot up over 25% in the past five days. Initially, it was Jehoshaphat who targeted this medical supplies company due to allegations of accounting red flags.
Most importantly, the report believed the company is obfuscating its accounts to hide deteriorating organic growth. The company is supposedly taking steps to prevent investors to calculate the figure, but the short-seller was apparently able to do so. Instead of the reported growth of over 6%, Jehoshaphat sees a double-digit decline.
The report was numerically vindicated as the stock hit the downside target of the activist and got down 50%. However, it seems the story might get a new twist as the company managed to surprise investors with an upbeat Q1. They revised their guidance and announced a new buyback program which was positively digested. Jehoshaphat was upbeat about their thesis before Q1 as seen below, but did not react so far to the news.
$AHCO has just about hit our report's target, -50%. (APR, the "ideal" comp we named, up +40%.)

More important: organic growth thesis proven correct.

Bonus: Mgmt quickly improved disclosure.

Aside from maybe a "sleep study" on last year's investors, not much else to do here. pic.twitter.com/Kc2RqHT1BI

— Jehoshaphat Research (@JehoshaphatRsch) April 29, 2022
---
Hindenburg weighs on Twitter
This week we also saw Hindenburg release a new report targeting the social media platform which has been in the focus of investors due to an acquisition bid from Elon Musk and his backers. The activist is short Twitter due to allegations of an overvalued take-private deal.
Most importantly, the report believes the deal is likely to be repriced lower on the back of the NASDAQ underperformance and alleged poor fundamentals of the business and economics of the deal. The initial price includes plenty of debt which supposedly might not make sense. Moreover, if the CEO of Tesla walks away, he is likely to sell his stake which might put further downward pressure on the shares.
Due to all this, the short-seller sees a significant downside. The upside risk is limited to just 10% as apparently, it is unlikely the deal would be priced higher. The report draw quite a lot of interest and Elon Musk even replied himself with a relatively innocuous tweet.
Interesting. Don't forget to look on the bright side of life sometimes!

— Elon Musk (@elonmusk) May 9, 2022
However, for now Hindenburg seems to be in the right. The stock is down more than 15% since the report and on Friday CEO of Tesla tweeted that Twitter deal is on hold:
Still committed to acquisition

— Elon Musk (@elonmusk) May 13, 2022
It will be interesting to see what the next week will bring.
(full weekly report available to our subscribers)
---
(Stay on top of short selling developments - Join Breakout Point).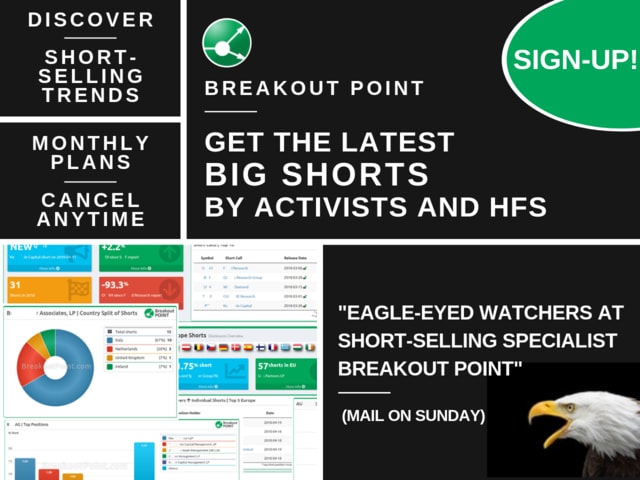 ---
FAQ | Q: Can I publish parts of the above data and analytics in an article? A: As long as you reference our work - yes, you can.
FAQ | Q: Could you provide more related data and analytics? A: Sure, contact us, and we'll try to help as soon as possible.
* Note: Presented data and analytics is as of available on 2022-05-07 UTC 12:00.
The services and any information provided by Breakout Point or on the Breakout Point website shall not be or construed to be any advice, guidance or recommendation to take, or not to take, any actions or decisions in relation to any investment, divestment or the purchase or sale of any assets, shares, participations or any securities of any kind. Any information obtained through Breakout Point and its services should never be used as a substitute for financial or other professional advice. Any decisions based on, or taken by use of, information obtained through Breakout Point and by its services are entirely at own risk.