This week we have registered one new campaign.
It was Sumerian who targeted Bright Green (BGXX), a recent direct listing of a cannabis pharma company, which is, according to the activist, apparently filled with dubious managers with several red flags. The campaign is successful for now as the stock is down almost 30% in just five days.
Lastly, we are tracking the most recent stock price gyrations at several previous targets. We feature a failing energy storage company, a European venture firm with supposedly dubious ventures and a glass tech company which is attempting to rise from the dead.
---
Save time and ask us for independent short thesis verification. Get our custom support. Contact Breakout Point!
---
Bits and Pieces
Who is the "expert"? Activist short sellers or financial analysts?
Swedish FSA fines Nordnet for short-selling rule breaches
Russia to lift short-selling ban from June 1
Author with many "best reports ever"? It's a red flag as per Twitter poll we conducted:
The infamous 'Spoon Bender' from ENOB might be put on blast by Hindenburg next week. They are also short the stock.
We have prepared a full report on Serhat Gumrukcu and his career as a lifelong con artist, which we are releasing next week.

It is easily the most deranged story we have ever researched. We are short $ENOBpic.twitter.com/BInLrYLT88

— Hindenburg Research (@HindenburgRes) May 25, 2022
---

---
Big Movers
This week we saw several stocks that moved in the right direction for the short-sellers. Among the biggest movers was ESS Tech (GWH) which sunk about 17% in the past five days. Initially, it was Bonitas who targeted this energy storage company due to allegations of a dubious track record.
Most importantly, the report believed this SPAC company lied to its investors about their previous customer engagements of the acquired business. The company highlighted six customers which previously saw its tech deployed. Bonitas found five of these projects abandoned and the sixth one generated no revenue last year.
It seems the thesis is playing out. The stock is down almost 75% since the initial report. However, Bonitas eventually saw further downside as the company is likely to continue to burn cash and fail to produce much revenue from its customers. The initial target was about 85%. The recent move does not seem to be based on much. The company released earnings two weeks which likely failed to spur any interest in the shares.
Another drop was seen in Sofina (SOF) which went down 14.4% in the past five days. Initially, it was Viceroy Research which targeted this European venture capital firm due to allegations of overvaluation.
Most importantly, the activist raised questions about the valuation of a specific Indian investment which might be obfuscating its real value proposition. Viceroy said that Sofina is not a scam but mentioned that such investments raise doubts about Sofina's ability to create value for its shareholders.
It seems that Viceroy is now close to hitting its intended price target for SOF. Initially, the activist saw a 25% downside and the stock is now down 23% since the call. It seems Viceroy will continue to cover the situation, but it is not clear whether the activist believes there is further downside after their first price target.
This is why investors should do their research. Near 4100 investors have evidenced fraud at #BJUS. #Sofina need to make a statement. #Fraud. @viceroyresearchhttps://t.co/nrtLLl0u2S

— Fraser Perring - Grand Poobah of "criminal" shorts (@AIMhonesty) May 25, 2022
As per the tweet, the increasing doubts about the validity of some of SOF's investments is the culprit behind the recent price drop.
On the other side of the tracks, there were several movements against short-sellers. One of the most significant surges was seen in View (VIEW) which went up 70% this week. This glass tech company was targeted by Jehoshaphat Research in June of last year due to allegations of a poor business model and weak balance sheet.
Most importantly, the report believed the underlying economic model is not feasible and the company will continue to burn cash. Their smart glass is being sold at a deeply negative gross margin and the company is unable to increase prices.
The stock already hit the price target of the campaign a while ago (-62%), but the activist continued to raise questions about the future of the company. Now it seems the market is trying to bid up VIEW from the bottom, but this might be led by technical factors and traders searching for the next short squeeze. The company announced they will finally showcase their Q1 on the 31st of May after several delays. The activist did not yet comment on this.
---
Cannabis pharma hit hard?
This week we also saw Sumerian Research target Bright Green Corp. (BGXX) a cannabis pharma company due to allegations of a dubious management team.
Most importantly, the tweet thread talked about how the current team does not seem to have much experience with the cannabis industry. As per the activist, the CFO was also previously employed by a blockchain company which had to...
---
(Stay on top of short selling developments - Join Breakout Point).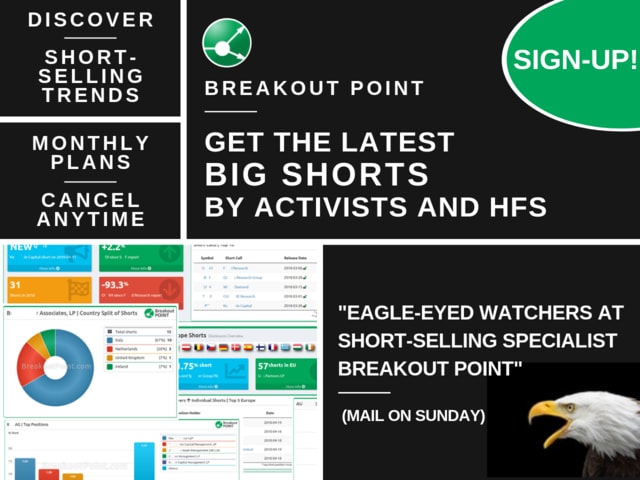 ---
FAQ | Q: Can I publish parts of the above data and analytics in an article? A: As long as you reference our work - yes, you can.
FAQ | Q: Could you provide more related data and analytics? A: Sure, contact us, and we'll try to help as soon as possible.
* Note: Presented data and analytics is as of available on 2022-05-28 UTC 12:00.
The services and any information provided by Breakout Point or on the Breakout Point website shall not be or construed to be any advice, guidance or recommendation to take, or not to take, any actions or decisions in relation to any investment, divestment or the purchase or sale of any assets, shares, participations or any securities of any kind. Any information obtained through Breakout Point and its services should never be used as a substitute for financial or other professional advice. Any decisions based on, or taken by use of, information obtained through Breakout Point and by its services are entirely at own risk.