This week we have registered four new campaigns.
We highlight a new report by Wolfpack which targeted a biotech company with supposedly dubious data and a high likelihood of failure when test results come out. The biotech community did not seem to be persuaded for now. The stock is up about 3.5% so far.
Lastly, we are tracking the most recent stock price gyrations at several previous targets. We feature an alleged pump and dump scheme and two stocks which are already down significantly but had favourable trading action in the past week.
---
Bits and Pieces
Investors Who Shorted Russia ETFs Are Now Stuck Paying Never-Ending Fees
Meme-style criticism of a short report
$AMR Spruce Point your report was such trash, I made a video pic.twitter.com/CWuOy1rLh6

— Zero Sum Bond #CoalBaron (@ZeroSumBond) May 17, 2022
Muddy Watters on audit reform in the UK: U-turn on audit reform is bad for British capitalism
Boatman is back on the case of AVZ Minerals (AVZ), an Australian miner whose shares are coming back to trade on the 20th of May.
@BoatmanCapital is publishing a new report on @AvzMinerals today. $AVZ shares are currently suspended. Trading is due to resume today (Friday 20th). We have obtained evidence that makes us think that AVZ could lose control of its #lithium asset. https://t.co/CIcEJZqHgHpic.twitter.com/C6wnyeva18

— TheBoatmanCapital (@BoatmanCapital) May 19, 2022
---

---
Big Movers
---
This week we saw several stocks that moved in the right direction for the short-sellers. Among the biggest movers was A2Z Smart Tech (AZ) which sunk 12% in the past five days. Initially, it was White Diamond who targeted this small tech company due to allegations of a pump and dump scheme.
Most importantly, the report believed the company's main asset is unlikely to generate much value. It was apparently bought in a related-party transaction with the CEO for a small amount. As per White Diamond, the asset does not have patent protection and generated sub $3m in revenue.
So far, the market is not paying much attention to the thesis as the stock is up 7.5% since the report despite the drawdown this week. However, White Diamond continues to believe there is plenty of downside.
We have a 90%+ success rate. Sometimes the stocks we publish bearish reports on temporarily rally, only to go way lower in the next month or 2. $AZ rally is similar to $AUID right after our report. See below AUID chart: pic.twitter.com/UcAXwAwpzM

— White Diamond (@WhiteResearch) May 16, 2022
On the other side of the tracks, there were several movements against short-sellers. One of the most significant surges was seen in Bit Mining (BTCM) which went up 45% this week. This crypto-related company was targeted by JCapital Research due to allegations of fake business efforts and fraudulent financials.
Most importantly, the report believed the company's latest shift into the crypto-space is just another way for the insiders to try and increase the share price. In the past six years, the company has been in five different businesses and changed auditors three times. In one of the businesses, the insiders allegedly overstated revenues by 650%.
The thesis has largely played out as BTCM is down about 70% since the report. However, given the volatility of the crypto market, the shares sometimes find themselves trading up significantly even though there is no news that would support such price action only vague Twitter chatter about the stock. This then could create a new downside opportunity if the allegations are still true.
Another rally was seen in Tenet Fintech (PKK) which surged 61% in the past five days. Initially, it was Grizzly Research that wrote about this Canadian-listed China-based fintech company due to classic China Hustle allegations.
Most importantly, the report believed the company does not actually own its latest acquisition. The company said that they have paid $30m for its insurance subsidiary. However, Grizzly alleges the money was actually paid to a completely different entity. This is supposedly not new. In 2019, the company talked about a loan which resulted in a 70% in a brokerage business. This is apparently false as well.
The thesis has largely played out, but it seems further downside could still be there if Grizzly was entirely accurate. The stock is down 71% since the report, but the strength of some of the allegations is likely calling for the stock to be even lower after the recent rally. There does not seem to be any news that would support such a sharp upward move.
---
Wolfpack is back
This week we also saw a return of Wolfpack Research. After roughly nine months of hiatus, the activist targeted a $625m oncology company called PMV Pharmaceuticals (PMVP) due to allegations of drug trial failure.
Most importantly, the report believes the Phase 1 data set for PMVP's key asset is going to disappoint. Wolfpack found several supposed red flags that question the results. The company apparently...
---
(Stay on top of short selling developments - Join Breakout Point).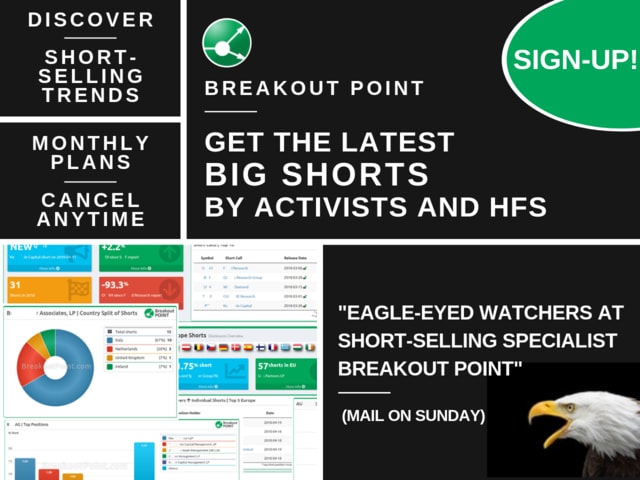 ---
FAQ | Q: Can I publish parts of the above data and analytics in an article? A: As long as you reference our work - yes, you can.
FAQ | Q: Could you provide more related data and analytics? A: Sure, contact us, and we'll try to help as soon as possible.
* Note: Presented data and analytics is as of available on 2022-05-21 UTC 12:00.
The services and any information provided by Breakout Point or on the Breakout Point website shall not be or construed to be any advice, guidance or recommendation to take, or not to take, any actions or decisions in relation to any investment, divestment or the purchase or sale of any assets, shares, participations or any securities of any kind. Any information obtained through Breakout Point and its services should never be used as a substitute for financial or other professional advice. Any decisions based on, or taken by use of, information obtained through Breakout Point and by its services are entirely at own risk.