This week we have registered two new major short campaigns.
We highlight a new target of Hindenburg, EBIX. This fintech company was previously hit by other two shorts, but Hindenburg still sees plenty of issues from accounting to corporate governance. The report was taken seriously as the shares dropped 44% on the day.
Lastly, we are tracking the most recent stock price gyrations at several previous targets. We feature a renewable diesel company in focus due to allegations of dubious joint ventures and weak finances, and a fintech business, that was initially targeted by Hindenburg due to allegations of a dubious business model and operations.
---
Bits and Pieces
Why we trust fraudsters according to FT.
Bridgewater bets $6.7 billion against European stocks (with Breakout Point analysis; in the mean time, total money value of the short bet grew to about $8.4 billion)
Ex-Third Point trader's £4m short against Jupiter's Chrysalis signals bears are coming for VCs (with Breakout Point analysis). Also, a quick win for Coltrane, as one of the biggest Chrysalis holdings, Klarna, announced a 67% haircut from $46B to $15B.
Another vindication for Hindenburg Research:
The government just filed its motion to deny bail in the murder-for-hire case of $ENOB co-founder Serhat Gumrukcu.

They attached our entire @HindenburgRes report as an exhibit. Also @sharesleuth's report.https://t.co/Bw5XDicg0Wpic.twitter.com/Pb9rLGQ3vN

— Nate Anderson (@ClarityToast) June 14, 2022
Impact of the crypto bear market on stocks from the perspective of Culper Research. CORZ is down 71% since the activist highlighted it.
Last night, Celsius Network halted customer withdrawals, blaming "extreme market conditions."

As of May 2022, Celsius owns 8.6 million $CORZ shares through a convertible note deal.https://t.co/58mUql6tFDhttps://t.co/dMNRuVnWq8pic.twitter.com/3JXg5w2aXl

— Culper (@CulperResearch) June 13, 2022
---

---
Big Movers
This week we saw several stocks that moved in the right direction for the short-sellers. Among the biggest movers were a couple of companies which have both fallen well over 35%. The biggest drop occurred at Cielo Waste Solutions (CMC) and the other occurred in Humbl (HMBL). The first stock, a renewable diesel company was targeted by Night Market Research due to allegations of dubious joint ventures and weak finances. HMBL, a fintech business, was initially targeted by Hindenburg due to allegations of a dubious business model and operations.
Both of these stocks are now down more than 90% since the initial reports. Thus both activists had their thesis already validated and the market is just likely waiting for the final hammer. This occurrence is not rare these days. We have seen several campaigns plunge ever closer to zero and the stocks take up a lot of the space in the big movers' list.
Another drop was seen in Electric Last Mile Solutions (ELMS) which went down 28% in the past five days. Initially, it was Fuzzy Panda who targeted this EV company due to allegations of lying to investors, insider dealing and an overall shoddy business model.
Most importantly, the report believes the company has been purchasing Chinese-made EVs and trying to pass them off as 'Made in the USA'. Customers of ELMS are also able to return all of the purchased vehicles, this apparently raises questions about ELMS' revenue booking. The customers are also negatively reviewing ELMS products and there seems to be a lack of demand.
The thesis now played out fully as the stock announced it will enter a bankruptcy proceeding. Fuzzy was quick to celebrate and also pointed out the covering of their position. The stock is down 95% since the report in February.
Note - as of this morning we have now covered our short position in $ELMS

— FuzzyPanda (@FuzzyPandaShort) June 13, 2022
After Workhorse (WKHS), this is Fuzzy's second EV campaign which saw the stock implode.
On the other side of the tracks, there were several movements against short-sellers. One of the most significant surges was seen in Focus Universal (FCUV) which went up 44% this week. This IoT company was targeted by White Diamond Research due to allegations of a stock promotion scheme.
Most importantly, the report believes FCUV's latest efforts in developing new and disruptive technologies are not going to yield any shareholder value. Most of the ventures are fraught with significant red flags and do not seem to amount to anything serious as the company is not even providing enough details to estimate what the utility of these ventures could be.
We have highlighted FCUV last week as it dropped, but now the shares are rebounding hard. The reason for this is unclear as there is no underlying business news. Twitter traders are trying to understand the price action, most believe the swings are due to a tight float. The stock is now up 7% since the report. White Diamond did not yet comment on the developments.
---
EBIX hit again
This week we also saw Hindenburg Research target, for short-sellers, a well-known stock called EBIX, initially an about $700m Indian-based fintech company. The activist picked up the stock due to allegations of dubious accounting and questionable customers.
Most importantly, the report believes the upcoming IPO of EBIX's subsidiary, Ebixcash, is unlikely to bring much value. The subsidiary is apparently plagued with plenty of red flags which raise significant questions about the true nature of the business. According to Hindenburg, two of its key customers who represent over $80m in revenue are apparently dubious entities: One reported only $150k in revenues in 2020 and its headquarters were empty; The other customer claims that they are an e-commerce business, but their website is not working.
The 2nd customer accounted for $43M in revs to $EBIX in 2021 & was formed in '18.

Despite claiming that 99% of its rev is derived from e-commerce, its website doesn't work.

It is registered to a 525 sq. ft office in Delhi. We visited and found the business is no longer there. pic.twitter.com/Q5XpPhF3Ci

— Hindenburg Research (@HindenburgRes) June 16, 2022
Moreover, Ebixcash app allegedly has low ratings and does not work. Hindenburg tried the app and supposedly almost all of the features touted by EBIX were unavailable.
We also tested the app. Virtually every claimed feature didn't work.

An EbixCash rep told us the app was "under maintenance". Based on our experience, the app doesn't even appear ready for the market let alone a prime-time IPO. pic.twitter.com/MJ0s2NAuFs

— Hindenburg Research (@HindenburgRes) June 16, 2022
Due to all this, the short-seller sees a significant downside as EBIX is nearing a significant debt repayment which they are unlikely to be able to pay down if the IPO does not go through as expected.
Overall, we expect $EBIX's planned subsidiary IPO will flop or fail.

Given its massive near-term debt load in a rising rate environment, we see significant solvency risk over the next 12 months.https://t.co/K8aH3dd95Cpic.twitter.com/hDfDrlKlt6

— Hindenburg Research (@HindenburgRes) June 16, 2022
The market did not hesitate. Given the strong allegations, the stock was sent plummeting on the day of the report's release. EBIX crashed over 44%. The company responded just before the market close and tried to shoot down the allegations. They mostly talked about all the different audit opinions they got for their business and tried to downplay the importance of the gift card business due to its apparently limited contribution to the bottom line of the company. Hindenburg dismissed the report and said that the company is trying to blame the limited response on the upcoming IPO.
Lastly, the stock is not the first time on the 'chopping block' as per numerous tweets.
$EBIX is one of those companies you can't ever blame short sellers for getting attracted to. It's been this way for at least 10 years.

— LST (@LongShortTrader) June 16, 2022
Officially, we record two other campaigns by Viceroy and Bodenholm capital, both from 2018 with similar allegations. Viceroy did not hesitate to comment on Hindenburg's latest.
As @HindenburgRes restart the party on $EBIX, we @viceroyresearch always enjoy observing continuing themes by bad management. @CollinsIR will be disputing the auditor quitting again, he's no better! #Fraud#ShitCo. @ClarityToasthttps://t.co/6megpAGYD1https://t.co/wt9jlvMtS8

— Fraser Perring - Grand Poobah of "criminal" shorts (@AIMhonesty) June 16, 2022
It will be interesting how active will Hindenburg get this in EBIX.
---
New Campaign
...
---
(Stay on top of short selling developments - Join Breakout Point).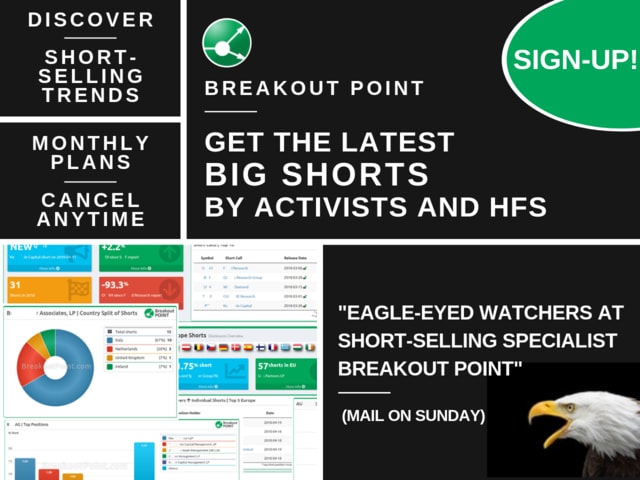 ---
FAQ | Q: Can I publish parts of the above data and analytics in an article? A: As long as you reference our work - yes, you can.
FAQ | Q: Could you provide more related data and analytics? A: Sure, contact us, and we'll try to help as soon as possible.
* Note: Presented data and analytics is as of available on 2022-05-28 UTC 12:00.
The services and any information provided by Breakout Point or on the Breakout Point website shall not be or construed to be any advice, guidance or recommendation to take, or not to take, any actions or decisions in relation to any investment, divestment or the purchase or sale of any assets, shares, participations or any securities of any kind. Any information obtained through Breakout Point and its services should never be used as a substitute for financial or other professional advice. Any decisions based on, or taken by use of, information obtained through Breakout Point and by its services are entirely at own risk.