In this bear's first-half of the year we saw 65 new major short and critical campaigns. This is 18% less than in H1-2021.
On average, shares declined 32% following a release of report, and easily outperformed record-setting S&P 500 declines of about 21%. In 18 cases decline was even higher than 50%.
Among the most successful activists were Fuzzy Panda Research, newcomer Sumerian Research and yet again Hindenburg Research.
We note plenty of targets in the EV industry. Activists targeted car manufacturers, battery producers and even lithium mines among other companies trying to exploit this seemingly ESG trend. We also do not forget to highlight the 2021 campaigns stellar performances so far.
We also note what might be in store for activists in H2-2022. We talk about the shift in retail perception and possible changes in the usual short thesis put out by activists.
---
H1'22: Shorts are back in Town
What a whirlwind of six months. While retailers and mass media were calling the death of short-selling just a year ago, the activist short-sellers did not budge and are now enjoying the shift in the sentiment. Lofty price-to-sales ratios, grandiose promises and even bigger TAMs are not enough anymore. The market has refocused on the profit and viability of the immediate business plan. Interest rates and inflation matter. All this plays into many reports launched by activists who as always were trying to warn investors not to get into such hype stocks.
In H1-2022, we registered and tracked 65 new major short campaigns. This is about 18% lower than the number of campaigns recorded in 2022. At the time of this report, on average, targeted stocks were down 32% following a short call/report. The ten best performing from H1-2022 are: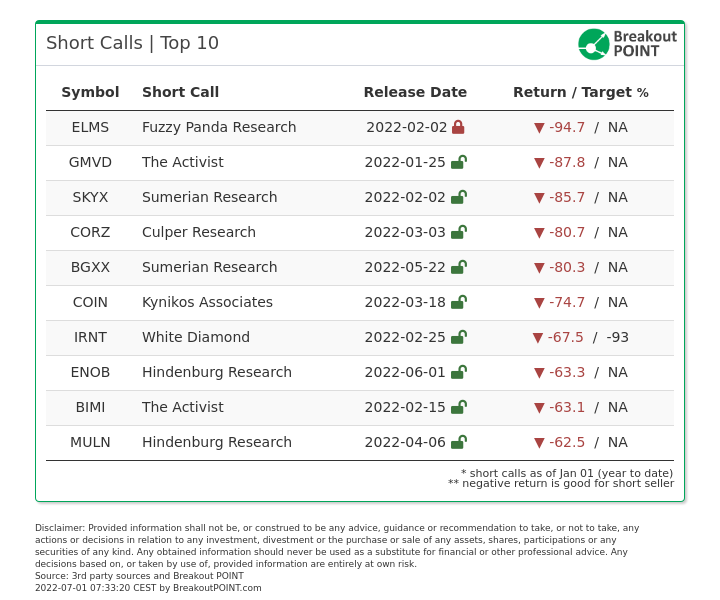 As usual, U.S. companies were most often in the focus of short and critical reports. On average, following 42 U.S.-focused reports, corresponding shares declined 36%. However, these declines trail -41% over European targets, while China, a traditionally fertile terrain for activist short-selling, proved highly resilient as 7 Chinese targets rose 7.5% on average.
---

---
Activists in Our Focus
Given the strong number of reports that started to play out, there are plenty of themes to pick up apart. Perhaps the most visible trend was to launch campaigns against energy-related trends. All things EV, batteries and lithium were under the scrutiny of the activists. Just in last week of June we saw three new campaigns against EV companies and there are plenty of targets scattered all around the first six months.
The most successful short so far was for Fuzzy Panda who targeted Electric Last Mile Solutions (ELMS). This EV stock with a catchy name was targeted due to allegations of lying to investors, insider dealing and an overall shoddy business model.
Most importantly, the report believed the company has been purchasing Chinese-made EVs and trying to pass them off as 'Made in the USA'. As per the activist, customers of ELMS are also able to return all of the purchased vehicles, this apparently raises questions about ELMS' revenue booking. According to Fizzy Panda, the customers are also negatively reviewing ELMS products and there seems to be a lack of demand.
Fuzzy was able to tweet this just a couple of months later.
Note - as of this morning we have now covered our short position in $ELMS

— FuzzyPanda (@FuzzyPandaShort) June 13, 2022
There was also Mullen Automotive (MULN) which was targeted by Hindenburg due to classic allegations of pump and dump scheme.
Most importantly, the report believed MULN's hyped solid-state battery tech is unlikely to generate much value. Recent PR which talked about the performance was apparently rehashed news from 2020. As per Hindenburg, the testing partner also alleges MULN misrepresented the results. The activist alleged that MULN also apparently does not have the needed EPA certificate to even produce its own EV vans.
So far the thesis is playing out as the stock is down roughly 60%. Overall, Hindenburg had a great year so far as can be seen below. They had eight calls in H1 and four of them are now down more than 50%.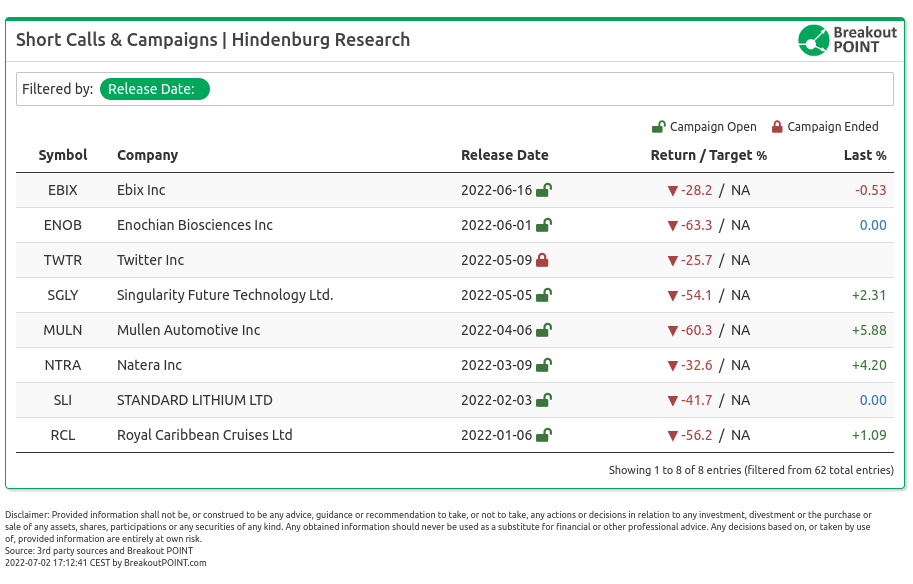 A lot of these reports gathered substantial market attention. Just look at the Twitter thread about shorting the social media company due to the Musk merger.
Interesting. Don't forget to look on the bright side of life sometimes!

— Elon Musk (@elonmusk) May 9, 2022
The activist also went outside of the stock-specific campaigns and was featured in WSJ reporting where Hindenburg helped to stop another supposed fraud. The activist is now apparently helping WSJ to launch a podcast about Nikola's ex-CEO Trevor Milton.
The Trevor Milton story is far deeper and darker than people realize.

Excited to announce that we will be working with the team at the WSJ and Jigsaw Productions on a podcast series about Trevor Milton and Nikola.@HindenburgRes$NKLAhttps://t.co/dwFNhiheCD

— Nate Anderson (@ClarityToast) June 27, 2022
We can't wait for more in the next six months.
We would also like to highlight the short-selling trends in Europe. The old continent continues to be targeted by activists who are not afraid to go against allegedly fraudulent companies. Viceroy Research is currently among the most successful activists in the arena. While they have targeted just two new stocks, both of them are successful so far. The more recent stock was Sofina (SOF) which was pitched by Viceroy at a German conference. The activist saw a 25% downside opportunity due to red flags in SOF's Indian entity. The target was quickly hit.
The bigger campaign was against SBB, a Swedish real-estate company where Viceroy alleges fraud in undisclosed related-party transactions and dubious accounting. Viceroy is very active in updating and reiterating its thesis as the company is trying to defend itself. The stock is down over 60% so far.
Iceberg Research also launched two new European campaigns. Both are down roughly 35%. The first stock was Lilium NV (LILM) which is a German electrical aerial vehicle company which Iceberg targeted due to allegations of poor product and dubious business model. The second stock was a British tech start-up company, Rockley (RKLY) which apparently has problems with currently unreliable products and challenging finances.
Lastly, when it comes to those shorting popular retail stocks we saw the activists are now bolder and are coming back to point out red flags. Just recently, we saw Grizzly Research target Nio (NIO) due to allegations of dubious accounting. In April, Kerrisdale targeted Digital World (DWAC), the infamous Trump SPAC in April due to allegations of regulatory risk and an unsustainable business model.
Others have just kept on consistently repeating their thesis. Here the example could be one of the OG activist short-sellers, Jim Chanos. His focus on crypto-related stocks such as Coinbase (COIN) has paid off. His public call to short the stock in March of this year played out. The stock is down about 75% since the call and more downside could be on the way as the crypto market is reeling from the downturn.
---
Get most popular retail stocks. Track real time retail sentiment and retail popularity via our APIs and dashboards.

---
It takes time?
What we also saw in H1 of this year is that many of the 2021 campaigns have continued to play out. As mentioned in the summary, we actually saw fewer campaigns in this half than last year and thus there is plenty of stocks to look at from last year. The results are crushing and serve as a good reminder of why our database is so useful. It is not only about the current campaigns. It can serve as a great guide across the stock market minefield.
Last year we saw 135 campaigns launched by activists. Only six stocks are up since being targeted. This is a tremendous hit rate of about 95%. 105 campaigns are down more than 50%, again this represents more than 77% of all the campaigns. 21 campaigns are down more than 90%. We can check up on the average performance at the end of this year, but maybe even SARK, the short ARK ETF, might be eventually underperforming the activists.
This stellar performance was hardly predicted at the beginning of 2021 when shorts were frequently written off. Hindenburg even published a short report without having a position, Citron seized publication altogether.
We believe this 2021 performance also shows how some of the activist campaigns work. We all know that once short-sellers launch a campaign they are usually subject to criticism. Many times they are hounded and threatened by the company. Lawsuits are just an expected byproduct. Even though retailers might have adopted a less combative stance since the market downturn, the talk of short-squeeze is still on the table whenever shorts hit a popular name. However, the short-sellers are always worth listening to.
Don't forget that the first critics of Wirecard posted research as far back as 2008/09 (we recommend the new book by Dan McCrum). Sometimes the thesis takes time to play out, but if it does, you better be on the right side.
---
What to expect in H2?
Given all the above, we believe the rest of the year is shaping up to be an interesting one. Activist short-sellers might be emboldened to start to launch campaigns which they thought were impossible to manage in the days of the seemingly unending bull run. Hints of that were already seen in the past six months. An example can be the recent short of Fuzzy Panda. The EV-focused activist targeted EVGO (EVGO), a $1.7bn EV charging play.
Fuzzy's report was mostly about the fundamentals of the business and its valuation. They did not come forward with extreme violations of corporate governance (although they did allege EVGO's connection to Epstein). The activist mostly talked about how EVGO's business model is simply broken and thus the current stock price indefensible. Several times they mentioned EVGO's margins. We are not sure that the market would care about such a straightforward concept as profit just a year ago. Nikola rose to its height on the basis of a video where a truck was rolling down the hill, bulls likely did not care about operating margins that much.
Therefore, due to market conditions, we might start seeing more 'valuation / fundamental' shorts. Maybe the market might truly be more receptive to simple red flags which cast a shadow over the upside of a business.
The retailers might be helpful in this switch. The usual Reddit communities definitely embraced short-selling. There were many threads in the past six months trying to profit from the downturn. Just in the past week, we saw a popular thread on r/wsb about shorting Tesla (TSLA). While r/shortsqueeze is always trying to find the next Gamestop (GME) and burn shorts, the commenters are now more cynical in their approach. Short reports are rarely the key point of discussion anymore. They are definitely mentioned, but such crusades as in the case of GME are not as frequent.
Finally, as mentioned in the previous sections, many popular stocks are now also massively down and the shorts who spoke out against them, are now taken more seriously. One example for all can definitely be Hindenburg Research. Given their stellar track record, Redditors started to take their reports seriously. While there are still several communities salty about Hindenburg targeting their stock, r/pennystocks had a popular thread talking about MULN and how Hindenburg's work makes sense. The commenters agreed instead of throwing a fit.
We will see if this sentiment lasts, but for now, the trend might benefit activist short-sellers. Therefore we believe the second half of this year might be as eventful or even more than the first one. All this being said, one should also not forget about the DOJ investigation of the very activist short-sellers we have mentioned throughout the report. It will be interesting to see whether the US government will come out with something in the next six months.
---
Don't miss latest activist short selling reports and insights - Join Breakout Point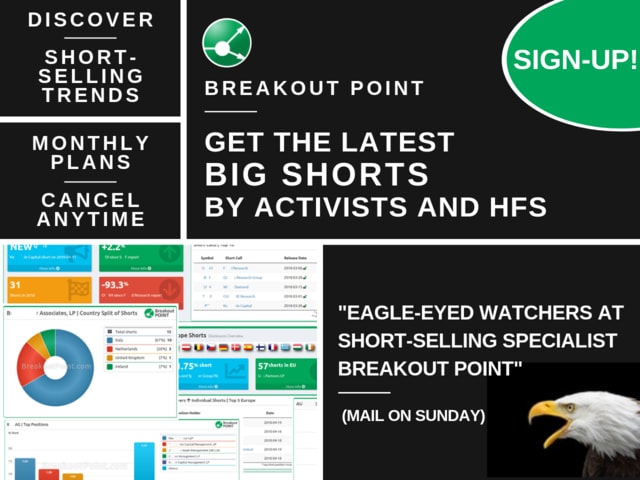 ---
FAQ | Q: Can I publish parts of above data and analytics in an article? A: As long as you reference our work in your article - yes, you can.
FAQ | Q: Could you provide more related data and analytics? A: Sure, join Breakout Point and start benefiting from our services.
* Note: Presented data and analytics is as of available on 2021-01-07, UTC 21:30.
The services and any information provided by Breakout Point or on the Breakout Point website shall not be, or construed to be any advice, guidance or recommendation to take, or not to take, any actions or decisions in relation to any investment, divestment or the purchase or sale of any assets, shares, participations or any securities of any kind. Any information obtained through Breakout Point and its services should never be used as a substitute for financial or other professional advice. Any decisions based on, or taken by use of, information obtained through Breakout Point and by its services are entirely at own risk.