This week we have registered three new major short campaigns.
FFJ came out with a new report which alleges a possible housing crisis 2.0 at one of the lenders. Spruce targeted a food processing company due to the classic allegations of potentially deceptive accounting and dubious business model. Blue Orca wrote about an apparent greenwashing lumber company and their highly questionable corporate governance.
Lastly, we are tracking the most recent stock price gyrations at several previous targets. We feature a failing bitcoin miner, a struggling PPE manufacturer and a short-squeeze target that is perking up.
---
Save time and ask us for independent short thesis verification. Get our custom support. Contact Breakout Point!
---
Bits and Pieces
$RUN 2026 0s are now yielding almost 11.5%. At what point does it stop using the farcical 5% discount rate in its non-GAAP Earning Assets calculations? pic.twitter.com/9JJ932E9d4

— MuddyWatersResearch (@muddywatersre) October 13, 2022
---

---
Big Movers
This week we saw several stocks that moved in the right direction for the short-sellers. Among the biggest movers was yet again Argo Blockchain (ARB), which dropped about 41% in the past week. This bitcoin mining company was targeted by Boatman Capital due to allegations of dubious corporate governance and undisclosed legal risk.
Most importantly, the report believed the company allegedly overpaid for a land purchase in Texas. As per the activist, the company paid over $17m for an empty plot appraised at under $0.2m. It seems the beneficiaries of this deal might have been shareholders of Argo. Furthermore, the company supposedly misled investors about the deal in the first place. According to Boatman, Argo said they will buy 320 acres, but ended up owning only 160 with an option to buy the remaining acres.
The short thesis is playing out in full swing. Not only that ARB is under pressure due to declining bitcoin price, but the company itself had some troubles mining bitcoin last month and reported a drop in bitcoin mined. This has even shaken the confidence of some previously bullish traders who are suddenly trying to understand what to do.
Genuinely very concerned about @ArgoBlockchain#ARB. Hoping for a major turnaround ASAP, or I forsee significant "abandon ship" moment happening. Lot of faith has been lost in ARB, despite the few die hard Twitter fanboys. This drop can not simply be pegged to drop in #BTC.

— TuckerTrading (@TuckerHealth) October 10, 2022
The stock is now down over 85% since Boatman first wrote about it.
Another stock which moved in the direction of the short-seller thesis was Owens & Minor (OMI), which fell about 32% in the past five days. Initially, it was Newmoon Capital who targeted this PPE manufacturer due to allegations of an upcoming decline in revenues.
Most importantly, the report believed the company will showcase continued declines in revenue as the beneficial impact of COVID19 is going to decline, especially as the supply chain issues slow down. The sell-side is not counting this in and thus earnings are likely to miss estimates by as much as 46% in the next two years.
It did not take that long for the thesis to fully play out. The stock dropped after negative earnings and disappointing guidance basically confirming most of the allegations made in the initial report. Newmoon tweeted an update and actually argued that the stock might have further downside left, even though the activist is unlikely to continue to follow the story.
hope everyone made some moolah https://t.co/49VG6Yp2rx

— Newmoon Capital (@NewmoonCap) October 12, 2022
The stock is down over 65% since the report. Initially, Newmoon saw a 33% downside.
On the other side of the tracks, there were only a few meaningful movements against short-sellers. One of the most significant surges was seen in Meta Materials (MMAT), which jumped almost 38% in the past week. Initially, it was targeted by Kerrisdale Capital due to allegations of being a largely empty shell.
Most importantly, the report believed the company has failed to progress on any of its ventures. Thus, the businesses are supposedly unlikely create much shareholder value. As per the activist, one business has been struggling since the beginning and never recorded any revenue. Another did, but just below $100,000 despite years of development. Kerrisdale belives such results are likely to continue as the company does not seem to be able to deliver.
The thesis has worked out so far. The shares are now down 69% since the initial report. However, it seems the short-squeeze community is still alive and well with this one. Several Twitter traders were talking about MMAT as the next big short-squeeze target.
$MMTLP & $MMAT Schwab for the first time ever is wanting to loan out my shares for 8% hmm. Must be getting scarred. HOLD!

— META MILLIONS (@Doug0307) October 13, 2022
Given the non-fundamental reason for the recent share price movement, Kerrisdale is unlikely to provide an update.
---
New campaigns - Greenwashing and 2008 redux?
This week we also saw three new campaigns. The first one was by FFJ who wrote about PennyMac Financial Services (PFSI). FFJ targeted this $2.3bn bank due to allegations of dubuous business model.
Most importantly, the report believes the company could be facing immense issues if...
---
(Stay on top of short selling developments - Join Breakout Point).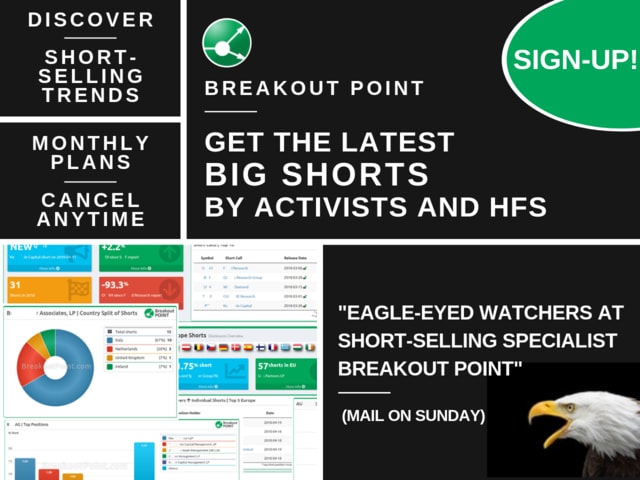 ---
FAQ | Q: Can I publish parts of the above data and analytics in an article? A: As long as you reference our work - yes, you can.
FAQ | Q: Could you provide more related data and analytics? A: Sure, contact us, and we'll try to help as soon as possible.
* Note: Presented data and analytics is as of available on 2022-10-15 UTC 10:00.
The services and any information provided by Breakout Point or on the Breakout Point website shall not be or construed to be any advice, guidance or recommendation to take, or not to take, any actions or decisions in relation to any investment, divestment or the purchase or sale of any assets, shares, participations or any securities of any kind. Any information obtained through Breakout Point and its services should never be used as a substitute for financial or other professional advice. Any decisions based on, or taken by use of, information obtained through Breakout Point and by its services are entirely at own risk.
rset="utf-8">