This week we have registered one new major short campaign.
We saw Night Market Research come out with a report against International Battery Metals (IBAT), a $450m lithium extraction tech company due to allegations of dubious corporate governance, questionable claims and a broken business model. This is not the first lithium company targeted by activists.
Lastly, we are tracking the most recent stock price gyrations at several previous targets. We feature a failed EV company which is trying to resurrect its share price and a mining company which is now just a few percentage points from being a clean zero.
---
Save time and ask us for independent short thesis verification. Get our custom support. Contact Breakout Point!
---
News
Sad news from the world of activist shorts.
With heavy hearts we must share that we have lost one of The Pack. Matt Farrell, known to many as @WillauerProsky has passed away. Optimistic & loyal, Matt was an indefatigable advocate for investors (Matt loved big words).He will be sorely missed, esp by those who knew him best

— Wolfpack Research (@WolfpackReports) October 26, 2022
An Activist Short Seller Gets His Day in Court (via NYT)

Another win for White Diamond Research and their microcap shorts.
Yesterday, $AUID hit our $1 price target within our 12-month time period. See our report here:https://t.co/ZfgyPhLmVB

See our https://t.co/fdep2dPAVK interview here:https://t.co/Phs0hRwJWa

— White Diamond (@WhiteResearch) October 24, 2022
The heat continues to rise in the case of AVZ Minerals. Shares continue to be suspended.
@BoatmanCapital "instructed lawyers Grosvenor Law to demand both the ASX and ASIC investigate AVZ for allegedly misleading the market and failing to follow its disclosure obligations"... https://t.co/t9sipLA9tA

— TheBoatmanCapital (@BoatmanCapital) October 24, 2022
---

---
Big Movers
This week we saw several stocks that moved in the right direction for the short-sellers. Among the biggest movers was Core Scientific (CORZ), which dropped about 79% in the past week. This hosting and mining company was targeted by Culper Research due to allegations of dubious transactions and overvaluation.
Most importantly, the report believed the company went public by buying a bitcoin mining entity that was formed just a few months before CORZ acquired it. The management apparently tried to paint a favourable picture for the price tag, but the entity was initially funded with $58m and then bought for $1.46bn in seven months. This is allegedly dubious and creates significant questions about the transaction.
The short thesis has played out. The stock is down 97%, and Culper was able to share the following update with the market.
$CORZ disclosed in an 8-K this morning that the Company has stopped making payments due in the next few days, hired restructuring advisers, and anticipates existing cash will be depleted by the end of the year.

Shares -65% pre-market.https://t.co/dlZ1z18Ev2pic.twitter.com/4LBDUblxuk

— Culper (@CulperResearch) October 27, 2022
On the other side of the tracks, there were only a few meaningful movements against short-sellers. One of the most significant surges was seen in Mullen Automotive (MULN) which jumped 37% in the past week. Initially, it was Hindenburg who targeted this $651m EV company due to classic allegations of pump and dump scheme.
Most importantly, the report believed MULN's hyped solid-state battery tech is unlikely to generate much value. Recent PR, which talked about the performance, was apparently rehashed news from 2020. The testing partner also alleges that MULN misrepresented the results. MULN also apparently does not have the needed EPA certificate even to produce its own EV vans.
The short thesis has definitely played out, as the stock was at one point down over 90%. However, it seems the market is now eager to give MULN a second change. The stock has started to rebound and is down 'only' 80% on the back of several seemingly positive developments and big retail investors focus. However, some caution that Hindenburg's allegations are still firmly in place and nothing changed.
---
Another lithium target
This week we also saw Night Market Research come out with a new short targeting International Battery Metals (IBAT). The activist targeted this $450m Canadian-based mining tech company due to allegations of dubious product and questionable corporate governance.
Most importantly, the report believes the company is unlikely to be able to finish its...
---
(Stay on top of short selling developments - Join Breakout Point).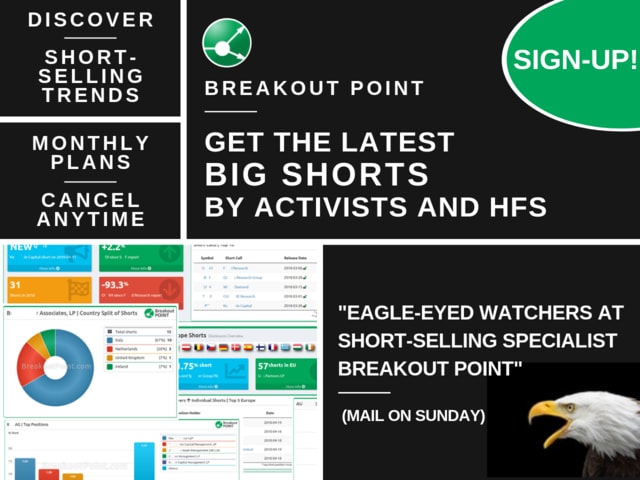 ---
FAQ | Q: Can I publish parts of the above data and analytics in an article? A: As long as you reference our work - yes, you can.
FAQ | Q: Could you provide more related data and analytics? A: Sure, contact us, and we'll try to help as soon as possible.
* Note: Presented data and analytics is as of available on 2022-10-28 UTC 10:00.
The services and any information provided by Breakout Point or on the Breakout Point website shall not be or construed to be any advice, guidance or recommendation to take, or not to take, any actions or decisions in relation to any investment, divestment or the purchase or sale of any assets, shares, participations or any securities of any kind. Any information obtained through Breakout Point and its services should never be used as a substitute for financial or other professional advice. Any decisions based on, or taken by use of, information obtained through Breakout Point and by its services are entirely at own risk.