This week we have not registered any new major campaigns.
However, we have seen plenty of updates from activists about quarterly developments in their targets. Plenty of stocks did not fall much, but the activists believe the short thesis has hardly changed.
Lastly, we are tracking the most recent stock price gyrations at several previous targets. We feature Sinch AB, a rebounding Swedish stock with supposedly dubious accounting, a failing crypto stock and AirBoss of America, a Canadian stock hitting the downside target of the activist.
---
Bits and Pieces
Kynikos founder talks about Live Nation, IBM, and Block shorts (via Forbes)
Pleading loss causation based on short-seller reports (via Reuters)
Cassava vs critics next chapter:
$SAVA giving the old 'sue and silence' approach a try with a 189-page complaint against various short sellers and critics.https://t.co/q5s4Ji9GUP

— Nate Anderson (@ClarityToast) November 3, 2022
---

---
Big Movers
This week we saw several stocks that moved in the right direction for the short-sellers. Among the biggest movers was Coinbase (COIN), which dropped about 22% in the past week. This crypto company was targeted by two activists. First, it was Kynikos who spoke out against the business model and then Doomberg who raised legal allegations.
Both activists are winning. COIN is down almost 70% since Kynikos initial call and down 20% since Doomberg's article. The recent move by the stock only likely strengthened further downside potential as the market sold COIN on the basis of their earnings. The crypto market also did not provide any strong impulses this week.
Another stock that went down was Airboss of America(BOS). The stock fell about 9%. Initially, it was OSS who targeted this Canadian industrial rubber products manufacture due to allegations of dubious corporate governance and a poor business model.
Most importantly, the report talked about BOS's recent legal issues. FedEx brought a multi-million dollar lawsuit against the company as one of BOS's contracts from Malaysia had their products withheld due to suspicion of use of forced labour. This could harm BOS's standing with the US government on which the company relied for its growth.
With this recent move BOS has hit OSS's initial downside target of 50% and thus the short thesis has played out. The stock was under pressure since the start of the campaign as investors continuously sold stock. It now seems the latest move could be traced to news about the company deciding to take a large non-cash charge seemingly related to some of the allegations raised by the activists. OSS did not update their position.
On the other side of the tracks, there were only a few meaningful movements against short-sellers. One of the most significant surges was seen in Sinch AB (SINCH) which jumped over 50% in the past week. Initially, it was NINGI Research who targeted this Swedish-based telecommunications company due to allegations of fraudulent accounting.
Most importantly, the report believed the company has significantly overstated its profits and revenue by aggressively recognizing topline. As per the activist, while SINCH received an unqualified audit, the auditor did mention weakness in trade receivables.
The significant jump in SINCH occurred due to earnings results which seemed to have gone against the short thesis. The stock got back all of its losses and is now actually up 2% since NINGI first wrote about the company. However, the activist is not backing down and is reiterating that the accounts are supposedly not showing the whole picture.
Good morning #Sverige, retail investors screaming "Squeeze" and "strong report", but it looks worse for $SINCH. Revenue was supported by currency tailwinds and...surprise...an increase in unbilled receivables of 207m. So 575m of revenue is just fugazi. #finanstwitterpic.twitter.com/ulLvlkzKUo

— NINGI RESEARCH (@NingiResearch) November 2, 2022
The activist is now getting significant pushback on Twitter from retail investors, some of whom are happy to see the stock go up.
---
Quarterly reflections
This week we also saw plenty of activists talk about the quarterly numbers of their targets. Perhaps unsurprisingly, Muddy Waters continued their campaign against Sunrun (RUN). Initially, Muddy targeted this solar company due to allegations of a dubious...
---
(Stay on top of short selling developments - Join Breakout Point).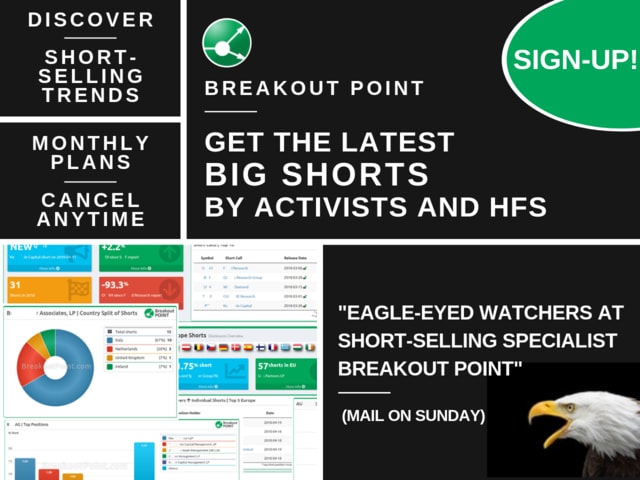 ---
FAQ | Q: Can I publish parts of the above data and analytics in an article? A: As long as you reference our work - yes, you can.
FAQ | Q: Could you provide more related data and analytics? A: Sure, contact us, and we'll try to help as soon as possible.
* Note: Presented data and analytics is as of available on 2022-11-04 UTC 10:00.
The services and any information provided by Breakout Point or on the Breakout Point website shall not be or construed to be any advice, guidance or recommendation to take, or not to take, any actions or decisions in relation to any investment, divestment or the purchase or sale of any assets, shares, participations or any securities of any kind. Any information obtained through Breakout Point and its services should never be used as a substitute for financial or other professional advice. Any decisions based on, or taken by use of, information obtained through Breakout Point and by its services are entirely at own risk.